Christina Dandar of 'The Potted Boxwood' is Putting a Spotlight on Dallas Architecture
The design blogger's snaps of timeless exteriors have earned a serious following, which includes Southern Living and Town & Country.
By Cassidy Najarian
Published in Living
July 3, 2019
2:14 pm
After graduating from Southern Methodist University in 2010, Christina Dandar had a decision to make. Would she pursue her childhood dream of becoming a teacher? Or, would she chase her creative aspirations at design school? 10 years later, Dandar has largely managed to do both, thanks in part to Instagram.
Initially, Dandar chose the education route—she currently works as a third-grade teacher at West Dallas Community School. While studying for her Master's in elementary education at SMU, she took a walk through the Park Cities with some friends. "I noticed the landscaping and the lush, chic factor around Dallas" she said. "The city just has this beautifully curated aesthetic." She began her blog, "The Potted Boxwood," and subsequent Instagram page soon after to highlight eye-catching, traditional facades, bright doors, and timeless interiors around town. "Dallas has so many beautiful homes, but I feel like that gets overshadowed a bit," she says.
"The Potted Boxwood" is definitely shining a light. Since launching her blog in 2014, her snaps of vibrant doors and ivy-covered exteriors have amassed close to 90,000 Instagram followers, including Southern Living, Town & Country, and home brand Serena & Lily.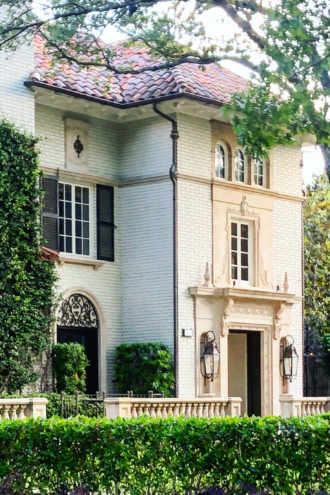 Dandar doesn't want "The Potted Boxwood" to be cookie-cutter lifestyle blog. Rather, she aims to appeal to her online audience with authenticity, charm, and posts celebrating the beauty of architecture. "I am not in the business of judging houses," she says. "I try to keep it positive because my job is to inspire, not to critique."
She started a hashtag, #ChicInDallas, to help keep track of her local finds. As for how she discovers her subjects, it's all pretty organic. "I could go by a house 1 million times, and one day I'll notice the light is hitting it differently or that it has new landscaping that makes it look more open and I will have to take a picture," Dandar says.
And though she's since added new cities to her feed (there's now a #ChicInFlorida and #ChicInNantucket), the Saint Petersburg-native admits she prefers Dallas' local architecture. "I came up with the hashtag because I don't think people appreciate [the architecture in] Dallas," she said. "I think we need to do more to share the beauty here."