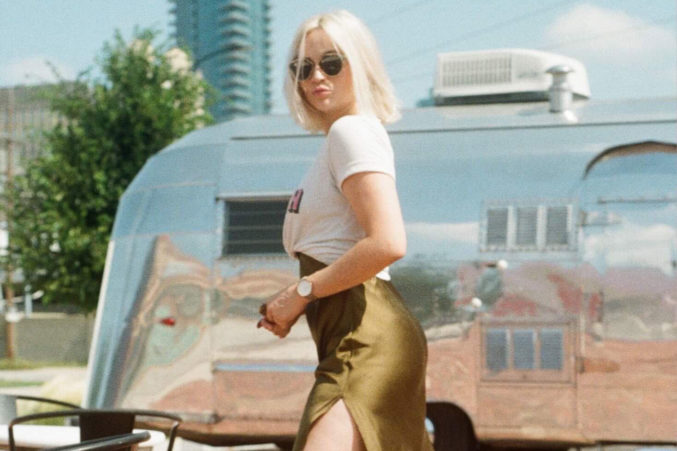 This North Texan Woman's Outfit Just Went Viral on Reddit
It's had more than 5,000 upvotes in 24 hours, which—for those not familiar with the platform—is a lot.
I used to be pretty intimidated by Reddit. I'm not sure why. Its co-founder is Serena Williams' adorable husband, which seems like a pretty ringing endorsement. (Anyway, here's an extremely brief think piece about why Reddit might scare people.)
I'm glad that I one day dared to wade into those potentially scary internet waters to read Westworld fan theories (I've never felt more inept). Reddit can be a pretty nice corner of the internet. It certainly seems safer than Twitter, where you're forced to face the good, bad, and the ugly every time you log on. On Reddit, things are segregated into communities (or subreddits), some of which seem like lovely, uplifting places. Take, for instance, the "Streetwear" subreddit (aka "r/streetwear"), where a woman in Fort Worth recently rose to viral status.
On Monday, a user named "toki_goes_to_jupiter" posted a photo (possibly from Magnolia Avenue) by photographer Saint Chris to share her outfit of the day. It was cute! She wore a slipdress by Danijo, '90s-esque chunky sneakers by Naked Wolfe, Dior So Real sunglasses, and a "Fort Worth" shirt from locally based Morgan Mercantile. The post received more than 5,000 "upvotes" in 24 hours. No matter what subreddit you're in, that's a lot.
[WDYWT] first post. silk slip and sneaks. Fort Worth from r/streetwear
The internet reaction was cool for the most part. The majority of the discussion in the comment section surrounded the chunky shoes. One user said, "This is so fire." Another offered some kind, constructive advice on how to upgrade the look: "Nice fit, I'd switch up the white socks to something with more contrast between the sneakers but otherwise I'm sure it's comfy and you feel good in it." The original poster (Julia Cooper) eventually chimed in to share her favorite Fort Worth spots, like Tribe Alive, Grow Plant Shop, and the aforementioned Morgan Mercantile.
All of this is to say, the internet can be decent sometimes. And you can totally be a streetwear star in Fort Worth.