As a Nora Ephron "stan" of a certain age, it's impossible for me to hear the word "independent bookstore" and not think of '90s-era Meg Ryan, holding a box of twinkle lights, giving one last wistful look at her surprisingly spacious Manhattan book shop before she shuts the doors forever, run out of business by
You've Got Mail
's stand-in for Borders, Fox Books.
Of course, if that movie were made today (probably by Netflix), it would be Tom Hanks turning out his store's lights, heading to his very nice houseboat with a box of generic-looking coffee mugs and ranting about Amazon on social media. (Hanks and Ryan would probably meet much less adorably on Reddit or something—let's not think about it!) The Shop Around the Corner—with its family-owned charm, books with hand-tipped illustrations (that's why they're
worth
so much), and children's story hours—would likely get to live on as an alternative to Amazon, not a competitor.
These are the kinds of things you think about (or I think about) when you see a shop like
Commonplace Books
, an Oklahoma City transplant that just opened its doors in Fort Worth's WestBend development, and exudes community-focused connection, as well as Instagrammable charm. Commonplace joins a slew of local indie bookstores (
The Wild Detectives
,
Deep Vellum
, and
Interabang
), but like those seemingly thriving, cherished spaces, it has a personality all its own. We caught up with Ben Nockels, who founded Commonplace with friends and family, to learn more about the store.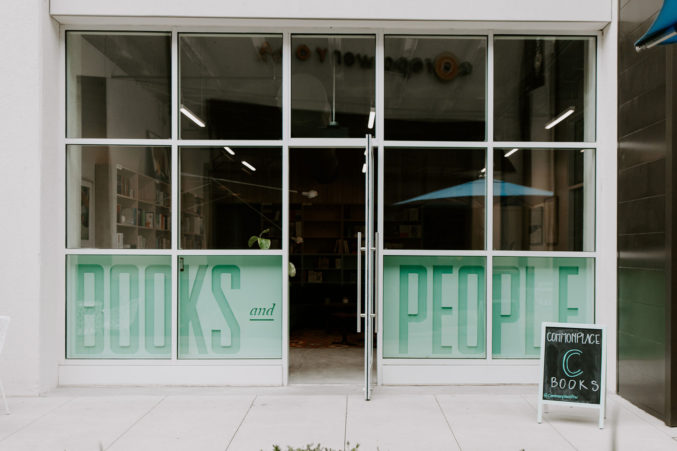 What was the initial vision behind Commonplace Books?
A few of us buddies and our families decided that our neighborhood needed a bookstore, so we opened in Oklahoma City's Midtown in 2017. It's been a beautiful couple of years where we've been able to gather people together in meaningful ways and create not only experiences, but reimagine what the bookstore experience can be. I think that's part of what we're seeing with new retail. On one hand, you've got the experienced-based retail, but if we just stop there, I think we're really missing what the current generation is longing for. They don't just want experiences, they want connection. Books are a unique and powerful medium to connect people with one another.
Indie bookstores are, remarkably, sort of on the rise right now. How do you feel about opening a shop like Commonplace in 2019?
The big box retailers squashed the independent local market, and then the internet came along and squashed the big box retail market. With that much slashing and burning, what we've ended up with is really rich, fertile soil for the independent local market to grow back up again.
How did you land on Fort Worth for a second location? 
When we started Commonplace, we always felt like it had the potential to be a network of bookstores that were uniquely contextualized for different communities. But we wanted the expansion to ultimately be driven relationally. The developers of WestBend [in Fort Worth] walked through our doors a year ago, and we formed a relationship that ultimately led way to a partnership. There are a lot of places where we could go pay rent and try to sell books, but we're really not interested in that.
Commonplace is so thoughtfully designed. Can you talk about the aesthetic a bit?
When you think about a bookstore, the same image comes up. There's a lot of dark wood, overcrowded shelves, a wood-burning fireplace, and a cat or two tucked up in the bookshelves. There's nothing wrong with that, but it's not refreshed for a new generation. We wanted to imagine one that was bright, airy, and spacious, with great furniture and greenery.
If I'm good at anything, it's knowing great people. I enlisted the help of my friend
Sara Kate Little
. We wanted it to be unpretentious, with raw, simple materials, and to feel like a home. She took our values and expressed them in a really lovely way.
Gardner Architects
was also critical. They took a pretty rough 1,000-square-foot lot in WestBend and really maximized it.
How does artwork play into the design?
We put such a value on the aesthetic, so we didn't necessarily want to have it change month-to-month in terms of the artists. We really wanted to bring in a curator to decided what art should be on the walls. I trust
Emily [Ladow Reynolds]
through and through with all of our wall space.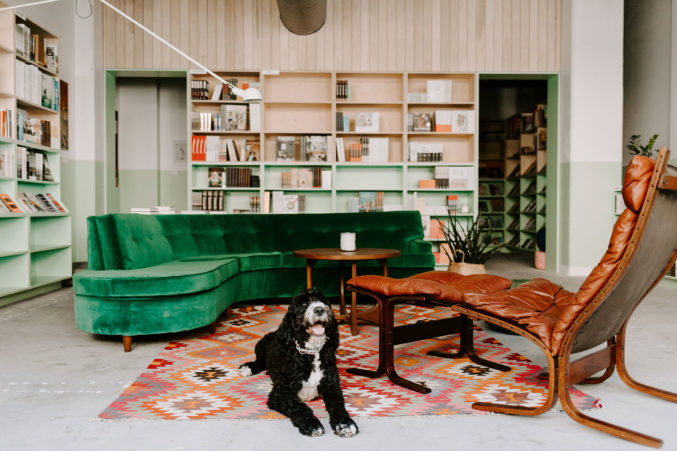 It looks like there's a shop dog, too. We love a shop dog. 
We didn't want a dog as a stunt, but we had an opportunity to do another rescue (there's a shop dog in Oklahoma City as well) with Agnus. She really makes it feel like a home.
Technically, Commonplace is just a one-year pop-up. What's the plan after that? 
The goal is really just to test the new market—get to know the community in the short term so we can serve it in the long term. We plan to be in Fort Worth for the long-haul, and would love to have a presence in Dallas too.
Get the Living Newsletter
Get the insider's guide to the best in Dallas style, beauty, and wellness delivered right to your inbox each month.