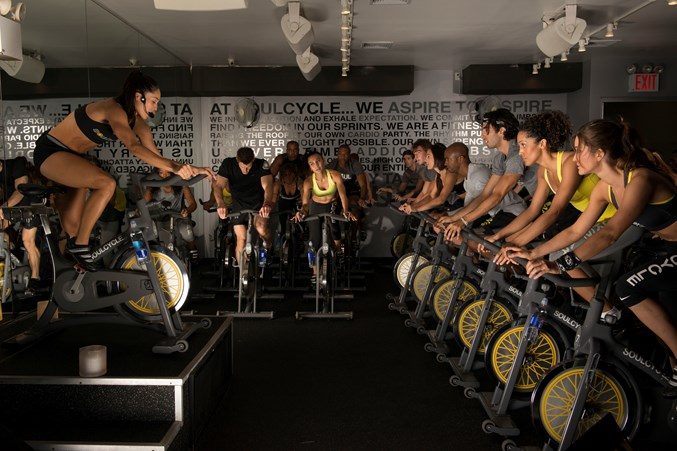 Netflix, Bumble, and SoulCycle Are Teaming Up This Weekend
Free spin classes! And wine!
Some brand partnerships are simply bizarre. For example, last night, I saw the most egregious ad placement my eyes have ever witnessed when the ladies of "The Real Housewives of New York City," in the middle of an episode, began talking up the Anne Hathaway movie The Hustle. Bravo's been known to promote a movie from time to time (remember when the "Vanderpump Rules" kids were going crazy over a Pitch Perfect movie?), but they're usually just commercials. Hearing Dorinda go on about how relatable "that Anne Hathaway" is smack dab between scenes of Tinsley crying and Jill Zarin playing tennis was… jarring.
I bring this up because I'm still unsettled, but also to illustrate a stark contrast between bizarre brand mashups and partnerships that feel right and good, like Netflix, Bumble, and SoulCycle coming together to offer free classes and wine over the weekend. Each brand has effectively targeted the millennial generation and is a game changer in their respective field. Netflix also happens to have a new show, "Dead to Me" (in which Christina Applegate apparently shines), that needs promoting. It features a strong female friendship, Bumble has a BFF mode, and SoulCycle is a fun thing to do with your friends. So here we are!
The What: Between May 3 and 5, Bumble users can earn a complimentary SoulCycle class and a bottle of wine (also complimentary).
The How: Bumble users just have to swipe right (in Bumble Date or BFF) on the offer. Limited seats are available, so confirmed participants will be notified prior to the class.
The Why: Synergy, baby. And promoting what I hope will be the vehicle that finally earns Linda Cardellini an Emmy. (Applegate already won one for "Friends"!)