5 Healthy Choices A Mavs Dancer Makes in a Day
Ally Diaz shares the pre-game secrets she uses to feel strong and confident.
By Kimber Westphall
Published in Living
April 11, 2019
12:44 pm
"Wellness" is a major buzzword these days, but it can mean a little something different to everyone. Does it stand for self-care and restoration, or is it more about strength and endurance? So, we created a series breaking down the healthy habits of local influencers and entrepreneurs, allowing them to define what wellness means on a personal level.
Ally Diaz, a member of the Dallas Mavericks Dancers, relies on the 80/20 rule to stay lean during basketball season. (For reference, that's 80 percent healthy choices, with 20 percent leniency when it comes to meals—though she says she'll never turn down a cookie.) The dancer thinks of self-care as a way of falling in love with taking care of her body, and focuses on practicing gratitude, getting plenty of sleep, and finding ways to reduce stress. "Wellness helps me focus on why life is so good to us each day," Diaz says.
Here, she dishes on the pre-game secrets she uses to feel strong and confident in front of thousands of fans on the court each night.
You're performing in front of thousands of people each week. How do you focus on wellness each day to make sure you're in tip-top shape?
I am big on self-care, especially on game days. Being well rested is so important. I like to get my workout in early that way my muscles are awake, activated and toned throughout the day. Then I follow that with a quick yoga session to stretch out and prevent any injuries during our performances.
How do you balance your meals on game day, and have plenty of energy to perform?
One of my biggest tips is to have all of your meals planned out on game day, especially foods that you know will give you energy since game days end very late. I also like to add apple cider vinegar to my water in the mornings for digestion and to prevent bloating throughout the day. Drinking water all day helps me stay lean throughout the night.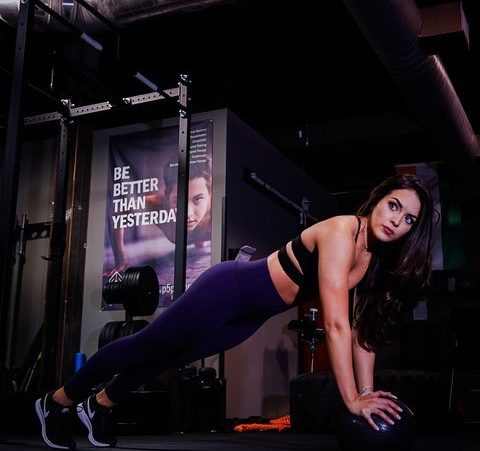 We know you can't wear your uniform every day. (Although, how fun would that be?) Where's your favorite place to purchase workout clothes?
My two favorite places to get workout clothes are Lululemon and Lorna Jane. Although they can be pricey, I find that their clothes will last a lifetime. Plus, they are so darn cute! And when you feel cute in your outfit, you perform even better. Right?
If you had to choose one favorite workout to do on your most healthy day, what would it be?
If I had to choose one workout, it would be a combination of resistance training and plyometric exercises. I love how these workouts keep my heart rate up while keeping my metabolism going strong all day! I like to take supplements (multivitamins, fish oil, collagen, B12, vitamin C and BCAA's during my workouts), and then I'll be sure to get plenty of protein post-workout.
How do you unwind during downtime?
I like to take my dog on long walks to get some fresh air and clear my head. Or read a great book on health and self-care, best accompanied by face masks and a soothing Epsom salt bath.