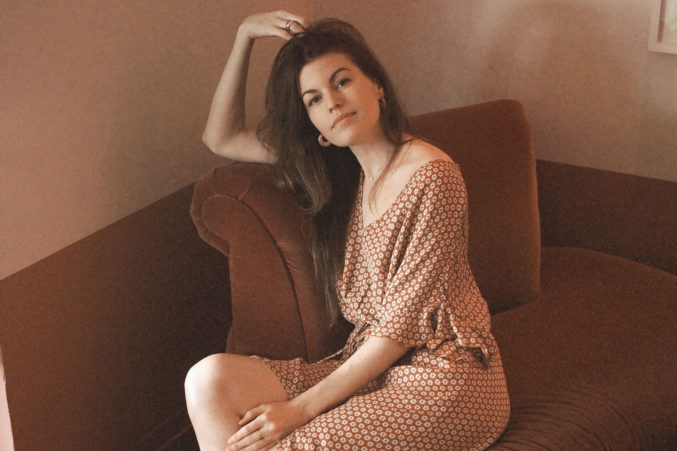 Caroline Joy is Taking a Mindful Approach to Blogging
The neutrals-loving influencer gained a following from her capsule closet, not collaborations.
This year, I decided to take a more mindful approach to Instagram, one of the few social media platforms where we can still largely control our experience. If someone's content began making me feel less than positive, I'd swiftly unfollow. I rid myself almost entirely of Kardashians and former Bachelor contestants, muted some ex-boyfriends (a far less dramatic and hurtful move than unfollowing), and said goodbye to any meme account I suspected was repurposing stolen content (which is honestly most memes accounts).
The process also majorly chiseled down my influencer follows. It wasn't that any individual blogger had necessarily made me feel bad, but all the #sponcon was starting to read inauthentic, and the general uniformity (I was constantly mixed up my lithe, blonde bloggers) was a little tiresome.
Only a handful of local bloggers survived the purge. There was Sea of Shoes, whose penchant for vintage pieces helps her stand out from bloggers' typical (and easily commissionable, thanks to rewardStyle's liketoknow.it) Nordstrom-sourced fare. The sister duo behind We the Birds, with their editorial approach to the #OutfitOfTheDay and adorable macarons, also felt decidedly un-influencer-y. Eventually, all the conscious following and unfollowing led me to a local blogger I'd yet to discover, Caroline Joy, who, like the aforementioned 'grammers, seems to have a more authentic point of view when it comes to content.
Caroline, a former wedding photographer, launched her blog "Unfancy" in 2014 as part of an effort to define her personal style. "I had this dream of having a really beautiful closet space," says Caroline. Initially, that dream wardrobe was sprawling, filled with the designer pieces that pepper fashion blogs and Pinterest boards. But the then-newlywed was on a budget, so she refocused her mission. "I was like, 'What if I shrunk the idea of a wardrobe, and focused on having each piece be a high-quality standout?"
For the first year of "Unfancy," it was all about keeping a strict capsule wardrobe. She's loosened up a bit since then (she's no longer counting clothes), but the spirit of intentional shopping still permeates her lifestyle and the content she posts.
Here, she walks us through how "Unfancy" evolved from a capsule experiment to a creative space for communicating her less-is-more philosophy, and how she plans to make 2019 the blog's biggest year yet.
On going minimal.
The capsule closet was kind of just a personal experiment. I was interested in creating a cool style for myself, but I was also trying to do it really intentionally, and on a budget. I didn't necessarily limit tops and bottoms, but I had a number in mind that usually worked well with 37 pieces. I stuck to neutrals because that was easiest for me. It was what I was drawn to.
On deciding to launch a blog in 2014.
I had decided to keep this capsule wardrobe and really just live with that, so I thought, Why not blog about this? People were telling me that there was no point—blogging was dead. I was like, "I'm just going to do this anyway for myself." I had no idea it that it would grow into what it grew into.
On gaining a following.
The Dallas Moms Blog actually ended up sharing my capsule wardrobe how-to post, and that went viral, and I feel like I gained something like 40,000 followers in a matter of, like, three days. It was the craziest thing ever! And to be honest, I am a complete introvert and very private, so it was shocking to me. Other than that, I feel like I was lucky enough to be one of the few voices talking about the capsule idea, and maybe one of the first.
On breaking free from the capsule.
I was really excited about a capsule, because it fit our needs, and our budget, and my vision for life. And then I think I got a little caught up in just a legalistic approach to it. After doing a capsule for a full year, I started to feel like I had a pretty clear picture of my personal style. I felt like I could maintain the heart of it while not keeping the super structured rules.
I'm a person who really thrives in a structure. So that was so positive for a long time, but I think as we grow, it's so natural to let them just melt into something more organic. It's been really encouraging to see how people have responded. It's like, "Oh, okay, good. I can be mindful and I can have this general mindset of less is more. But it can be joyful. It can be light. It doesn't have to be so strict."
On keeping it real.   
When I first started, I made it really easy on myself, actually, and decided I wasn't going to do any collaborations or take any free gifts, because at the time, my goal was to showcase, truly, a real girl's closet. There would be no sponsored content.
Over time, that shifted a bit. Honestly, it's been this year, 2019, that I've really started working more with companies and taking some gifted items. But I think, for me, it just comes down to doing what inspires me and what makes me happy. I did a collaboration with the Dreslyn, who features very cool, really beautiful emerging designer goods. I worked with Tribe Alive and that was just a thrill—working with a local company is just the best. I like to work with brands that are a little bit more sustainable, and just trying to do some good.
On joining the influencer scene.
This year, I realized I was really falling in love with fashion, and that [the blog] was really becoming something special to me. I sort of put my antenna up and I was like, "Okay, so what are all the influencers doing? What am I supposed to do?"
I tried posting every day in January, but I came to the end of the month and felt run ragged for some reason. Social media is such a beast. My relationship with it is very heart-led, as far as collaborations. Liketoknow.it, I mean, I think I've posted one liketoknow.it post ever. Every time I get a collaboration offer that I actually do want to do—even though I am so excited about it—i get kind of clammy. I want so badly for it to be be authentic.