If towering buildings with winding parking garages and elevators aren't the vision for your dream work environment, The Slate, a new co-working space in the Design District, is creating something entirely different. "You walk into what feels like a beautiful living room," says Shelly Slater, co-founder of The Slate. "Inside, we are carefully crafting the community."
The 12,000-square foot space, founded by Slater and her sister Jodie Hastings, is still in hardhat mode (the plan is to open March 1), but Slater says members began signing up without seeing one piece of furniture. "This is about the network inside. Physical office space is secondary" says Slater. However, the sisters know the power of a thoughtful aesthetic. "We want you to have the top-of-the-line so you can get in the zone. Beautiful lighting, art, and surroundings to get you inspired," adds Hastings.
Shannon Williams, operating partner for DryBar DFW, was one of the first to sign up for a "Slate Sabbatical," the term coined for entrepreneurs who have a brick and mortar elsewhere, but may need a space to focus and get work done.
"I love the idea of a place I can go and learn from others," says Williams. "The idea of a place where women motivate and encourage each other warms my heart."
Other Slate perks include a wellness room, a makeup station, and free monthly programming featuring outside thought leaders in every field­, from digital marketing to handling business finances. And although The Slate is inspired by women, and created with women in mind, this isn't a no boys allowed situation.
"We know what working women care about, from monthly programs to products," says Slater. "In that sense we are geared toward the female. But we are excited to have men in our space too."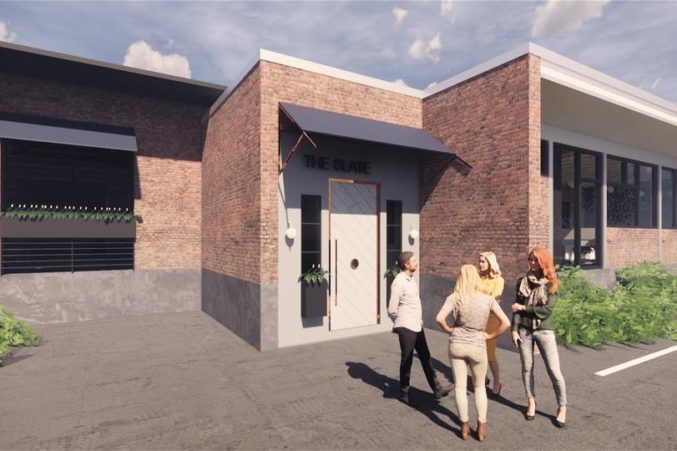 Another selling point for members is access to a in-house studio. A massive white cyclorama wall will serve as the set ground for photo shoots, podcasting, content videos and — a personal aim of the sisters — an impromptu roller-skating rink.
But perhaps The Slate's biggest distinguishing feature in the crowded co-working field is a boutique showcasing local and socially conscious businesses, which Slater hopes will help them build community outside their Design District walls. The sisters are consulting with The Kleinert Foundation to discover products and even catering options that serve a greater good. "A lot of people want to give back, but just don't know how to get started," says Slater. "We are hooked now, and we know our members will be too."
Get the D CEO Newsletter
Stay up to speed on DFW's fast-moving business community with weekly news reports, interviews, and insights.