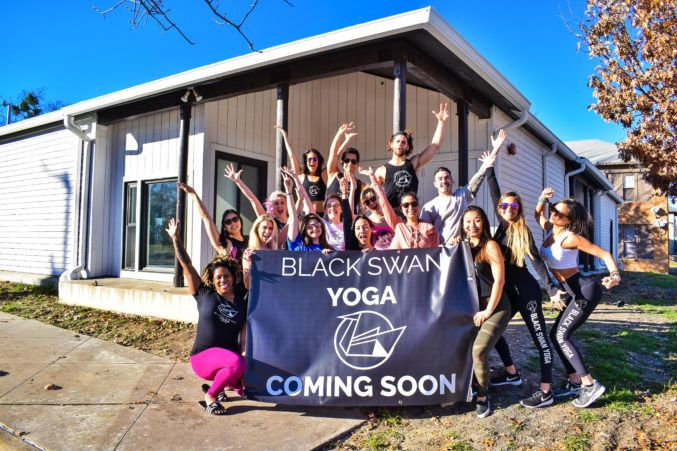 Meet the Donation-Based Yoga Studio Taking Over Dallas
The Austin-based Black Swan Yoga has developing a cult-like fanbase in search of good vibes.
By Susannah Hutcheson
Published in Living
January 31, 2019
12:00 pm
Black Swan Yoga sits just off of West Lovers Lane, a colorful (and incredibly Instagrammable) angel wing mural making it impossible to miss. During any given week, 2,000 yogis come to flow in the nearly 5,000-square-feet studio, packing it full of good vibes in addition to heavy beats. Unlike the majority of Dallas yoga studios, which can charge upwards of $25 for a class, Black Swan is purely donation-based. The goal: to make yoga more accessible, whether you're a novice stretcher or an inversion guru.
"We want be the place for everybody. If you want to give us a dollar, come on in and get on a mat," explains Black Swan co-owner Noah Villalobos.
The story of how Black Swan Yoga, an Austin-based institution, ended up in Dallas, essentially hinges on Villalobos. After a violent car crash at 16, yoga is was what helped the sports-obsessed teen find healing. It helped him put his body back together and, in turn, changed the direction of his life. After graduating with a Master's in Accounting from the University of Texas at Austin, he knew that wearing suits every day wasn't in his future, and instead headed into a job as the director for Black Swan Yoga.
Around the same time, Claire Asmann, who had trained at Black Swan in Austin, became the company's first licensee, and opened up a studio in Houston's The Heights neighborhood. Instructor Joy Lipson helped lead teacher trainings, and the two worked together to build the studio.
"When I went down to Houston and saw what Claire and Joy were doing, in my heart, I knew – this is the truth," Villalobos said. "This is the real Black Swan Yoga. I'm going into business with them."
The three of them took the leap and decided to bring Black Swan to Dallas as co-owners: Villalobos as the "numbers guy," Asmann as the "marketing guru," and Lipson as the teacher training "mother hen." The studio, situated across the street from Neighborhood Services, opened in April of 2018.
In the practice room, heated to 90s degrees and brightened with murals by Dallas artist Derek Nemunaitis, classes start flowing early and are scheduled as late as 10pm on week days. Offerings include beginner techniques, the more advanced "Power," and a candlelit slow flow, and each teacher is encouraged to guide their classes (and pick their playlist) however they see fit. In one class, you may flow to Drake and Lil' Wayne, while in another you might focus in on spinal alignment.
"The biggest thing is authenticity and originality," says Lipson. "37 teachers, and everyone is super different."
When building the space, the team had the chance to maximize the practice area, but instead intentionally focused on building a large place to meet. The lobby area is massive (almost 1,200 square feet), and serves as a gathering place that's often packed with events and celebrations. "Everybody has a place to come to no matter what, and that's what people need, man," Villalobos explains.
When Lipson decided to lead classes on Christmas Eve and Christmas day last year, she thought she'd be lucky to have 20 people sign up. Instead, 25 people had to be turned away from the main studio—though they still got their practice in thanks to Instagram live.
Most recently, the studio was packed to the brim for a New Year's Eve celebration, a night of manifestation, flows, and breath work followed by a champagne toast. To their surprise, sign-ups rolled in to the point where they had to open more spaces. "People want community," Lipson says.
If all goes to plan, no one should have to be turned away in 2019. The Black Swan Yoga Dallas tribe recently announced their second location, scheduled to open this spring, in the Bishop Arts District, an area Villalobos says they settled on because of "the vibes." Next on the to-do list is a location in East Dallas.
Most importantly, however, are the people that pour into the studio day and night (some coming as far as Fort Worth), ready to sweat. Black Swan's determination to cultivate relationships and build a community is a success thus far.
"You can go anywhere and just pop in, pop out, and you're done. But that doesn't really fulfill people," Lipson says. "We're naturally made to connect, and so that's what we're trying to build."