Adwoa Beauty Is Like Glossier for Kinky Hair (Except So Much More)
Get to know the Dallas-born brand that's building a community in the Cedars.
It's easy to compare Adwoa Beauty's aesthetic to that of Glossier, the preferred skincare and makeup brand for Cool Girls in Big Cities. For one, Adwoa recently opened a showroom—not a shop with rows of product on shelves like any old store in a mall—but a cavernous gallery space with the brand's small line of product displayed on white blocks like pieces of testable art. Yes, very much like the setup Glossier brought (with great fanfare) to its Henderson Avenue pop-up in 2017.
Also like Glossier, Adwoa's overall branding is exceptionally clean with minimalistic packaging and sans serif fonts. Not to mention the brand's color, which I'm inclined to describe as millennial blue, but is actually called Serenity, one of Pantone's colors of 2016. The other winning shade that year: Rose Quartz, just a tick richer than Glossier's signature version of millennial pink.
But where the two brands diverge is the product itself. Adwoa Beauty, at least for now, is a line of naturally-derived hair products targeting a very specific customer. "I noticed there was a gap in the market talking to people with textured hair," says Julian Addo, a Liberian-born, New York-raised, now-Dallasite who speaks precisely as fast as my brain can compute. "They tend to focus more on the biracial girl, the big curly ringlets girl. No one was really talking to the person with the super kinky hair."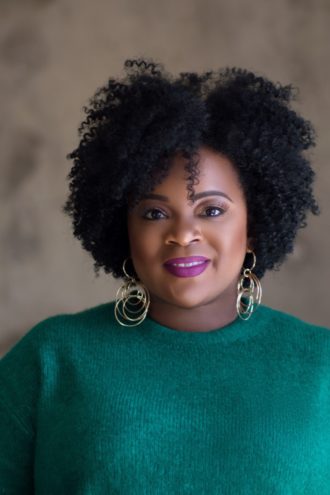 It was a gap she noticed after starting Bella Kinks in 2012, a blog about styling natural textured hair that turned into a series of expo events. Before that, Addo worked in banking for a spell, but her experience with hair goes all the way back to when she got her cosmetology license from a vocational high school in New York and subsequently moved with her family to Minnesota where she opened two salons.
Ever the entrepreneur, Addo launched her kinky-haired brand in October 2017, calling it Adwoa, the name given to females born on Mondays in parts of Western Africa. Addo notes that despite the name her brand is gender neutral (the jars I open all have a refreshing minty scent), and though her customer base has an extremely kinky texture, even wavy-haired white folks like me could benefit from her product since it's all buildable (as a "type 2," Addo tells me I'd stop at the Conditioning Styler, while curlier textures would add the creams or gels).
To reach her customer, Addo has purposefully worked with few influencers, and instead built up a following through educational Instagram videos of her washing and styling friends' hair in her Southside on Lamar loft. "We would get like 10,000 to 15,000 people watching each of our Insta Stories," Addo says. "Finally, I decided, OK, I need a space for workshops and to build this offline community that we're building online."
The new, spacious Cedars showroom will allow Addo to host yoga sessions, Selfcare Sunday events, and workshops on a range of subjects from sexual health to blogging. Addo also designed the space to include a hair washing station. Those new to the product can sign up online and purchase a one-on-one tutorial for styling and maintaining natural hair styles. "We're not a salon," Addo says, "but we realize that this customer needs a lot of handholding and they need a lot of guidance in how to properly use the product."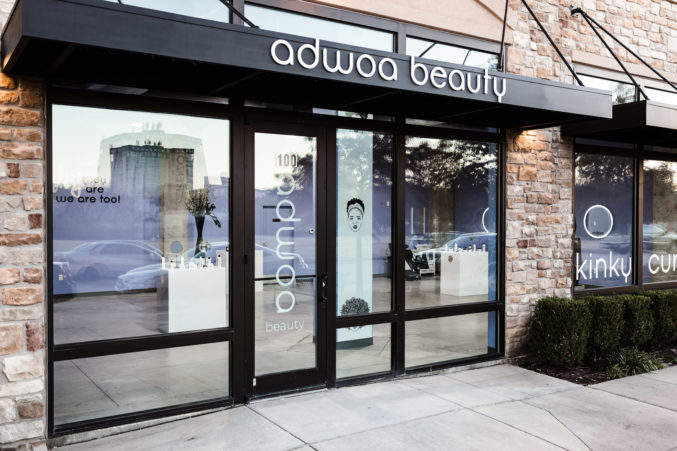 In fact, Addo is so laser-focused on education and community-building, that she says she recently deferred an offer from Target to stock Adwoa after she completed an accelerator program hosted by the mega-chain. "We're just not ready for that yet," she says.
Addo is, however, ready to grow within. This year she plans to debut a skincare collection and a line of candles under the Adwoa Beauty umbrella. "It's not just for hair," says Addo. "We consider ourselves a lifestyle beauty brand for the overall self."