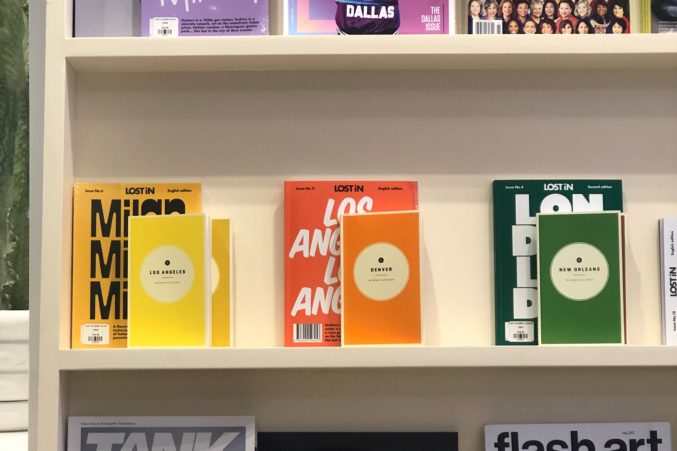 A Quick Visit to and Assessment of the New 4510/SIX Hotel Shop in The Joule
So many cool emerging brands. So little time.
Since the 2017 announcement that Brian Bolke was stepping down as president of Forty Five Ten, I've attempted to keep up with the many, seemingly rapid changes that have occurred within the world of the high-end retailer. There was the expansion to New York, a few employee switch-ups, the closure of For Home by Forty Five Ten (sigh), and the merging of the brand with similarly numerically-named TenOverSix.
It was a lot. But, like many, I'm still deeply intrigued by anything and everything Forty Five Ten-slash-TenOverSix does. Was it more confusing or less confusing when their joint name suddenly became 4510/SIX? I feel differently depending on the day! I don't think I care anymore. But I will always care when a new iteration of 4510/SIX—today it feels more confusing, probably because I have to type it—emerges in any form, especially when that form is an adorable hotel shop in The Joule. While on my lunch break today, I did a very brief pop-in to get a feel.
Just a few blocks away from equally hip hotel shop Commerce, the 4510/SIX Hotel Shop is Miami-bright and filled to the brim with cool emerging designers (both local and beyond), along with things a person staying at a hotel might actually need (i.e. toothbrushes — but cool charcoal ones, of course). Represented on the shelves is Dallas-based Sabah House, maybe-the-new-"status-candle" Boy Smells, fun, New Age weirdness like Sex Dust from Los Angeles-based Moon Juice, and plenty of reading material and city guides (though a Dallas one is notably absent).
You'll find iridescent umbrellas (again, something a hotel guest might actually need) and keepsake t-shirts stating "Dallas is My Baby LA is My Boo," but we all know the real value of  a hotel shop isn't so much how it caters to out-of-towners, but for the quality of its grab-and-go, gift-appropriate selection. Like everything 4510/SIX does, the Hotel Shop is off-beat and cool, and while still high-end, it's the most approachable outpost from the retailer. Between 4510/SIX and the Adolphus' still-relatively-new Commerce, Dallas' hotel shop scene (and the recipient of your next gift) has been truly blessed.
I had to keep my visit fairly brief so I could get back to the D Magazine building for a meeting, but if I'd had more time, the vibrant allure of the shop would have absolutely inspired me to gift myself an iridescent umbrella.