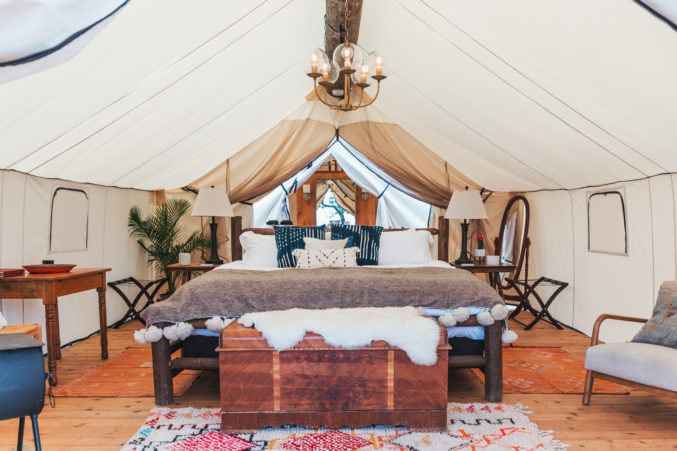 Cool-Looking Texas Yoga Retreat Alert
Make 2019 the year you finally go glamping.
I took a yoga class this morning for the first time in a very long time, which I'm assuming now makes me an expert on all things restorative and meditative. With my newfound comprehension of accessing the deeper parts of your yin (or, you know, whatever), I feel it's my duty to tell you about a cool-looking yoga retreat happening in the heart of Texas Hill Country this January, in case you, too, are feeling a little restorative self-care for 2019.
Two genuinely cool brands (not just cool-looking), activewear brand Outdoor Voices and the experiential travel company Collective Retreats, are teaming up January 25 through the 27th to offer peak zen, achieved through yoga, meditation, and farm-to-table meals. There will be a crystal bowl sound bath, Vinyasa flows, reflection workshops, and a deeply luxurious camping setup. Excellent local instructor Kate Waitzkin will be leading the charge, and the views of Montesino Ranch look killer. Basically, it will make my one, single yoga class look about as restorative as eating a spoonful of almond butter while wearing compression leggings (read: not all that restorative, really).
The photos are lovely, so go ahead and look at those if you need more convincing. The all-inclusive retreat is priced at $1,399, though you can use Outdoor Voices' code ("YOGATHINGS") to save $250.