This year, there will be an estimated
116,200 new cases of cancer among Texans
. Often, there are stories of processes, treatment plans, and absorbing the diagnosis. But as technology and treatment rapidly improve, thankfully, so does the survival rate. Organizations such as
Cancer Support Community North Texas
put their efforts toward helping patients through the healing process, offering support groups, workshops, and social events. The focus, and hope, is to bring patients together. As National Cancer Survivor Month comes to a close, two Cancer Support Community members share their experiences with cancer, what they're most looking forward to, and what they've taken away from their respective journeys. 
JoAna Dwyer, 75
After a routine check-up last September, JoAna Dwyer rearranged her life. The 75-year-old missionary made her annual trip from her home in Guatemala to her hometown for visits with friends and medical visits. One exam and two biopsies later, Dwyer was diagnosed with
triple negative breast cancer
, leading her through five months of chemotherapy and to a renewed appreciation for the community found in her Dallas roots.
Through her friends, acquaintances, and supporters from Northaven United Methodist Church, Dwyer soon found an apartment, clothes, and even a car to help her during her prolonged stay in Dallas.
"I know that cancer – for me – has a lot to do with relationships and deepening relationships," she says. "People have been so kind to me; people have been so generous."
The Dallas native made her first trip to Guatemala in 1986, four years after her husband's unexpected death. She was captured by the people she met and moved to the Central American country in 2001 to establish medical clinics—a need in the country's rural settings.
"I know that cancer – for me – has a lot to do with relationships and deepening relationships.

JoAna Dwyer
Dwyer, who spent 30 years as a social worker helping sexual assault victims, believes in the power of words. "I don't use the language people use when talking about cancer," she says. "I don't talk about 'fighting cancer' because it's my body. And I don't call it my 'cancer journey' anymore; I call it my healing journey."
Dwyer put her theory into practice. During one of her first treatments, she "talked" to her white and red blood cells, directing them toward their target.
When Dwyer completed her last chemotherapy treatment in March, her tumor had "melted away." (Her words.)
"I don't think that I have ever been afraid," she says. "I just don't remember feeling that way. Shocked? Yes. I'm 75. If I was going to [have cancer], I would have done that! But we're so silly with our plans anyways, we think were in control. We don't control … we manage."
After surgery in May, Dwyer started radiation—a final step in her healing journey. Since September, Dwyer has created a community where she keeps herself active, attending support groups and working Pilates, yoga, and meditation into her weekly rotation. Dwyer looks forward to September, when she can return to her work in Guatemala.
But for now, Dwyer is focusing on stories. Before her diagnosis, she joined a weekly writing group as an outlet for creativity.
"Most of my stories have happy endings because that's who I am," she says. "And my life will have a happy ending also."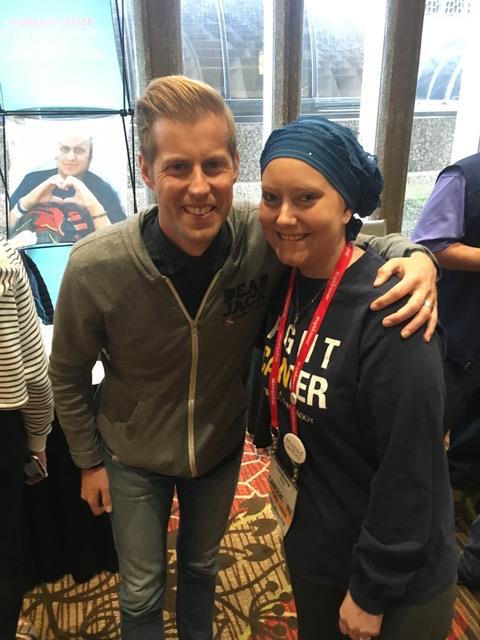 Lindsay Gray, 31
When Lindsay Gray started experiencing severe back and leg pain a little over two years ago, she didn't think much of it. At 29, she had worked as a veterinarian technician for several years—a physically demanding job in which she was often bending over to lift heavy, unsettled animals.
But the constant, inexplicable pain wouldn't yield, leading her to the emergency room and her general physician's office a couple of times over the span of a month. A blood test eventually led to a diagnosis of acute lymphoblastic leukemia.
She started chemotherapy immediately, and, throughout 11 months, Gray went through several chemotherapy treatments that lasted between six and eight weeks each time. Collectively, Gray spent five months at Baylor University Medical Center, confronting several obstacles along the way.
"Anything that could have gone wrong went wrong," Gray says. "Granted, I know that it could have been 10 times worse."
Gray has experienced setbacks along her journey, including battling pneumonia three times throughout chemotherapy and a cervical cancer diagnosis in November. No matter, she has searched for moments of grace, often crafting her own. One crisp morning in October 2015, Gray woke up feeling great, and she didn't waste it. After four years together, she and fiancée Leslie Garza-Hernandez headed to the courthouse, exchanged vows, and still made it to Gray's oncologist appointment that afternoon.
"Your whole perspective of things changes once you're faced with the possibility of [not making it]," Gray says. "When you think about it, it's like, why put things off? Do the things you want to do now. Cancer put aside, anything could happen anyway."
"Do the things you want to do now. Cancer put aside, anything could happen anyway.

Lindsay Gray
A month after surgery for her cervical cancer, Gray went back to work. Now cancer free, she's gradually feeling stronger. "It takes time, and that's fine with me," Gray says. "It's a hard transition—going from cancer patient to cancer survivor to just being me … it's been hard to decipher between those three. It's finding how to live your life, not as you used to, but as who you are now."
Gray's focus has shifted to helping other young cancer patients. For the past year, she's volunteered at Baylor, where she received treatment, while finishing a double bachelor's degree in sociology and criminal justice at the University of Texas at Dallas. After graduating, she hopes to put her experiences into working with either juveniles entangled in the justice system or with cancer patients in hospitals. "I've made it a goal that I do the things I want to do now," Gray says. "I don't wait."
Get the Living Newsletter
Get the insider's guide to the best in Dallas style, beauty, and wellness delivered right to your inbox each month.