When Mason Cox boarded a plane to Los Angeles in April 2014, he had no idea what awaited him. Near the end of his studies at Oklahoma State, Cox was invited to a combine for Australian Rules Football, a sport he had never watched, much less played. The tryout for Americans with promising athleticism might lead to another tryout in Australia, which in turn might lead to a professional contract. All the 6-foot-11 Cox knew was that he'd get a trip to California out of it. 
He had no idea of the opportunities that one trip would open: a second home in Australia, where he's now a citizen; a chance to host then Vice President Joe Biden as an ambassador in 2016; folk hero status in Melbourne for him as well as his parents, Phil and Jay. In the decade since following that whim, Cox, a Flower Mound native, has developed from a novelty into an unlikely stalwart for Collingwood Football Club. One of the most successful Americans to play a sport where foreigners rarely venture, Cox, 32, has carved out a career in Australia's notoriously physical national sport, one he never knew existed until he was in his early 20s. He's one of a handful of foreign-born players active in the Australian Football League, the sport's top flight, and the only American. 
"I was amazed if I'd be able to make it past the first three years of my contract," Cox says of his mindset upon joining the league. "Looking at 11 years after signing a new contract, it's pretty crazy to think that." 
It all started with an email and an invitation. Cox was finishing up his degree in mechanical engineering at Oklahoma State in the spring of 2014 and had lined up a job at ExxonMobil in Houston. 
He had made a name for himself in Stillwater on the basketball court. Like his older brother, Nolan, Mason followed the path from pickup games to a stand-in on the women's scout team whose assignment was to mimic Baylor center Britney Griner to a spot as a walk-on with the men's team. Over three seasons, he played 57 minutes across 24 games, scoring seven points and once guarding future NBA MVP Joel Embiid. 
Those were his first games of organized basketball. All throughout high school, he was a soccer player, lining up as a central midfielder before a late growth spurt shuttled him to central defense. He was an integral cog on back-to-back Class 5A state title teams at Marcus High School, which twice garnered top-five national rankings. He played for the Hawks Soccer Club in Lewisville and the Dallas Texans, was part of FC Dallas' fledgling developmental pipeline, and traveled to tournaments in Sweden and England.
"He looks now like a superior athlete," says Clint Craft, his long-time club coach. "If he had stayed in soccer, he would've been on our national team by now."
AFL sought to extend its influence in the United States, and the combination of height and foot skills earned Cox an invitation to the combine. Cox did enough in L.A. to earn a second look the following month in Australia. The next thing he knew, several clubs were bidding for his services. 
When his son told him he was headed to the combine, Phil Cox didn't see it as much more than a fun getaway to California. Mason, in fact, had already moved his belongings in preparation for his new job in Houston. Everything changed when he returned home. 
"He came back from the combine and said, 'I think they really like me,'" Phil recalls. "It wasn't too long until we figured out he's going to Australia." 
---
Then the learning process began. Nolan took the lead on vetting contracts as Mason's de facto agent. Both knew basketball players who had endured dodgy work situations overseas and wanted to make sure Mason could escape his deal if trouble surfaced. Phil purchased a copy of Aussie Rules for Dummies, which he scribbled notes in while watching games in the wee hours of the morning. (Fittingly, some of Cox's Collingwood teammates adorn the cover.)  
Cox says he didn't know much more than his father did upon joining Collingwood. He quickly found out that his new sport contained elements of rugby, soccer, and American football, although you could also call it a game of kill the carrier, with field-goal kicking at the end. It's played on a cricket pitch, an oval that measures about 140 by 170 yards, noticeably longer and wider than a football or soccer field. He'd play as a ruckman, whose primary responsibility is to contest the ruck, the jump ball played after stoppages to determine possession. That seemed intuitive to a former basketball center who was now the tallest player in league history at 6-foot-11. Just about everything else, from how to pass the ball (a handball is not thrown but laid flat on the palm and fist-bumped out) to which direction a referee is pointing (it's the opposite to what happens in American football), had to be learned. 
Cox's sporting background prepared him for the physicality of the AFL, from hoops to his stamina from soccer to simply having two older brothers to rough it up with. He also drew on his successes in the classroom, employing an engineer's cerebral approach to dissect the game.
What he couldn't prepare for was becoming, as Cox called himself, "the most scrutinized player at the most scrutinized position for the most scrutinized team" in the league. (Even this summer, as Cox enjoyed a vein of good form for a first-place team, he was referred to by a commentator and former Premiership player as "like Seinfeld, a big show about nothing.") Collingwood is one of AFL's most successful clubs, with 15 championships and 27 runner-up finishes. It's also one of Australia's most polarizing, not unlike the New York Yankees. And here the Magpies were, bringing in an American who didn't even know the rulebook. 
Cox made it his mission to succeed, as much to defy the doubters as to repay the faith of those who believed that he could be an outlier in his newest sport.
"I always enjoy proving people wrong," he says. "I think everyone does. My journey has been unique, so a lot of doubters don't think you can do what you've been able to accomplish and hopefully will accomplish. A lot of it is just trying to repay the people who put so much time and effort into me. We only have so much time in our lives, and the people who give their time and energy to help build something special in your life means a lot." 
Cox made his debut in 2015 in the Victorian Football League, the AFL's equivalent of Triple-A baseball. He was called up to Collingwood the following April, for the Anzac Day match against city rival Essendon. Playing in a national media spotlight akin to a Cowboys game on Thanksgiving, Cox scored on his first kick, 80 seconds in. 
His family was there to witness the storybook start. The club alerted the Coxes that Mason would be playing, and they scrambled to book a flight to Melbourne. Mason was informed of his promotion while his family was somewhere over the Pacific. 
It was the first of many such moments for the family as Cox cemented himself as a core piece at Collingwood. The cameras have found them in the stands during everything from the 2018 Grand Final (the AFL championship game) to playoff and milestone games. They've been recognized on the streets of Melbourne, even without their towering son at their side. They're surprised, but perhaps they shouldn't be. Befitting Collingwood's Magpie nickname, Mason is known as "The American Pie" around Melbourne, and that's before getting to the, um, creative opportunities for merchandise and chants featuring his last name. 
"It's weird because I have gotten used to it in a sense, and every now and then, I'll be having a conversation with someone who hasn't heard of the sport, and I'll step back and be like, this is absolutely insane that it ended up happening the way it did," Nolan Cox says. "He's now been in it for nine years, so it's become a normal part of our family. But it's still pretty surreal when you think of this random sport that he had never heard of."
---
Cox's rise had enough dramatic moments to compel even without his unlikely origin story. Collingwood reached the Grand Final in 2018, a game in which Cox scored twice before a crowd of 100,022. The Magpies reached the preliminary final—the AFL's final four—the following year by upsetting top-seeded Geelong in the first round. 
But the fall would be precipitous for player and team. Cox was poked in his right eye in a match against Gold Coast in 2019, resulting in a detached retina. The subsequent hospital visit revealed he had detached the retina in his left eye months earlier. Cox has since undergone six surgeries on his eyes, enduring a period of nearly a month where he had to lie down for 45 minutes every hour. Losing his eyesight was a real possibility, and Cox now wears goggles in games. He carries 10 frames and 40 lenses for each game, depending on conditions and the fact that each eye tolerates different light intensities. 
Collingwood's fortunes similarly dipped. It finished eighth in 2020 and a disastrous 17th in 2021, a season in which Cox appeared in only seven of 22 games. Nathan Buckley, the only coach Cox had ever had, was fired. With a rebuild looming, Cox assumed he wouldn't be in the club's plans and nearly struck a deal to join Fremantle, a club in Western Australia. Around that time, plotting the next step in his life, he started his eponymous podcast, trying to showcase his charisma for a post-playing career in media. But his footy days weren't done, and he wound up back at Collingwood, albeit in what felt like a bit capacity. He played just two of the first 10 games in 2022 under new coach Craig McRae, a Collingwood assistant from 2012 to 2016 who had been instrumental in helping Cox learn the game.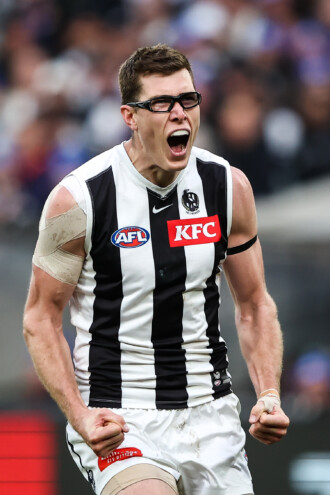 Then, improbably, he rose again, helping the Magpies rattle off 11 straight wins down the stretch in 2022, finishing the regular season in fourth place; they reached the second preliminary final. (Cox injured his groin in that game, a one-point loss to Sydney.) Along the way, he booted his 100th career goal, making him the all-time leading scorer among Americans who have played in the league and inside the top 75 all-time for Collingwood, a club founded in 1892. 
This year Cox has been a mainstay, with 16 goals in 16 games as the Magpies finished with the best regular-season record in the AFL for the league-best 20th time. He has transitioned into a hybrid role as a ruckman/forward, allowing Collingwood to get more height on the field and him to get more scoring opportunities. This summer he signed a two-year deal to stay with the club through the end of 2025, by which point he'll be 34, ancient for an AFL player. The player who arrived in AFL as a curiosity will exit the league as one of its elder statesmen. 
Cox has embraced everything about the Australian lifestyle and became a citizen last year. He has adopted a unique accent that is varying degrees of Texas twang and Down Under drawl, to mixed reviews back home. ("It's horrible," Nolan jokes. "It changes depending on the circumstances.") A world traveler before his AFL adventure, he has traveled to every corner of the country, not just as a club ambassador but to "get into the red dirt and what makes this country what it really is." He has become an international face for American-Aussie sporting relations—that was Cox watching the U.S. women's national team during the World Cup and cheering on American tennis players at the Australian Open—and has learned about the impact sports can have. He shared a story on his podcast about a woman on the remote Tiwi Islands, off the country's north coast, who was a staunch Collingwood supporter and, after meeting Cox, added an American flag to her Magpies regalia. After she died, her casket was painted in the team's black and white stripes with Cox's name and number. "It shows you the reach you might have here," Cox says, "and the people you can inspire even in the more remote places of the world." 
He's also paid the gift of Aussie Rules forward. Both of his brothers—Austin, with the Seattle Grizzlies, and Nolan, with the Austin Crows—have gotten into the sport, winning USAFL titles. Nolan is up to seven. Mason is regularly in attendance, as both brother and global ambassador. He jokes that he, the man who introduced them to the sport, is the only one in the family without a championship
Perhaps this will be the year, with Collingwood going into the AFL postseason as the top overall seed. But whether or not he retires with a championship, he's aware that his imprint on the game will go deeper. 
"You talk about legacy pieces and what you're going to leave behind for the next generation, and I hope I get to the end of it and realize that I've inspired someone else to take a jump, whether it be in their career in business or whatever it might be," Cox says. "Take the leap and don't be conservative. If it works, it works. If it doesn't, you learn a lesson, and you try it again."
Mason Cox took the leap and rose to heights he, at 6-foot-11, never could have imagined.
Get the ItList Newsletter
Be the first to know about Dallas' best events, contests, giveaways, and happenings each month.