Globe Life Field kicked off the 2023 Texas Rangers season on Monday by introducing six new concession items and a slew of new dining options. The new foods include a vegetarian option and a vegan one, and it wouldn't be a Texas ballpark menu if there wasn't one outrageously large item. (Hi, new Boomstick variation!)
New Dining Options
Arlington Eats is the hospitality space near section 101 that features local restaurants that rotate throughout the season. This year's additions include The Tin Cup, an Arlington panini shop, and the Mexican restaurant Cartel Taco Bar. They'll join Ella B's Restaurant, Prince Lebanese Grill, and Sugar Bee Sweets Bakery.
Damon Carney has operated The Tin Cup with his wife, Bradi, for nearly 20 years. He says Globe Life Field executives came into his deli shop one day and loved what they had, so they asked the couple if they wanted to serve their paninis at the park.
Damon says he plans to serve at 10 games this season, and he's excited about the challenge of serving a new group of customers. On a regular day, The Tin Cup gets about 100 to 150 customers, he says. At the games, he's prepping for at least 500 customers in addition to how many he serves daily.
"It's gonna get my wife and I out of our little box and give us that feeling we first had when we first opened the deli, which was nervousness and excitement," Damon says.
The paninis are toasted and served on their focaccia bread. They'll also have blueberry tea and a banana pudding, called "Nana's Pudding" after Bradi's mother.
Hurtado Barbecue was announced Monday as the official barbecue partner of Globe Life Field, which means its own stand will span section 141. Rob Matwick, the Rangers' executive vice president of business operations, said in a news conference that Hurtado will sell its brisket elotes, brisket nachos, and brisket sandwiches at all 81 games at the park this season.
Every seat in the house can access mobile ordering in the MLB Ballpark App this season. There also are two new convenience stores called the Express Grill, which will be located near sections 108 and 124. They use Amazon's "Just Walk Out" and Amazon One technology. It essentially allows you to scan a credit card or sign up for Amazon One using your palm, which makes grabbing food like burgers, candy, and other ballpark goodies virtually contactless.
Speaking of ballpark goodies, let's talk about the new food.
The Boomstick Burger, $34.99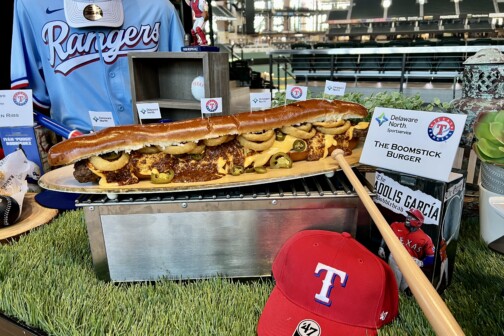 The next in the 24-inch food line (others include a giant hot dog and brownie) is a two-foot burger. It features a Nolan Ryan burger patty matched in length with a pour of chili and nacho cheese, jalapenos, and onion rings. A brioche bun holds it all together. A bite of this is like biting into nachos and a burger at once. And the patty is really big, so big that I think my jaw locked for a bit. ­Find it at the Texas 24" stand at section 132.
Brisket Croissant, $9.99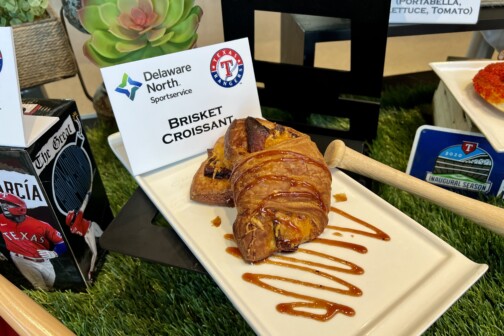 This one might be my favorite. It's a flaky croissant wrapped around slices of Nolan Ryan brisket and baked until golden. It's similar to a savory kolache, only using a croissant pastry. It's stuffed with a bit of cheese and slices of brisket. The entire thing is also brushed with a Sweet Baby Ray's glaze. Find it at sections 3, 123, and 230.
Corn Ribs, $9.99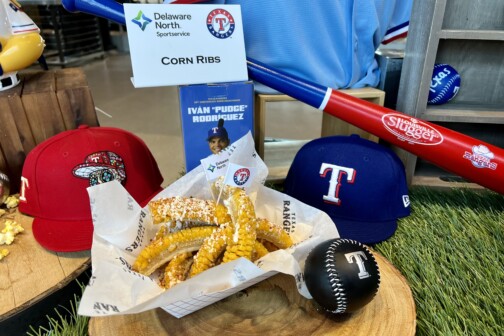 For veggie lovers, corn ribs are corn on the cob that has been sliced at the core in quarters to give it a "rib" shape. They're roasted and seasoned with cotija cheese, lime crema, and Tajín. Think of it as sliced up elote. My corn rib was slightly chewy and almost mushy, which may be due to them being over-roasted and sitting out. If fresh, it'd be a banger. Find them at sections 3, 121, and 230.
Flamin Hot Cheetos Pretzel, $8.99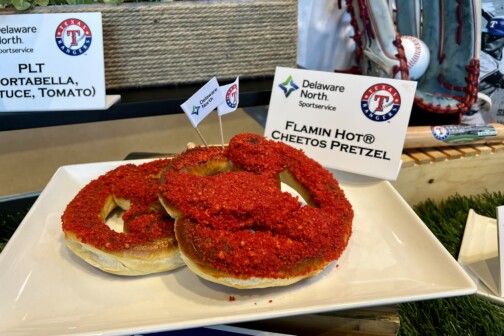 No ballpark menu is complete without a Flamin Hot Cheetos ­anything. This year's new item is a fluffy pretzel coated in crushed red-hot puffed corn puffs. The Cheetos aren't too spicy, so it's great if you can't handle much heat. It's a nice change of pace from a typical salted or cinnamon sugar pretzel. Find it at sections 3, 12, 121, 208, and 233.
Pizza Dawwg, $11.99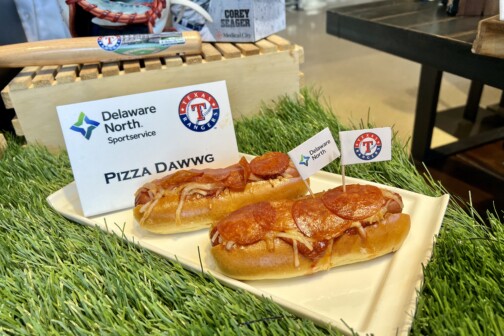 If you've ever dreamed of eating a pizza and a hot dog at once, you're going to like this one. The Pizza Dawwg is a Texas Chili Company beef hot dog link topped with marinara, mozzarella, and pepperoni. It all gets baked, which makes the hot dog bun nice and toasted. The marinara keeps the dog juicy. Tell me: would you top this with ketchup or a sprinkle of parmesan cheese? Find it at sections 3, 133, and 214.
The PLT Sandwich, $14.99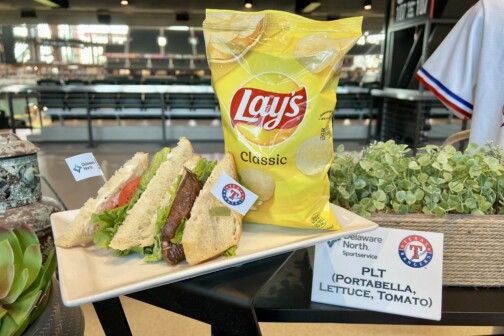 The vegan option this year is a sandwich that trades bacon for a portobello mushroom. The PLT Sandwich features a balsamic-glazed grilled mushroom with lettuce and sliced tomato with vegan bread and vegan mayo. The mushroom glaze is flavorful, but it slips around between the bread and the tomato. Keep a tight grip on this one. The mushroom is definitely thick enough to fill you up. Find it at the Visiting Vegan Stand at section 101.
Opening Day is Thursday, March 30.
Get the SideDish Newsletter
Dallas' hottest dining news, recipes, and reviews served up fresh to your inbox each week.
Author
Nataly Keomoungkhoun joined D Magazine as the online dining editor in 2022. She previously worked at the Dallas Morning News,…