After hanging up his cleats and a stint with ESPN as an analyst, former Dallas Cowboy Darren Woodson transitioned into the commercial real estate sector. As the managing principal for Cresa Dallas, Woodson helps lead the firm's strategy throughout Texas. In May 2022, Cresa onboarded all 24 of ESRP's Dallas brokers with Cresa's existing eight local brokers after the national firm acquired Frisco-based ESRP.
Woodson is also the co-founder and chairman of counterfeit NFT takedown company Counterfind, which has removed thousands of fake NFTs valued at as much as $4 million off the internet. Counterfind works with clients such as Anheuser-Busch, the United States Marine Corps, and Sesame Workshop (the producer of Sesame Street).
In his 2023 Dallas 500 Q&A, Woodson recounts lessons learned from Lovie Smith, provides his outlook for future Texas growth, and discusses his passion for teaching financial literacy to youth.
Birthplace: Phoenix, Arizona
Education: Arizona State University (BS-Justice Studies)
First Job: "I worked at Payless Cashways–similar to a small Lowes or Home Depot. I was a freshman in high school and learned the importance of showing up on time. I had a tough boss who was strict about being on time. I learned being on time doesn't mean showing up at 8 a.m. when you clock in—it means you have to get there earlier."
Best Advice: "Coach Lovie Smith told me 'that if I consistently show up, good things will happen.' It was the best piece of advice that I have ever gotten."
Destination of Choice: "Cabo, St. Barts—or any getaways that I go to with my wife and family."
Nonprofit Cause: "I am a board member and spokesperson for C5 Texas, which is a wonderful organization that is committed to changing the odds for high potential youth in our area by inspiring them to pursue success and preparing them for leadership roles in college, their communities and beyond. We do this by engaging middle and high school students from under served and under resourced communities in five years of intensive leadership experiences including year-round leadership development programs, summer camp activities, community involvement, and prep for continuing education and career development."
Hobby/Passion: "I enjoy time with family; health, wellness, and fitness; traveling; and giving back through providing experiences for our inner-city and under-served youth, helping with experiences, education, and financial literacy."
Industry Change: "We need more diversity in commercial real estate on all fronts."
Local Fare: "My favorite DFW restaurant is Nick & Sams; Chef Samir is awesome, I love anything he creates."
Do-over: "I don't know if I would redo any moment in life. Every moment has been an experience that made me a better person."
Fun Fact: "I am a software nerd and also own a software company, CounterFind."
Go-to Advisor: "First and foremost, my beautiful wife, Tiffany Woodson, is who I go to for sound business advice. She is the most talented, strongest, brilliant, and sharpest boss! I admire all of her work, hustle and success at Ink + Oro. I also seek advice from close friends and my colleagues."
Toughest Challenge: "I've gone through major transitions in my life: from college football to the NFL, then on-air at ESPN, then to commercial real estate, and also software development. Transitioning into new fields, learning, being humble, and striving for success are all themes of my careers."
First Car: "I bought my first car, a 1970 Volkswagen Bug, for $375 cash in high school when I was sophomore."
Proud Moment: "Our esrp x Cresa merger is one of my proudest moments. We are perfectly positioned to drive growth and influence across Texas and fulfill our mutual focus of serving clients, without conflicts. At Counterfind, we were the first in our space to do NFT take downs."
A Better DFW: "Better education and opportunities for our youth, especially those in under-served areas and those with limited resources would make Dallas better. Instilling financial literacy and setting them up for success are initiatives that I value."
Pivotal Moment: "When I came out of high school, my grades were not good enough, so I could not play football my first year of college. It is the only thing I wanted to do and it taught me a life-long lesson of getting my academics in order and the importance of education of first!"
Walk-up Song: "If I could walk into the office playing a walk-up song I would choose anything that gets a laugh, makes my teammates smile, and puts us all in a good mood!"
Must-Read and Must-Listen: "Atomic Habits An Easy & Proven Way to Build Good Habits & Break Bad Ones by James Clear is a great book. And the podcast I suggest is 'One Shot Podcast' with James D'Amato."
Bucket List: "Jump out of a plane and skydive with my son Jaden."
Key Leadership Strategies: "I live by a set of 4 C's that are applicable to every facet of life and business and leading from a place of service and example. The 4 C's of leadership: Content, Committed, Compliant, and Compelled."
Future Forecast: "The continued growth in Texas is what excites me most about the future. Representing office and industrial occupiers with their real estate needs in Texas and those companies looking at and coming to Texas fires me up. I look forward to helping making informed real estate decisions through our proprietary labor and consumer data analytics to improve operational effectiveness, employee recruitment and retention, and ROI for clients.
"With CounterFind, I am looking forward to the continuation of leading the path toward creating a safer, more reliable space for creators and consumers."
Get the D CEO Newsletter
Stay up to speed on DFW's fast-moving business community with weekly news reports, interviews, and insights.
Author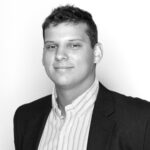 Ben Swanger is the managing editor for D CEO, the business title for D Magazine. Ben manages the Dallas 500, monthly…