Thirty-three years after graduating high school as one of the great power forwards to come out of Dallas, Kurt Thomas will be honored Tuesday when his alma mater, Hillcrest High School, retires his No. 33 jersey. If it seems late for a guy who went off to college in 1990, well, Thomas has always been self-described a "late bloomer."
The 50-year-old is a proud Oak Cliff native and even prouder son of Oak Cliff parents. Even now, decades removed from his childhood, he's quick to credit every South Dallas school that shaped him: Birdie Alexander Elementary, D.A. Hulcey Middle School, and, for his first two years of high school, Carter. Yet none of them played a pivotal a role in his basketball journey. While he loved the game from an early age, "I always played basketball on the blacktop," he says. "I didn't play organized basketball until my sophomore year, and that year, I sat on the bench on JV."
It's a basketball origin story that was told a few times over Thomas' epic 18-year career in the NBA. It still sounds jarring to hear today, when youth basketball is hyper-organized for 10-year-olds and promising high school sophomores are often on multiple teams that play year-round—never "on the blacktop." Back then, however, it was possible to find players like Thomas, someone who "always played the game," he reiterates. "I just never had a coach."
So it isn't too surprising to hear Thomas insist that transferring from Carter to Hillcrest had nothing to do with basketball: "My best friend was transferring to Hillcrest, and I wanted to go to school with him," he says.
It didn't take long for Hillcrest to appreciate his arrival. Thomas was about 6-foot-7 when he arrived, and even if he hadn't bulked into the 6-foot-9, 230-pound rock who would patrol the paint in college and the pros, height is height at the high-school level. Thomas had a solid junior season starting under coach Steve Scott and got off to an even better start as a senior in 1989. He was quickly becoming, as Hillcrest says in a display at the school, "the greatest basketball player in Hillcrest history." Local college programs began to notice, not that it registered too much with him at the time.
"My teammates and friends would say, 'You can go to college and play basketball,' and I was like, 'Whatever,'" he says. "It was not a big deal to me. I just wanted to play a game and score points so my mother, father, and friends could see my name in the paper."
Thomas broke his right ankle and missed most of his senior season, but he came back in time to get Hillcrest a game short of states and then played the first AAU ball of his life in the spring of his senior year on a team called the Dirty Dozen. By then he had fully fallen in love with the sport, thanks to the experience of playing for Scott and with a group of teammates who became his friends. His time with the Dirty Dozen took him to a tournament in Houston, "where I got on TCU's radar," Thomas says. While he also received interest from "SMU, some junior colleges, some NAIA schools," Thomas' mother was from Fort Worth and wanted him to go to TCU. That was it.
Not unlike in high school, Thomas' college career started slowly as he adapted to a higher level. Then he broke his left ankle and missed the entire '92-'93 season. Thomas came back as a redshirt junior the following campaign and averaged 20 points per game before putting it all together as a senior, averaging 28.9 points and 14.6 rebounds per game. He was just the third men's player to lead Division I in both categories for a season, a force who could do whatever he wanted inside.
The late bloomer was now a surefire NBA player. "He had developed a lot of muscle and strength and become a very physical player," says legendary coach J.D. Mayo, who won 698 games over his 33-year career at Skyline High and was inducted into the DISD Athletic Hall of Fame in 2019. Mayo also coached future NBA forwards Larry Johnson and C.J. Miles at Skyline. "He played hard and was very fun to watch play."
Johnson, Miles, and Thomas are joined on an almost bizarrely long list of forwards from Dallas who made a mark in the NBA, joined by the likes of LaMarcus Aldridge, Darrell Arthur, Tony Battie, Chris Bosh, Julius Randle, and Dennis Rodman. Thomas isn't naive to his place in that lineage. "I was able to grow up and witness Larry Johnson when I was in high school. To become his teammate [in the NBA] was a dream come true," he says. "Dennis Rodman is from Oak Cliff. I saw what a great rebounder he was and tried to emulate him. … I have great relationships with Chris and LaMarcus. We always look out for each other."
Why so many frontcourt standouts? "Maybe there's something in the water," Thomas says with a laugh. "But we have some amazing guards, too!" He names players across generations: Spud Webb to Stevin Smith to current Philadelphia 76ers floor general Tyrese Maxey. "We just love the game of basketball here."
Of that long list, only Thomas made his mark in North Texas at every level, from high school to college to a brief run with the Mavericks in the 1997-98 season. Then, in a move that would repeat itself with Tyson Chandler and Jalen Brunson, Thomas saw his career reach new heights by leaving the Mavericks for the New York Knicks midway through his career. Playing alongside two players he'd long looked up to—fellow Dallasite Johnson as well as all-time great center Patrick Ewing, who had inspired both Johnson and Thomas to wear number 33 in high school—Thomas and the rugged Knicks made it to the '99 NBA Finals, then won 50 games the following season. Thomas spent six seasons in New York, where he was beloved for his defense, rebounding, intensity, and a money mid-range jumper that he never extended to the three-point line. (Thomas didn't make a single three-pointer in the now three-obsessed NBA). In 2012, after spending time with eight other organizations, he returned at age 40 to finish out his NBA career.
"I played a long time for a lot of teams but the Knicks are definitely the one I think of the most," Thomas says. "I feel like everyone always considers me a Knick."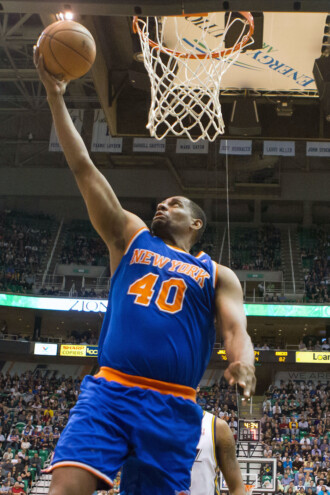 But while his professional career is synonymous with New York, his heart never left Dallas. "I graduated from TCU. I always kept a home in Dallas, and I always knew I'd come back here," he says. He now resides in Far North Dallas, where he runs a real-estate business (in addition to occasional work with the Knicks organization).
TCU retired Thomas' Number 40 at a halftime ceremony in 2017. Six years later, he's about to have that same honor at Hillcrest. Mayo is shocked it took this long. "I know we retired Larry's jersey real quick," he recalls with a chuckle. "We just took that thing and put it up on the wall."
Why the delay? Thomas' longtime friend and fellow Hillcrest grad, Benjamin Herman, says the school wanted to do it for a long time. "Kurt is just so humble that he never really wanted to make a big deal," Herman says.
For his part, Thomas says the time just hadn't been right. "Hillcrest has been reaching out to me for years. I've just been doing my thing, grinding and working," says Thomas, whose son, Kurt II, is a junior guard on the Hillcrest team. "Everything seems to line up now, and I've been back spending time there, and it's been a beautiful relationship."
He expects the event will be similar to what he experienced at TCU: full of family, friends, old coaches, and teammates. "It will be great fellowship," he says, even though the event was postponed an additional week due to winter weather. And just like Thomas' late-blooming basketball career, it will be well worth the wait.
Get the ItList Newsletter
Be the first to know about Dallas' best events, contests, giveaways, and happenings each month.