Jack Sock is no stranger to comebacks.
He was nominated for the ATP's Comeback Player of the Year award after his career was nearly derailed in 2019 by a right thumb injury. He dropped out of the rankings entirely that season, wondering if a return was even possible.
The 30-year-old Lincoln, Nebraska, native bounced back to his signature aggressive baseliner form last season. He was one half of the American doubles duo that beat tennis legend Roger Federer in his final match, helping the world team defeat Europe to capture its first Rod Laver Cup title last fall. But in August, Sock was up two sets to one on then-No. 16 Diego Schwartzman at the U.S. Open when another injury forced him to concede that contest. This time it was his back.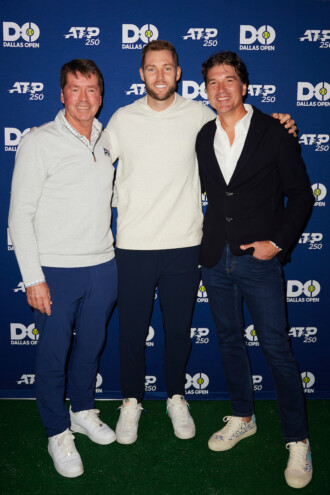 Fast forward to 2023 as a contingent of young American tennis talents made their marks during the tour's first Grand Slam event of the year in Australia in January. Sock, who has led the charge for American tennis since he debuted on tour in 2011, was at home watching the action on TV.
But Sock insists there was no FOMO. "I'm beyond happy with how the guys showed up, and I'm always a fan of American tennis," he says. "But I had a strict extended offseason that was planned out ahead of time."
The goal, he says, was to get his body healthy and ready to compete against the world's best again. "I had some things body-wise that I needed to do to get right for this year. I've lost some weight. I've leaned out a bit. I'm fitter, and I've changed some things around in my game to hopefully help with the injuries."
The former No. 8—now ranked No. 138 in the world—accepted a wildcard into the main draw of the Dallas Open next week. He is one of a number of tennis stars who will be in town competing for the trophy, ranking points, more than $700,000 in prize money, and, at least for Sock, redemption.
"Honestly, my body is feeling great," Sock says. "I'm feeling as good as I have since I was in the top 10, and that's a good place to be at the beginning of the year."
Sock kept busy in his time away from the tour. He dabbled in pickleball, a sport that is notoriously easier on the body because the court is smaller, and it requires less strength and intensity to hit the ball. (As a tennis-playing friend likes to remind me, all tennis players can play pickleball. Not all pickleball players can play tennis.)
But his focus is squarely on the full-sized tennis court, where Sock says he is hoping to improve on his 2022 performance at the Dallas Open. Last year Sock won his opening round 6-4, 6-4 against German Oscar Otte, before running into red-hot American Taylor Fritz, who would go on to win the first big title of his career at Indian Wells just two weeks later and himself break into the top 10. Fritz comes into the Dallas Open as the tournament's No. 1 seed this time around, and he'll be looking to write a better story at SMU's Styslinger/Altec Tennis Complex.
So will Sock. And if he does pull off the improbable and win the tournament, well, you might just call it a comeback.
---
Limited tickets are available for all sessions of the Dallas Open, including Saturday evening's women's exhibition match between American stars Madison Keys and Sloane Stephens. Qualifying rounds begin Sunday before main draw action heats up on Monday at SMU's Styslinger/Altec Tennis Complex.
Get the ItList Newsletter
Be the first to know about Dallas' best events, contests, giveaways, and happenings each month.
Author
Brandon J. Call is the executive editor for D CEO magazine. An award-winning business and data journalist, Call previously served…