"I'm home. Let's go watch Luka play basketball."
This was a text I got from Simon, an old friend and pickup basketball teammate. The last time I saw him was six years ago, the first time he returned to Slovenia after leaving for Australia more than a decade ago. His story is kind of wild: his girlfriend got a job, he goes with her to the other side of the world, they break up soon after. He winds up staying anyway as a gym instructor and basketball coach for Australian miners in Queensland's Christmas Creek. The mine is located in the rocky desert of Pilbara—one of the oldest places in the world—but even that's not stopping this Slovenian from watching Mavericks games during his lunch breaks.
We met up at the terrace of a small tennis club in Ljubljana, where Simon and his friends were "warming up" to watch Slovenia play Poland in the EuroBasket quarterfinals. I was excited to spend some time with my buddy again after all these years. The last time we traveled together to watch a sporting event was more than 20 years ago at the UEFA European Championship in Amsterdam. I wrote about that trip in the first part of my EuroBasket diary, trying to explain why following our national team matters so much to Slovenians. It turned out we might have another chance soon enough: we both, independently of one another, had plans to go to Germany for the medal rounds if Slovenia made it that far. I had just gotten back after four days in Cologne watching the team play, but I couldn't wait for more. 
We got so distracted by reliving old stories and planning the upcoming trip that we almost missed the tip-off. Nobody was nervous about this game. Poland was supposed to be just one last hurdle before the "party" we'd have in Berlin.
Now things usually don't end well when you take things for granted—and unfortunately, both we and our basketball team did. Poland blitzed Slovenia, pulling off one of the biggest upsets in EuroBasket history. We stared at the television screen in disbelief as Luka Doncic looked mortal and our plans collapsed majestically, like the fall of the Berlin Wall.
After that, I admit I struggled to find motivation to write this article. But like usual, my editor Mike Piellucci was right, telling me to write about my EuroBasket experience, not necessarily about the basketball itself. Once I took two days to get over the disappointment, I realized I almost forgot how much fun my time in Cologne was. EuroBasket, with its NCAA Tournament kind of setup (at least in the knockout rounds), delivered everything we love about sports: crazy competitive play, passion, upsets, joy, disappointments, and, unfortunately, some bad officiating. Being able to see players like Doncic, Rudy Gobert, Nikola Jokic, and Giannis Antetokounmpo compete for their countries, surrounded by fans from different parts of Europe, was truly an amazing experience. It only happens once four years—five, in this case, due to the pandemic.
My EuroBasket experience began the same way it ended: with a shock. Me and my pal Miha, whom you read about last time, flew into Cologne on Sunday morning before Slovenia's third game of the group phase, against Bosnia and Herzegovina. Slovenia opened the tournament with a bang, winning against powerhouse Lithuania and taking care of business against the worst team in the group, Hungary. So this next matchup was supposed to be a warm-up for our last two group-phase games against Germany and France.
What's that I was saying about not taking things for granted? The Bosnians, led by the Portland Trail Blazers' big man Jusuf Nurkic and ex-Brooklyn Net Dzanan Musa, and inspired by a rowdy, soccer-like crowd, pulled an upset over the uninspired Slovenians. Doncic, who struggled in this game, barked at his head coach on several occasions, while team leader Goran Dragic had some uncharacteristically passive-aggressive comments when asked about his lack of playing time during postgame media availability.
All of a sudden, things looked bleak. Miha was so depressed he left the game early without saying a word. So not only did we lose the game, I lost my pal in the middle of Cologne as well. Afterward, I needed some time and a Kölsch—a local beer named after the city and served in bars around town in small glasses, called "stangen"—to gather my thoughts and lick my wounds. It was getting late, but I didn't want to go to sleep depressed. I needed to see some friendly faces. I decided to make one last stop and check out the "Slovenian house," which wasn't a house at all. It's actually a bar: Papa Joe's Biersalon pub in the center of Cologne. It served as a designated headquarters for Slovenian fans, a place to meet before and after every game. I didn't expect much action after such a demoralizing defeat, but to my surprise, the place was rocking when I got there. Everybody was dancing and singing Slovenian music. And, of course, I found Miha in the middle of the loudest crowd.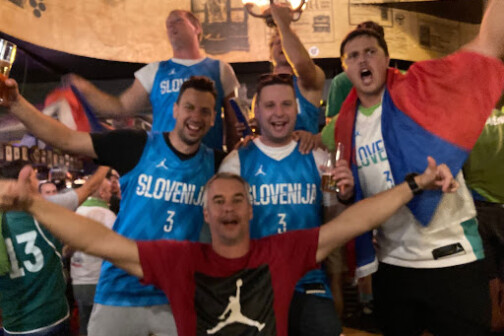 Sometime in the midst of that, a Bosnian guy wearing a Nets No. 30 Musa jersey strolled into the bar. He took in the scene, turned to me, and posed one question: "What do you guys do when you actually win a game, if it's like this when you are losing?"
The next two days the party spirit was all but gone. Most of the Slovenian media was dwelling on the disappointing loss, and the pressure was mounting on our team to turn things around in the next game. Which was kind of problematic because Slovenia was playing the host, Germany, who had been dominating the group play until that point.
As expected, the sold-out 19,500-seat Lanxess Arena in Cologne was full of Mavericks No. 41 Nowitzki jerseys after The Big German got his No. 14 national team jersey retired in the same arena a few nights prior (which our Brian Dameris perfectly documented). What surprised me was that I saw just as many Luka Mavs jerseys among the German fans in the arena—if not more. It's almost unimaginable for us Slovenians, to wear a jersey of the opposing team's player when your national team is playing. It speaks volumes about the deep connection that the Mavericks have in Dirk's motherland.
Prior to tipoff, as I stared at Dirk's retired jersey hanging from the rafters, I wondered if the pressure of carrying the hopes of both the Mavericks franchise and his home country on his back was finally getting to the 23-year-old Doncic. The Bosnia game was bad, but he'd been having a so-so EuroBasket before that, too. Beyond the on-court struggles, Marc Stein broke the news of Doncic filing a petition to regain control of a trademark bearing his name that currently is owned by his mother. I wasn't exactly reassured a few moments later when our center, Mike Tobey, rolled his ankle landing on a referee's foot after the opening tip-off.
But things took a turn for the better with 3:46 left in the second quarter, when Doncic made his first stepback three of the evening. He'd been struggling with his shot throughout the tournament, which is perhaps why he tilted his head to the rafters with a smile, thanking the basketball gods—or, with Dirk's jersey up there, Dallas' shooting god—for finally getting him a bucket. As he did, I recalled a verse from a popular Slovenian fan chant we sang on my trip to Amsterdam 20 years earlier. It went something like, "Just give me one little goal, and everything will be like it was before." In Luka's case one little stepback turned out to be all he—and we—needed.
From that moment on, Luka went into full takeover mode. He abused every possible German defender on his way to the basket and 36 points. Doncic took it to another level the next night, scoring 47 points against France in what was probably the best EuroBasket performance of all time. I was lucky enough to experience Luka Magic in person during my trip to Dallas in February earlier this year when I saw Doncic score a career-high 51 points and then another 45 in back-to-back games against the Los Angeles Clippers in the American Airlines Center. But this time, experiencing it as a fan, cheering for my country, was way more emotional. It was two days of passion, two days of joy, two days of us chanting MVP, MVP after every made bucket. Two days of feeling invincible, even when going against two of the best teams in Europe (France and Germany went on to win silver and bronze). Two days of fun celebrating wins late at night in the Slovenian house, where other crazy things happened, like Lithuanian fans trying to sing Slovenian folk music or me getting into a heated debate with a German about the best European basketball player ever (before eventually finding common ground on Dennis Schroder being a terrible fit on the Mavericks).
I'm glad that Mike pushed me to do this story. It forced me to unpack some of the moments I'd crammed into a mental box labeled "Do not open ever again" after the disappointing quarter final defeat. So much of sports gets centered on the result of the last game that we forget about the joy we have along the way. But the joy is what this really should be about.
Hopefully, Luka can do that, too. Hopefully he'll be able to rest and reflect, to cherish the positive moments and learn from the negative ones. It won't be easy because the disappointment from this one, his feeling that he let his country down, will sting for a while. The quarterfinals loss might be the first real setback of his career.
But a man learns wisdom from failure much more than from success, so I bet this makes him stronger. He won't have to wait long for his next chance. The Mavericks' Media Day is next Monday, and the season opener against the Phoenix Suns is less than a month away. Us Slovenians will be watching, like we always have. All we need is one little stepback, and everything will be like it was before.
Get the ItList Newsletter
Be the first to know about Dallas' best events, contests, giveaways, and happenings each month.
Author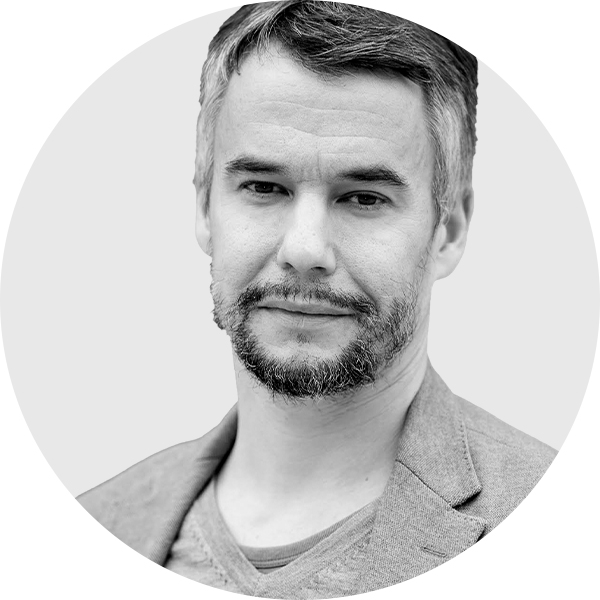 Iztok Franko covers the Mavericks for StrongSide. He is an analyst that uncovers stories hidden in NBA data and basketball…