The Cowboys' season-opening loss to Tampa Bay was a disaster. It also was a relief. A meek 19-3 defeat against an opponent they took to the final whistle just nine months ago justified every fear expressed by the Cowboys fanbase this offseason. Trading Amari Cooper was a mistake. So was preserving cap room. Could Dak Prescott truly elevate a roster that made no major acquisitions in the offseason and lost Tyron Smith for what's almost certainly the season? Probably not. And before it was over, Prescott went down with an injury to his throwing hand. So we could avoid the false bravado of a potential Super Bowl run. It could be a season leering at college football and mock drafts, a true reprieve from the burdens of employing a top-10 quarterback and an all-encompassing franchise legacy. But Micah Parsons has other ideas.
When people who have closely watched the Cowboys over the past 30 years discuss Parsons' greatness, they are paralyzed by the fear of hyperbole. It's only been 18 games. They're worried they're getting ahead of themselves even though, through those 18 games, we've never seen anything like him. Luckily, I am not smart enough to be paralyzed by that fear. I've watched—endured, really—this franchise since Jerry Jones passed over Randy Moss in the 1998 NFL Draft, and Moss is the only talent I find comparable to Parsons.
If it seems like Parsons is getting to the quarterback at a rate which you have never seen before in Dallas, that's because he is. Parsons currently has 17 sacks, which stands as the most sacks in NFL history through an 18-game career. This season, he leads the NFL in both sacks and tackles for loss, with four apiece.
His dominance cannot be simply quantified. It's his presence, too, how every step applies a mental tax that opponents cannot afford. In Week 2, Joe Burrow strutted into AT&T Stadium confident that he would pilot the Bengals' high-powered offense to a bountiful day. Parsons had a different plan. Burrow is a supremely talented quarterback capable of making every throw to his equally skilled receiving core, yet he was completely rattled by Parsons' constant presence in the backfield. And who could blame him? Just 23 years old, Parsons demands the eyes of every single participant when he is on the field.
Again, the Cowboys practically invited discontent this offseason. Their approach to free agency left much to be desired. Their use of the trade market left everyone with a star in their heart befuddled, and their draft did not exactly inspire a new generation of Cowboys fans. No one of relevance played during the preseason. Their only bright spot was a return specialist unearthed from the USFL. Week 1 against Tampa Bay rolled around, and every player on the offense not named Zack Martin looked disappointing. Before Dak suffered that thumb injury in the fourth quarter, nearly every negative opinion about him was validated. Zeke showed up with a new helmet but without a new burst. Mike McCarthy made several bad decisions, as he often does. The whole experience gave us carte blanche to safely write off this Cowboys team and invest in NFL RedZone.
That's what I was going to do. I watched Week 1 and wanted to wash my hands of this team. Yet here is this force of nature who destroys offenses on his own. With him roaming around on defense, the Cowboys are going to win just enough to keep us tethered to this team all year before inevitably letting us down. I just want to be free. But Micah Parsons will not let me because he is awesome. Damn him.
Remember those early 2010s Tony Romo teams? They were not good. Remember Laurent Robinson? Surely not, but Romo made him matter for a season the way he did so many other forgotten names as he kept those teams afloat. His Cowboys rarely boasted the talent nor disposition to compete or play in the NFL playoffs, but Romo was a rising tide who lifted all boats. That is what Parsons' dominance provides for this precarious Cowboys roster.
Cooper Rush outperformed every expectation from onlookers last weekend. Heck, he even outperformed Joe Burrow in the game. And that's exactly what makes Parsons so valuable. Rush, an undrafted quarterback with one career start, threw for 235 yards and one touchdown, and that was enough production to outduel a quarterback who just led his franchise to its first Super Bowl in more than 30 years. Parsons just lowers the difficulty for everyone around him. That's what greatness does.
Nothing should be taken away from the production of Rush, Noah Brown, or an oft-maligned offensive line. They all performed at or above their expected level. Throw in some explosive plays from Tony Pollard, and the offense's overall production rounded out to league average. And that's why Parsons is so important. He makes average OK.
This Cowboys roster isn't destined for a Super Bowl trophy, but don't tell Parsons that. He scorned a TV interview with Skip Bayless and Shannon Sharpe after Week 1 just because Prescott went down, and he wanted to fill in as a leader.
You watch any sport to observe greatness. And that's what Micah Parsons is all about. You're going to fixate on him on every snap in the ball game, and when is the last time you did that with a Dallas Cowboy? He makes a game—any game—worth watching. He makes you feel alive. And ultimately, he will make you feel just enough that getting hurt in the end will be worth it.
Get the ItList Newsletter
Be the first to know about Dallas' best events, contests, giveaways, and happenings each month.
Author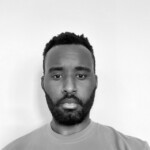 Austin Ngaruiya covers the Cowboys for StrongSide. He is a contributor at Dime Magazine and spends entirely too much time…