When I hung up my spikes following my Division II baseball career at Ouachita Baptist (home of Pro Football Hall of Famer Cliff Harris), I was under the impression that my most important swings were behind me. But when I got the call to participate in this year's Reliant Home Run Derby Media League to raise money for a nonprofit of my choosing, I quickly realized my baseball career had yet to peak.
For just a dreamer like me, being given this opportunity felt equivalent to what I imagine a major league call-up feels like.
I decided to hit for North Texas nonprofit Pasos for Oak Cliff, which helps low-income students from kindergarten through 12th grade by providing them with new shoes (1,505 pairs since December 2021, to be exact), college scholarships, mentorship programs, and summer interventions.
On the Sunday before the Tuesday evening showdown, I called up a former teammate and asked if he could toss me some batting practice. I had to clean the rust off this old swing. He gladly obliged—on one condition. Should I win, I had to give him a shoutout. So, along with splitting this honor with Pasos for Oak Cliff and the D brand, I split this pedestal with the best BP thrower in the land: Braeden Bomer.
My hands had babied on me since my last hacks. I gave myself two blisters. Was I concerned? Yes. But was I worried I would lose due to my newly minted wounds? No. At this point, I wasn't sure who I was up against, but I figured I'd be the youngest in the competition (23) and the closest removed from seeing leather balls thrown in my wheelhouse.
When Tuesday rolled around, my hands healed just enough. I'm not hyper-competitive, but I get amped up when it comes to baseball. I started feeling like it was a gameday, and my adrenaline was flowing—just like it used to before I pulled up the stirrups and popped a couple of ibuprofen for good measure.
On the way to Dr Pepper Ballpark, my fiancée called for a pep talk. She re-centered me. "Please just go out and have fun," she told me. "And remember you're hitting to raise money for those kids." That was what I needed. This event wasn't about taking home a trophy or a signed football (which I did score). It was about putting baseballs over the temporary shortened fence so Pasos for Oak Cliff could take their mission to the next level.
My "Junior" Moment
The format was simple. There were three rounds; 11 media members hit; we each had 10 outs to play with in the first round. Each ball that didn't soar over the modified fence, brought in to about 200 feet, was an out. Each time a hitter put a ball in play, it was $100, a homer over the short fence was $500, and a regulation home run awarded $1,000. Five hitters would move on to round two, and two hitters would battle it out in the final round—with the outs cut in half to five for both rounds.
In the first round, I sent 12 over the short fence and put nine in play to the tune of a $6,900 round one. But I was gassed. The MC and fellow competitor RJ Choppy cringed. "Who invited this ringer?" he asked on the microphone, as he play-by-played my first-round hits.
Never in my life was I considered a power hitter. In high school, I was a dead pull hitter and logged good-enough-for-D2 numbers, but my best college season as a .171/0/8 player was evidence of my lack of consistent prowess at the plate.
But at this moment, heading into round two, I felt like Ken Griffey Jr. I didn't have the brash to turn my D Magazine hat backward; I knew I couldn't get one out to the Roughriders' left-field porch 335 feet away. But I felt good enough, at least, to send a few more 250 feet into the gaps.
In the second round, I logged eight home runs and put four balls in play. It was good enough for $4,400 more for Pasos. Then, I was on to the final round to face NBC's Pat Doney—who apparently spent three weeks in the cages readying himself for this exact stage.
At this point, I wasn't dead, but my body was whimpering. I watched Doney launch nine homers in the final round. I didn't know how I could beat that.
Remember the Steve Harvey Snafu?
In the moment, I—along with everybody in the stadium—forgot the format. It wasn't about who hit the most home runs in the final round, but about who cumulatively raised the most money. So, at this point, it would have been nice to know that I had actually wrapped things up without ever taking a swing in the final round. I already had $11,300 in the bag for Pasos for Oak Cliff.
I stepped into the box and gave the pitcher a nod. We were off. I notched two straight outs. Not a good start. Then I found a groove. Three in a row left the yard. I stepped back. Like I used to, I took a breath and visualized the ball heading over the left-field wall. Out. Out. Down to my final life. I sent one more over the fence. My might was crumbling. I hit one last ball, a pop-up to the second baseman. That was it. I only hit four home runs.
"Pat Doney is your winner!" Choppy exclaimed to the stadium. I was fine with that. I had just raised an impressive amount of money for an incredible nonprofit. I went over and hugged my parents, gave Jesse Acosta and Alejandra Zendejas—the founders of Pasos—fist bumps, and gave the field an internal salute.
We made our way up to the founder's suite, where we could cool off in the AC and get some eats. That's when the officials sidled to our table. "Turns out, Ben, you actually were the winner," I was told in a whisper. "You raised $13,600, and Pat raised $11,100."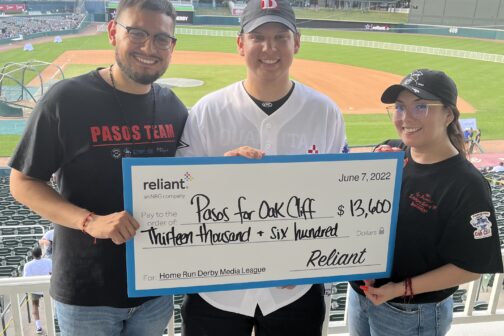 Choppy proceeded to ask the crowd, "Does anybody know what Steve Harvey is famous for?" Fellow competitor Clarence Hill shouted, "Miss America!"
"Miss America, Clarence," Choppy said. "Turns out, I've done the same. Because Ben Swanger raised the most money, he is the winner."
Acosta and Zendejas were told I raised $13,600, and that's when things got raw. Tears were shed, words could not be said. It was the most money Pasos for Oak Cliff had ever received in a single fundraise.
In all, the media participants raised $43,800 for various North Texas nonprofits. A couple of hours later, the Dallas Cowboys, led by the likes of Dak Prescott, Ezekiel Elliott, Micah Parsons, Jourdan Lewis, and Leighton Vander Esch, raised $81,000 through their efforts for the Salvation Army.
I walked away with Media League bragging rights, but Pasos for Oak Cliff walked away with a check that can change the lives of countless children. Turns out, my Division II swing is worth something. Something way more valuable than I ever dreamed.
Get the D CEO Newsletter
Stay up to speed on DFW's fast-moving business community with weekly news reports, interviews, and insights.
Author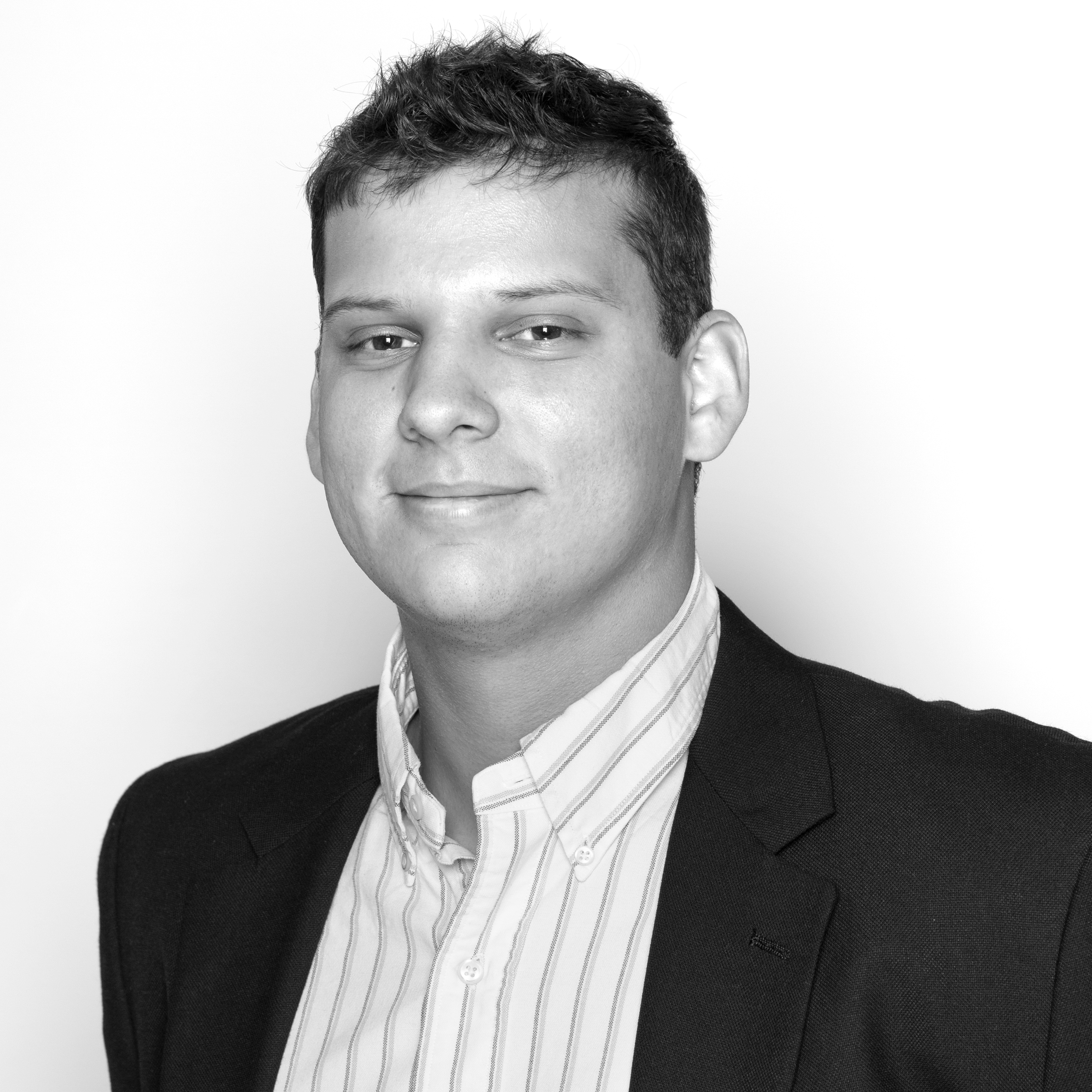 Ben Swanger is the managing editor for D CEO, the business title for D Magazine. Ben manages the Dallas 500, monthly…