Awak Kuier had a decision to make after she intercepted a pass against the Seattle Storm earlier this month and found herself with the ball, alone, no defender between the basket and her.
To dunk or not to dunk?
"I thought, 'OK, this is my chance,' so I just went for it," Kuier says. "I should have jumped a little bit higher. I felt I could have done a little bit better, but a dunk is a dunk, so I'll take it."
It was the first dunk in Dallas Wings history and the only dunk in the WNBA this season. Kuier, a 6-foot-4 forward from Finland, finished the game with a career-high-tying nine points.
The moment was big for Kuier, who along with teammate Charli Collier, is still trying to find her footing in the league and with the Wings. Both are in their second year.
Collier and Kuier will forever be linked as the first two picks in the 2021 WNBA draft, each going to a team that was looking to add height, size, rebounding, and scoring to its young roster.
Collier, a Houston native, declared for the draft as a junior after leading the Texas Longhorns to the Elite Eight of the women's NCAA Tournament. In her last year in Austin, she averaged a double-double with 13.1 points and 10.5 rebounds per game and proved to be a threat from beyond the three-point arc, shooting more than 35 percent on almost 80 attempts. The center also displayed skills as a rebounder and rim protector.
Kuier, then 19, was selected second, the first Finn to be drafted into the WNBA and just the sixth player without NCAA experience to be taken in the top five. Known for her midrange game and ability to block shots, Kuier played last year for Ragusa in Italy with fellow Wings frontcourt member Isabelle Harrison, averaging 8.9 points and 6.8 rebounds per game.
Both have the athleticism and length the Wings were looking for, and it appeared their skills would serve the Wings well. But although they have shown flashes, both have struggled to find consistent minutes while coming off the bench—Collier more so than Kuier.
Collier, a two-time All-American at Texas, has played in 10 of Dallas' 16 games and is averaging 1.0 points per game in 3.4 minutes. Kuier has appeared in 15 games and is averaging 2.1 points and 2.6 rebounds in 11.4 minutes per game.
It's still early in the season and in both players' careers. Some WNBA players take several years to hit their stride. Both know this as they use their second seasons to continue learning, growing, and proving their worth and value to the team and the league. Wings second-year head coach Vickie Johnson has noticed progress from Kuier in particular.
"Awak has been doing a great job, carrying out the game plan from practice to the game, understanding personnel," Johnson says. "It's an easy flow for her because she's naturally a 4. She can run, defend, and so to continue to see her growth and her comfort level on the court is huge for us and also for Charli."
Kuier can see the difference in her play from Year 1 to Year 2. She says she's more comfortable and playing harder, too, something she partly credits to her time overseas.
"I learned overseas about toughness and being ready to take the contact," she says. "Ready to take that physicality and play through that. I feel like that helps me bring energy and confidence into playing the game."
With an increase in minutes (an average of 2.5 per game), Kuier says she feels "more confident and positive."
"It's frustrating when you know you can do better but you might not get the opportunity," she says. "I feel like this year what I learned from that is that now I can get the opportunity and just be ready and seize the moment and get everything out of it."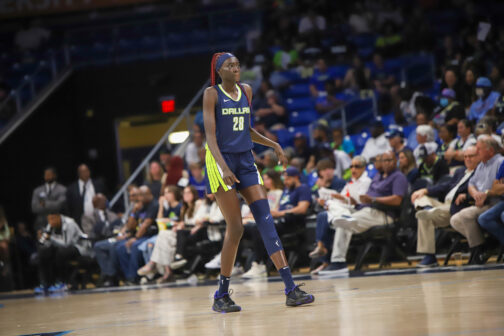 Much to the dismay of many Wings fans, Collier's minutes continue to be limited But she is also staying ready for when her name is called. One such moment came last week during the team's five-game homestand. The College Park Center crowd erupted in applause when Collier went to check in.
"I felt it," she says. "It's all love. My fans in Dallas … I get great DMs from people I don't even know encouraging me and telling me to stay at it. I really appreciate them. My family comes to the game, and whether I am playing or not, I am always going to speak to the fans. I am just appreciative."
So, what does Collier need to do to get time on the court? Johnson says she wants the second-year player to continue to learn and to understand the league and its personnel, as well as what the Wings are trying to do on both ends of the floor.
"At the end of the day, everyone knows what I am capable of," she says. "I am here for a reason, obviously, and I'm going to be here for a long time. People know—prior to the WNBA—me outside of basketball, I am good to people, and I feel that's important. The way you treat people, they'll always remember that. Whether I am playing one minute, two minutes, whatever, they'll always know Charli Collier overall is a good person."
Collier stays ready by training, doing weights and conditioning outside of practice and "maintaining my good spirit. You have to always keep a good spirit about yourself." She says she's remaining patient about her possible opportunity.
"On this big stage it's easy to get caught up in what's not going your way, but I have to count my blessings," Collier says. "There are a lot of things I am thankful and grateful for. It's a unique situation, and when the opportunity presents itself wherever I am in the W—because I am going to be in the W for a while—the people are going to see that."
Regardless of how this plays out, Kuier and Collier love calling Dallas home. And while Collier is quick to point out that the whole team has grown closer, she and Kuier share a unique bond. They are the only players in league history to ever be selected first and second overall by the same franchise in the same draft, which means they will always be tied together. They understand their situation in a way no one else in Dallas, or throughout the league, could.
So it's no surprise to hear Collier say that "we spend a lot of time together, [and] we talk a lot."
"We are very close." Kuier agrees. "We support each other. We came into the league at the same time, so we have that in common, and we always make sure we have each other's back."
That hasn't been the easiest task in a bumpy first season and a half in Dallas. And as they continue to grow in their roles, that support—and understanding—will become more important than ever.
Get the ItList Newsletter
Be the first to know about Dallas' best events, contests, giveaways, and happenings each month.
Author
Dorothy J. Gentry covers the Wings for StrongSide. A native Dallasite, she is a journalist and educator who covers the…