Where Pro Football Hall of Fame wide receiver Jerry Rice got the inspiration for the name of his new energy drink is obvious. After all, the longtime San Francisco 49er has a 5,400-yard cushion on the next closest contender on the all-time pass catcher list. But how he and his family—in two years—built GOAT Fuel into a brand partnering with Anheuser-Busch's wholly owned distributor business unit AB ONE, with more than 7,500 retail accounts, and a 250 percent continual annual growth rate, is a bit more complex.
In early 2019, Rice's daughter, Jaqui Rice Gold, and son-in-law, Trevion Gold, lived in Los Angeles, going about their beauty tech and music careers, respectively. The two fueled their workouts with big-brand energy drinks, but both came away with stomach issues. So the couple approached Rice, an investor in Muscle Milk, with the idea of developing a new energy drink. The main differentiator in the formula? An ingredient used in traditional Chinese medicine for centuries.
"We're the only mainstream energy drink brand on the market right now utilizing cordyceps mushrooms," Rice Gold told D CEO. "The ingredient helps our bodies utilize oxygen by improving your VO2 max, [or the maximum amount of oxygen that an individual can utilize during intense or maximal exercise.] It is also an anti-inflammatory and prevents any energy drink jitters or crash."
By the end of 2019, the family had perfected four flavors. Jerry Rice, the executive chairman and co-founder classified internally as the "godfather" of the brand, then began working the phones to build out an investor team.
Checks came in from numerous angel investors, including serial investor and Minnesota Timberwolves owner Marc Lore. The company launched in early 2020. Buoyed by the at-home fitness craze during the genesis of the pandemic, GOAT Fuel's launch blew its team's expectations out of the water.
Within 40 days, 55 percent of inventory had sold. "Convincing 4,000 people to spend $35.99 on a case of energy drinks they never heard of is really attributed to my dad's involvement," Rice Gold said.
Since its launch, GOAT Fuel has grown from an e-commerce audience to having more than 7,500 retail accounts—including every Central Market and 24 Hour Fitness in America. The company also landed Target and, coming this summer, Walmart.
Last April, GOAT Fuel left the West Coast and moved its headquarters to Plano—lured by the region's access to numerous investors, lucrative sports franchises, and top food and beverage distributors.
"Our company name really vibrates a certain frequency that a lot of historically great sports franchises are drawn to," Gold said. "And last year, we did an activation in partnership with FanDuel that featured Emmitt Smith, Warren Moon, and Jerry [Rice]. Now that we're here in Dallas, we're really looking to scale and embed ourselves in the community."
The company's two biggest slipstreams have been partnerships beyond North Texas—a three-year deal with the Los Angeles Lakers as its official energy drink and a distribution agreement with Anheuser-Busch's wholly owned distributor business unit AB ONE. Since October, GOAT Fuel has been building out its direct store delivery network through the beverage giant's independent distributors, Gold Rice said.
GOAT Fuel expects to double its headcount by the end of the year. And it expects to match in 2022 and 2023 the 250 percent annual revenue growth it achieved in 2021.
"It's not about one person being the goat," Rice preaches to the GOAT Fuel team. "It's about us coming together and just understanding that we all have greatness inside of us."
Get the D CEO Newsletter
Stay up to speed on DFW's fast-moving business community with weekly news reports, interviews, and insights.
Author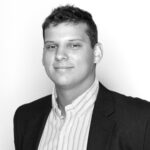 Ben Swanger is the managing editor for D CEO, the business title for D Magazine. Ben manages the Dallas 500, monthly…