More than a third of Americans can place a bet on a sporting event without ever leaving their couch—and that number is multiplying. The endless possibilities of online parlays and prop bets, the rush of correctly picking an underdog, and now the burgeoning interest in micro-bets—mini in-game bets like wagering the result of an at-bat or a quarterback's pass—all led to a banner 2021 that produced more than $52.7 billion in legal wagers, according to data intelligence agency Morning Consult. And by 2025, Technavio believes the sports betting market will grow by $106.25 billion.
In Texas, the number is $0. Texas legislation has yet to legalize sports betting, but that hasn't stopped sports tech startup nVenue from planting its flag in DFW. A finalist in D CEO and Dallas Innovates' 2022 Innovation Awards, nVenue has created an algorithm that can predict the outcome in under one second of every upcoming play in a baseball and football game, presenting more than 15,000 micro-betting opportunities in a single game. "[Betting] is the best avenue to get more fans engaged in sports," co-founder and CEO Kelly Pracht says.
The startup recently secured $3.5 million in funding, bringing its total raise to $4.4 million. Most of the capital will grow nVenue's team from nine to 20. After all, Pracht says it will need to double headcount if it wants to reach its goal of increasing coverage from two sports to 12.
The company has been working on its baseball predictive analytics for more than four years and has finalized more than 15 million predictions in the sport. Its algorithm takes 120 inputs, ranging from field and weather conditions to player attitude concerning team standing and stadium specifications into account. Projections cover everything from the outcome of the at-bat, pitch type, pitch speed, pitch location, etc.
nVenue's NFL algorithm considers 90 different inputs, and the NBA algorithm is currently in the works. By the end of 2022, Pracht believes it can ready six to nine sports, including NCAA football and basketball, golf, NASCAR, Formula 1, tennis, and NHL. In 2023, it will look to achieve its goal of delivering 12 sports.
The company is also negotiating with three major media companies that broadcast MLB games to install its predictive analytics on the screen during games. In 2021, nVenue debuted its technology with NBC and Comcast Sports during a Sept. 7 matchup between the Oakland Athletics and Chicago White Sox.
Following that breakthrough, nVenue worked with popular NBC data journalist Steve Kornacki to display its MLB playoff predictor throughout September, leading up to the MLB playoffs. nVenue is also currently in deep talks with two betting companies to provide predictive feeds to many sportsbooks.
But how accurate are nVenue's predictions? The extent of the precision can only accurately be explained in a 100-page report, Pracht told D CEO. "[But] if we say that there is a 90 percent chance of a strikeout, we are very close to [reporting] 90 percent accuracy," she says. "So, we are really excited about the efficacy of what we're seeing."
The platform on which nVenue stands, micro-betting, is wildly popular in Europe, with more than 75 percent of the country's betting revenue coming from in-game wagers. As the betting market grows in the United States, Pracht expects America to follow suit.
"We have the same expectation for our market—75 percent of in-play betting," she says. "But our cadence in American sports is different than the popular sport of soccer in Europe. American football has a lot of stops and breaks, making it natural to be given enough time to place an in-game bet. So, the cadence plus a fan's desire to [bet], that becomes a winning situation."
Pracht likens nVenue's predictive machine learning to forecasting weather patterns—first published in the 1860s. And sports predictive analytics could prove to be more lucrative than the weather.
"There's something beautiful about marrying sports with technology," Pracht says. "And betting and media are on a collision course, and we're on the forefront of that [profitable] wave."
Get the D CEO Newsletter
Stay up to speed on DFW's fast-moving business community with weekly news reports, interviews, and insights.
Author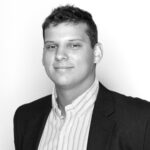 Ben Swanger is the managing editor for D CEO, the business title for D Magazine. Ben manages the Dallas 500, monthly…