I've been to at least 30 spring trainings. Whether it's 30, or 33, I can't say for sure. Things get fuzzy at a certain age bracket, which at best I'm squarely in. (I might be past it.) Most of the camps I've been to—and this is among the many things that disqualify me from being a true journalist (more of a journal-ist, perhaps)—have involved my family.
I wasn't sure I'd be adding to the catalog this year. For one, ever since our son, Max, reached high school a couple of years ago, his own baseball schedule reduces spring break from a clean nine-day slate to a long weekend at best. Planning gets difficult, and that's especially true in a year when the idea of a normal spring training often felt presumptuous as MLB labor talks dragged on and threatened the 2022 season.
Ultimately, Max and I made it, squeezing three days in Arizona between Max's games back in Dallas. I'd dreaded the thought of missing a second straight camp after the pandemic had basically taken it away a year ago. Spring training has been a draw for me for more than half my life, a steady gift to myself from year to year. It now involves a degree of work, of course, but it's work that I love. It amounts to more of an annual furlough than an "assignment." The years over which I've been lucky enough to have a small space to write about baseball coincide almost perfectly with the years over which I've been lucky enough to be a dad. Which is why, for me, spring training is as much about family as it is about baseball.
At its peak, it's about both.
This year, in spite of the real threat of it not happening, it delivered. It always does. And this year, like I do in most years in some way or another, I found myself reflecting on its place in my world.
It wouldn't be close to accurate to say that most of my Marches in Port Charlotte, Florida, and Surprise, Arizona, involved Ron Washington, but I will confidently suggest that some of the very best moments I've experienced at Texas Rangers camps—and probably the worst—involve Wash.
That doesn't include my very first Rangers spring training, which was also his. Although I was quite familiar with baseball's quintessential utility infielder from years of collecting baseball cards, I either had no idea he was in camp with Texas in 1990 as a 37-year-old non-roster invitee, or I was so focused that year on the prospects that I paid no attention to the smattering of veterans who were allowed on the fields in Port Charlotte only because they weren't locked out like Nolan Ryan, Julio Franco, rookie Juan Gonzalez, and the rest of their 40-man roster brethren. I was there with three college friends, and a local Florida TV station came out and interviewed us, wondering why in the world we'd traveled all the way from Austin when baseball was in a lockout. I don't remember the interview, but I do remember exactly which Port Charlotte BP turtle I stood behind watching outfielders Donald Harris and Dan Peltier take cuts. I also have a perfect memory on the field of watching a pudgy teenager named Ivan stand out in a big way from the other five catchers he was throwing to bases with in a catchers-only drill. 
I was 21. Now our daughter, Erica, is that age.
Eighteen years later, I was at Wash's second camp as Rangers manager. It was also our son Max's second as Rangers fan. He was 3. He was in baseball pants and had on his first baseball glove. Good thing, too. One morning, as Wash moved from one chain-linked diamond on the back fields in Surprise to the next, a small flock of beat writers armed with pads and pens and a job to do stood 30 feet from the oncoming skipper … then 20 … then 15. Experience told them they'd momentarily need to start walking alongside the 55-year-old in order to squeeze in the questions that their jobs dictated that they ask.
The dean of the group, T.R. Sullivan, had earned the right to ask the first one. Wash was now within 10 feet.
"Ron"—Sullivan never called him "Wash," never called Jeff Banister "Banny," etc.—"right there is the only player in camp you haven't hit ground balls to."
T.R. was pointing at Max, whom I'd been rolling grounders to about 20 feet from where the manager suddenly stopped in his tracks. About two dozen thoughts—most involving some mix of terror and excitement at the unforgettable moment that seemed imminent—caromed around my head in the next two seconds.
Wash grabbed the fungo bat that was always shoved, business-end first, into the back pocket of his blue-piped baseball pants, like an arrow from a quiver. He dropped his glove to the grass but held onto the baseball that had been tucked inside.
Fortunately, Max was watching all of this go down. Fortunate because Ron Washington, without making sure the 3-year-old was ready for (or even capable of) what was about to happen, slapped a gentle-but-firm two-hopper toward my fearless kid. All I could hope was that he wouldn't suddenly lose that fearlessness, whether the baseball hit him somewhere other than his glove or he booted the play and experienced embarrassment unlike any he'd had in his young life to that point. Instead, Max gathered the ball cleanly in a fielding position so perfect only an overly biased parent can fully understand.
"There," Washington said. "I've hit grounders to everybody now."
Four days later, the players jogged to the back fields for morning stretch. Michael Young, whose string of four straight All-Star Games (that would eventually grow to six) had kicked off a month before Max was born, saw that my son was once again armed with his glove and a game face. Without a word from either of them, a game of catch ensued, watched intently by Hank Blalock, Jamey Wright, Erica, me, and my wife, Ginger. On the list of my favorite Max memories, that one's right up there.
Anyone who has attended a spring training understands that, at its purest and best, it's a family thing. Even if you've gone with buddies (done that) or by yourself (done that), you see kids almost everywhere you turn, especially if your trip lines up with Spring Break. That 2008 camp, for me, was all about Max. The following year's belonged to Erica, whose age-8 interview of Josh Hamilton was marked with as much fearlessness and cool as Max's clean play, as well as a level of polish and style that has remained such a given for her.
There's so much more. Erica's first beach trip (Fort Myers, 2002) and first lost tooth (Surprise, 2008). Max's announcement that he planned to be a "fessional baseball player" (Surprise, 2008) and his favorite hotel place in the world (many years, but I'm not allowed to identify the spot because he wants to keep it his secret). Countless meals and conversations as a young parent with mothers and fathers on hand to see their sons' lifelong dreams materializing fresh out of college or high school (just about every year). And as Max and I squeezed in a long weekend last week in Surprise, it sort of hit me that these amazing several-day adventures I've been lucky enough to have because of the game I love aren't going to last forever.
Truth be told, I could have gone back for an extra few days on my own this year, just to catch a Jack Leiter or Ricky Vanasco side or get in another conversation with club officials about how the middle infield depth might eventually sort itself out.
But I'm at a point where three days on the backfields with Max or Erica is 100 times more important to me than 10 days without them. Nelson Cruz destroying live BP, Adrian Beltre taking laser fungoes, Yu Darvish throwing left-handed—all amazing. The mountains, and the Air Force flyover exercises, and the extraordinarily quiet air cushioning all those baseball sounds? Spectacular. Still, the moments with the kids are the ones I know I won't ever forget.
Even the camp memories bigger than them inevitably became about them. Such as 2010, when Washington announced, in a room lined on the sides and in back by dozens of Rangers players, that he had failed a drug test the previous summer. It was a bleak, potentially shattering moment of misbehavior and shame, and it led to careful conversations that day with our elementary schoolers.
Seven months later, with a bankruptcy sale thrown in for good measure, the Rangers were in the first of two straight World Series. (If this were Boston, there'd be five books about 2010 written by now, not to mention an ESPN "30 for 30" documentary.) The redemption of that season went well beyond a team that hadn't won anything in four decades. For Erica to see what Hamilton did in that first postseason … for Max to see Wash hoist that AL pennant trophy … it just had to land differently based on the experiences they'd had in Arizona, where the player and the manager had come to life in ways my baseball cards never could offer.
I wonder sometimes how my relationship with baseball would be different had there been spring training trips in my childhood like they had in theirs. The best I can do is to think back to that 1990 trip to Florida when I was a college junior. But there were no big leaguers and, even if there had been, experiencing that sort of scene with three buddies from campus isn't the same thing. Nothing like all the years when Max spent a week at camp with his teammates.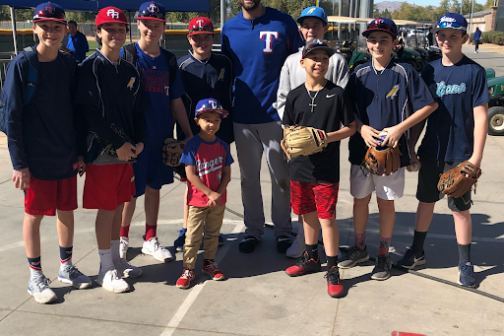 I wrote this in March of 2007:
And with me every minute was Max, who at 2-and-a-half is going through a bit of that fussy phase that his sister once went through and most 2-year-olds go through, and soon outgrow, but those moments on this trip were mostly confined to time in restaurants or the hotel room. He enjoyed his time in the midst of baseball the way his dad always has, shifting from beaming smiles to frozen awe to moments of eureka-level recognition (though those were just as often due to low-flying fighter jets as to diving catches), and though I certainly hold out a small hope that he gets to play this game at a higher level than I did, and know that if that happens I'll probably develop an ulcer watching him try to get to the one after that, what truly gives me peace, a kind even greater than the one that baseball in March has always given me, is the idea that he and I will have so many more spring training experiences to share together, one way or another, beginning in March of 2008.
Max is now 17. When I was his age, I was a couple of years away from my first spring training. He's been to more than a dozen. It's not the fanciest trip, and it's relatively low on the list of wonders of the world. But it's his mecca, and it's long been mine, too, not only because I love the game and the time of the year that it revisits us but because of the time it marks. Time that includes a 3-year-old—with the confidence of having fielded a batted ball from the manager a few days earlier—tossing a baseball with his favorite player and, 14 years later, wanting nothing more than a conversation with that same player, happy just to catch up rather than have a catch.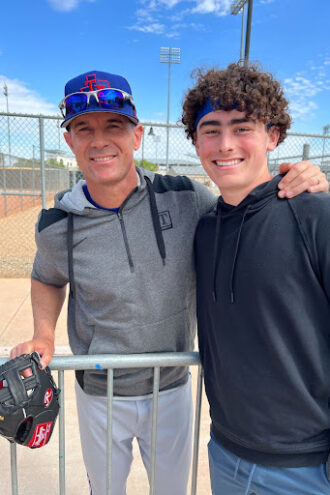 As Max and I flew back from our short trip to Surprise, I was accosted by a thought I'd been avoiding for years, just one shade of the reality that all parents face. At some point, the father-son—or, when luckier, father-mother-daughter-son—trips might be no one's priority but mine. Erica is about to graduate from college. Max will be off to college soon. What will spring training look like for me then? Are there more trips like these in the future? Will there be grandchildren involved, with their own lost teeth and baseball pants and player interactions? I don't know the answers. I haven't even wanted to consider the questions.
Instead, I embraced my trusty coping mechanism: getting all sentimental, one of baseball's gifts. The guy who devotes his time as a baseball writer constantly looking ahead is choosing, for now, to look back, tucking away another stack of memories from the back fields into a treasure chest popping at the seams.
Get our weekly recap
Brings new meaning to the phrase Sunday Funday. No spam, ever.
Author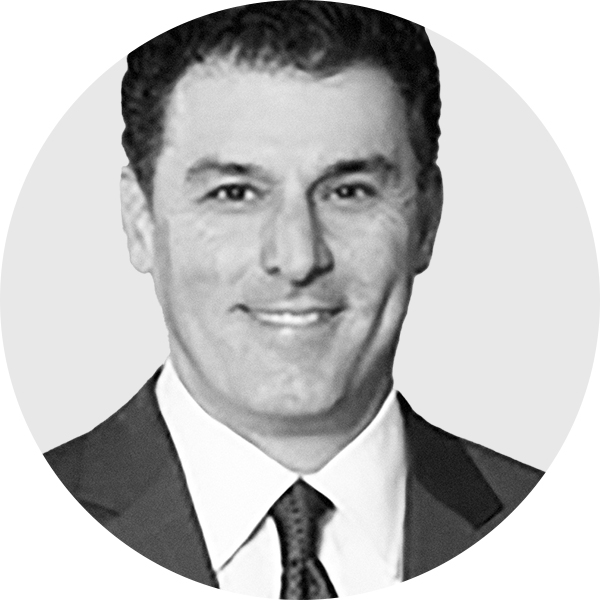 Jamey Newberg covers the Rangers for StrongSide. He has lived in Dallas his entire life, with the exception of a…