From the time they were rebranded in 2005 through 2013, FC Dallas had a look. Hoops.
The name of their building would change, the quality of the soccer would wax and wane, but for nine years, the team's image was dependably constant.
And, it should be noted, good! Red and white was a distinctive scheme, while the hoops made them pop in a classic soccer pattern. The latter was by design and no small deal for a team seeking a stronger association to the game's global traditions than the Americanized and MLS-ified Dallas Burn and their (admittedly badass) fire-breathing mustang logo could provide.
You recognized FC Dallas when they played in those jerseys. That matters for every team but especially for an outfit that's existed since MLS' inception, back when the league was far less adept at cultivating and marketing new franchises than they have been over the last 15 years with organizations like the Portland Timbers, Seattle Sounders, Atlanta United, and LAFC. Every bit of identity—uniqueness—helps. That's doubly true in a crowded sports region, which is becoming more saturated by the year in the club's home base of Frisco.
FC Dallas moved away from the red-and-white look in 2014, kicking off an eight-year aesthetic odyssey that's moved them further and further away from what made them stand out. The white-and-blue-hooped road uniforms died off in 2016, while the home shirts mostly leaned away from the hoops instead of into them, to say nothing of the two-year period when they were shelved entirely in the 2018 and 2019 campaigns.
Consider today's uniform drop a massive step in the right direction. Are they the red and whites? No, and I will use this space indefinitely to cape for their return. But the Crescendo, as the team calls its new kit, features the hoops prominently once again. No more red-on-red, or halfhearted attempts to slot them on the bottom half of the jersey. Mercifully, no three awkward three stripes running down one shoulder, either. There's a lot less going on, which leaves room for the only thing that should be there to stand out. At least for the next two years the team wears them, anyway.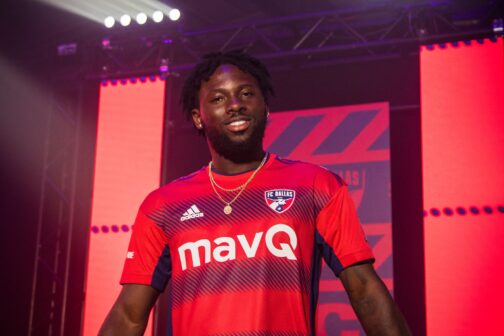 Props to the club for getting in on the run of excellent uniforms this city's teams continue to be on (and that I assuredly just jinxed). Hoops forever.
Get the ItList Newsletter
Be the first to know about Dallas' best events, contests, giveaways, and happenings each month.
Author
Mike Piellucci is D Magazine's sports editor. He is a former staffer at The Athletic and VICE, and his freelance…