The cold weather is hitting us here in North Texas, which means now would be a great time to visit Puerto Rico and tee things up in one of the most beautiful destinations within four-and-a-half hours of Dallas.
I recently flew into San Juan's Luis Muñoz Marín International Airport and stayed at the newly renovated El Conquistador Golf Resort in Fajardo–the easternmost town on the island and a 45-minute drive from San Juan. El Con, as the locals call it, is the largest resort on the island and now has nearly 1,000 rooms, suites, or casitas. Perched on the side of a cliff, it offers stunning Atlantic Ocean views to the east and mountain landscapes to the west.
Driving into the resort, the Arthur Hills-designed golf course flanks the ride on either side. With elevation changes up to 200 feet, I knew El Con's course was going to be something special. Even more unique, though, was the private island beach experience the hotel offers. Without a typical beach on mainland property, guests can take a short 15-minute ferry ride to the island of Palomino to sink their toes in the sand—a perfect way to cap off a day playing 18.
Gearing up for my four-day golf extravaganza, I took an evening ride down a funicular to the oceanside Ballyhoos Bar and Restaurant–one of 23 dining options on the property. I chose the Ballyhoo Burger topped with fried calamari rings; it did not disappoint.
The chirps of coqui frogs sang me to sleep as I rested up for my first round. After a quick ham and cheese croissant at the El Cafecito coffee shop the following morning, I headed for the driving range.
Resting on the peak of the picturesque property, golfers warming up on the range can fade a ball toward the El Yunque Rain Forest and draw one toward the beach on the far side of the island. But, no matter what, according to locals and club pro Aaron Kelly, everything always breaks toward the radio tower off in the western distance.
I learned two lessons coming out of the first tee box. I pulled out my Titleist Burner driver–going against Kelly's recommendations of only using a fairway wood or hybrid–for a 377 yard par 4. The total distance playing gold tees, which was my group's choice, is 6,378. Black's come in at 6,746, silver 5,819, and jade 4,939. We had an ever-so-slight dog leg from left to right with a sloping fairway from right down to left and a thick line of trees running parallel with the fairway along the right side.
I ripped my drive, heading a little further right than I would have hoped for, and the ball landed in the trees. But, with the tower positioned just left of the hidden flagstick in the distance, I'll be darned, it bounced out of the trees and took a hard 45-degree angle trip into the fairway. (The locals were not kidding about the tower.) The fairways bless with rolls and more than favorable bounces unlike any other course I've played before, which is why a driver often is not necessary.
The most challenging hole on the course is named "Diente de Viento." which translates to wind tooth. The par 4 is a downhill left leaning fairway with bunkers lining the left side and water on the right. But if you favor the right on your drive, you should be sitting nicely. The sixth isn't much easier, with a similar layout and length. Notching back-to-back doubles on these was not my proudest moment.
The back nine starts out with the easiest hole on the course, followed by a very gettable par 5 11th hole. Playing 554 from the golds, "La Roca" was very, very good to me. The name of the game at El Con, if you have it in your arsenal, is low tee shots to capitalize on long roles, and with two straight stingers I was set up with an eight-footer for eagle. I sunk it, took a drink, and put on cruise control through 18.
After a morning on the links, our ferry ride to Palomino was escorted by a gliding seabird. The island is only open to El Con dwellers, making for a sparse crowed at anytime during the day. I kicked back, sipped the delicious house made frozen mojito from the bar on the island, and sunk into a novel.
Dinner that night was a short 20-minute drive away at Loquillo's strip, known as the "kioskos" (kiosks in English), for Puerto Rican barbecue at Smoky Joe Caribbean Grill. The other golfers in my group and I feasted on tuna tacos, shrimp and steak, and an unmatched paella—a dish that helped executive chef Joe Padilla win an international culinary competition in Spain.
Courses Along the Caribbean
On days two and three, my golf buddies and I took a 30-minute drive south to Las Palmas Athletic Club at Wyndham Las Palmas Beach and Golf Resort, situated along the Caribbean Sea. With two courses on property, we attacked the Gary Player-designed Palm Course first, and the Rees Jones-designed Flamboyán Course on the following day. Both courses are relatively flat, with Flamboyán having the more inland and hilly terrain and Palm being as flat as can be closer to the ocean.
The Palm Course starts out with some serious audacity. With a heavy ocean breeze present most days, the opening par 5 dog legs to the left over marsh land with trees lining the right side. Players either hit the fairway or are out of play off the tee box—no in between. In order to stay on schedule, precision is necessary. The highlight of this course, though, has to be the back-to-back par 3s on holes three and four, which run along the beach.
After wrapping things up at the Palm Course we wandered on over to the resort's restaurant Magi to find a kitchen led by Yia Medina, former sous chef to Dallas favorite Dean Fearing.
The tomahawk steak and a lemon-garlic mahi-mahi entrées she served up were spectacular—enough to make me expand my belt by one notch. The island native enjoys experimenting with new food concepts, so what was on the menu for me might not be on the menu for you. Medina cooks with a Texan influence, making the meal all that much more enjoyable.
One thing she does not shy away from—a challenge. "When people say I can't do it, I will do it twice and take pictures," she boasts.
After the heavy lunch, we took a detour on our trip back to El Con and stopped at seaside bar El Chinchorro de J. I ordered a rum and Coke, made with the authentic Puerto Rican rum, Don Q. "Despite popularity in America, Puerto Ricans do not drink Bacardi," I was advised.
Before I knew it, it was time for an evening visit to La Estacion (The Station) for dinner. The Nuyorican BBQ was superb. I ordered the matahambre (translated, it means the hunger killer), a massive pulled-pork sandwich with lightly powdered-sugar buns. To accompany, I tried the Sato, a version of a salty dog with BBQ spices lining the rim. It reminded me of BBQ sunflower seed seasoning, and being a former baseball player, I relished the taste.
One thing to keep in mind when traveling to Puerto Rico these days is that every restaurant will require evidence of vaccination–after all, Puerto Rico has a higher vaccination rate than any of the 50 states.
Our next day of golf was spent on the previously mentioned, palm tree-lined Flamboyán Course. Welcomed by a warm ocean breeze and iguanas on nearly every fairway, it makes for a serene experience—unless you shank one too many shots, like I did. "Serenity now!" the late, great Jerry Stiller yelled over and again in an episode of Seinfeld. A phrase I kept on repeat in my mind. But, a day in paradise is still a day in paradise.
I recovered from my disappointing golf results by relaxing in my room and taking in the ocean views, then heading to a poolside dinner at the luxurious Caña restaurant in the Fairmont El San Juan Hotel. I treated myself to a roasted half-chicken topped with tamarind glaze and carrot romesco. It was delicious.
The Fairmont El San Juan is certainly the hot spot if you are looking for nightlife. The salsa music that played throughout the venue tempted me to let loose, but my better-half dancing partner was not with me, and I spared my travel mates. The numerous bars on the property bring vibes that range from sporty to elegant. "This has always been the place to be," one local tipped.
Unfortunately, I had an early flight the next day, leaving no time to take in El Con's course for nine more holes. It's definitely one of those courses that leave you wanting more.
The beautiful island is home to 18 golf courses and more than 4,000 restaurants, so I only scratched the surface, leaving much more to be discovered. But I'll be back as quickly as I can, probably yelling, "Serenity now!" once again. Golf in paradise: no matter the score, unbeatable.
Get the D CEO Newsletter
Stay up to speed on DFW's fast-moving business community with weekly news reports, interviews, and insights.
Author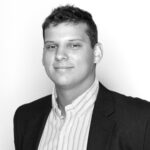 Ben Swanger is the managing editor for D CEO, the business title for D Magazine. Ben manages the Dallas 500, monthly…