Hall of Fame Dallas Cowboys quarterback turned Fox NFL color commentator Troy Aikman has turned over a new stone. His Eight Beer will hit the streets in February across the state of Texas at select bars and come March, the beer will be found next to the industry's top dogs–with a similar price point–in retailers like 7-Eleven, H-E-B, Kroger, Spec's, and more. But why did the already busy, already uber-successful, household name feel the need to jump into a new venture?
"Doing two games a week like I have for Fox for the last four years is a lot of work," Aikman told D CEO. "And I have no social life during the football season. And, now, to segue into beer, I just felt that it was right. [Light beer] was ready for something new and something fresh. And this move, for me, felt good. It felt like it was consistent with who I am, it was authentic to who I am."
Aikman, the now 55-year-old, was first introduced to beer, both as a distributor and as a consumer during his time in college. "Man, those [UCLA] walls could certainly talk, some of my apartments early in my career in Dallas could talk too, but thankfully they can't," Aikman laughed. "But that summer I was transferring from OU to UCLA, I learned a lot for Miller as a distributor in Tulsa working on the trucks and on accounts."
So, when Aikman jumped back into the beer business more than two years ago to begin his process of creating a brew and a brand, he knew what was forthcoming. He and co-founder Doug Campbell, who previously held post as the president of Brewery Ommegang, alongside Oregon State University's Food Science and Technology Department developed the light lager over a grueling two-year process. "A lot of beers you can make without filtered water, this isn't one of them," Aikman said. "So, Eight is not an easy beer to make and that has presented some of the challenges."
Curating the taste, however, was just as, if not more, trying as crafting the packaging and branding, Aikman said.
"I think now, most people would hear Eight and think, 'Oh, that's a no brainer.' But that isn't where we were going at one time," Aikman admits. "Our logo is actually just a colon, but it's what our beer is about: clean and crisp." Marketing studio Herman-Scheer helped Aikman with the beer's branding and design.
There are more than 9,000 breweries across the United States. But Aikman realizes Eight, being just a friends and family-funded startup with unironically eight employees, has a ways to go in terms of challenging the major players in the highly saturated light beer vertical. The former Dallas Cowboys quarterback, however, believes his product will fill a major gap in the market.
"The thing that separates us from the others, besides taste, is that we don't use any adjuncts or fillers. I don't know of any other widely available, light beer that can stake that claim. Most of [our competitors] put in corn or rice or added sugars and syrups. We don't do any of that; we use 100 percent organic grains."
"Having built the yeast and organic malted barley base, our hops are light, refreshing, and very subtly citrusy," Campbell added. "Having chose Hallertau Taurus as our hops, which possess a particular property called Xanthohumol, it has a healthy dose of antioxidants by nature."
The Hallertau Taurus hops come straight from Germany, according to Campbell, and the malt from Canada.
Eight's headquarter is planted in Austin with the beer being brewed at New Orleans Saints and New Orleans Pelicans' owner Gayle Benson's bayou brewery Faubourg Brewing Company. "We were looking to brew it in Texas and still, in time, we may," Aikman told D CEO. "But Gayle's brewery was one of the first breweries to reach out to us with a real interest and because this beer is so difficult to brew, each of the breweries that we identified couldn't be the ones to do it, but Faubourg was able to do everything that we needed."
Aikman, Campbell, and company have yet to make concrete projections for their first year in business. Rather than focusing on revenue, the duo believes that 2022 is about curating consumer awareness. "By the end of the calendar year we want to see the drinker out there who considers themselves to be an 'early riser' to hear of and try Eight as part of their life's repertoire and to consider us to be a brand ally," Campbell said.
The company is excited to see consumer response on release day, but Aikman can't help but think about the times he's thrown a party and waited with anxiety, hoping someone knocked on the door. (Surely all of Aikman's parties pack the house, right?)
"We've put ourselves out there," Aikman said. "And we've invited all these people to come be a part of this. But now will they? And will they like it as much as I do? So there's a lot of excitement that comes with it, but I'll be honest, there's a lot of anxiousness as well."
If successful, a national rollout could be on the horizon.
Get the D CEO Newsletter
Stay up to speed on DFW's fast-moving business community with weekly news reports, interviews, and insights.
Author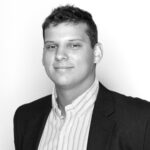 Ben Swanger is the managing editor for D CEO, the business title for D Magazine. Ben manages the Dallas 500, monthly…