A chore. Running in circles. No easy solutions. These are words plucked from the headlines of my articles back in December, when I analyzed how Jason Kidd and his new coaching staff were reshaping the Mavericks' defense and offense to fit their mold. Now they're the hottest team in the NBA.
The turning point came on December 10, when Luka Doncic twisted his ankle midway through the third quarter of the Mavericks' 106-93 loss to the Indiana Pacers. It was the second ankle injury for the 22-year-old All-Star this season; he'd miss the next 10 games between that and a stint in the league's COVID-19 protocols. That loss dropped the Mavericks to 12-13, with a point differential much worse than their record showed. Things did not look pretty. The most pessimistic fans started to play around with the "tankathon" lottery simulator. And that was before a team-wide COVID outbreak that saw unknown hardship players—Charlie Brown Jr. anyone?—and vets who were out of the league—hello, Isaiah Thomas and Brandon Knight—come in and play major minutes. The season was on the verge of slipping away.
Then a funny thing happened. Not only did the Mavericks hold on, they turned the corner. The team went 5-5 without Doncic and several key rotation players, as though Jason Kidd needed a bunch of hungry guys to get his message across and light a fire under the old guard. To show them how to play hard every game, on every possession.
And, oh boy, did it work. Since December 10, the Mavericks have won 12 of 19 games and posted the NBA's second-best point differential to go with the league's best defense. Things are even better since Doncic rejoined the team on January 1 against the Oklahoma City Thunder. So far in 2022, the Dallas Mavericks have the NBA's best point differential to go with a 7-1 record that includes ending the Chicago Bulls' nine-game winning streak and the Memphis Grizzlies' own 11-game unbeaten run.
This first half of the season has been a roller coaster, but things seem to be leveling off at the right plateau. Here's what I'm seeing at the midway point, along with how confident I am in these developments holding up the rest of the season.
This is a top-10 defense
Confidence level: high
What's the secret sauce on defense? This is the question most fans are asking right now. How can the same bunch of dudes who mostly cared about outscoring their opponents become a defensive juggernaut? We all see the numbers, but what has really changed?
The first thing to look at is the new defensive scheme. I've already written in detail about the new system Kidd and his defensive coordinator Sean Sweeney were trying to install, so I'd recommend diving in there if you want the full explanation. But, briefly, the new scheme is based on shrinking the floor to protect the paint, then aggressively rotating and closing out on the perimeter. The bigs are more aggressive at defending the pick-and-roll, showing higher on screens. They are pre-rotating more to take away the opposing offense's primary option and force them into the next option before their initial play even starts. And the Mavericks are also double-teaming opposing team best players more often, knowing that backline rotations will cover ground. In a nutshell, the defense went from being reactionary to one that dictates the terms and forces opponents into uncomfortable decisions.
The data supports this. Dallas has been among the NBA's best in opponent shot quality all season, meaning this group is forcing the right kinds of shots. A team that was among the NBA's worst at defending the pick-and-roll last season is now among the best. Per Second Spectrum tracking data, the Mavericks were last in the NBA in possessions when help defenders were present on opponent's drives last season. This season, they are middle of the pack at 16th. Among players with at least 100 drives to the basket defended, Kristaps Porzingis (10th) and Maxi Kleber (17th) rank among the league's best help defenders. Porzingis, especially, is excelling as a weak-side help defender. After a down season in 2020-21, the Latvian big man is back being one of the game's best rim protectors, ranking fourth league-wide in opponent's effective field goal percentage at the rim.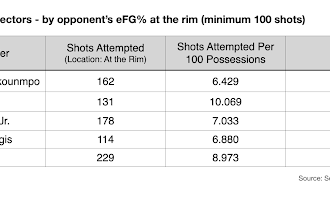 I was skeptical of two-big lineups with Porzingis as the power forward, but at least on defense, they're working out great. Kleber and Powell are both mobile enough to handle more aggressive pick-and-roll coverages, while Porzingis typically gets the easier defensive assignment so he can roam and protect the paint. They've also added length by incorporating more minutes for mobile wing players like Dorian Finney-Smith and Josh Green. All told, that size increase allows the Mavericks to control the boards; they're third in the league in defensive rebounding.
But all data aside, the most obvious change on defense is the buy-in of every player on the roster. The Mavericks simply play hard all the time, which isn't something we could always say about this team in the past. They keep rotating and are outworking the opposition on most nights. I'm not sure this is a championship-level defense—the Mavericks still lack an all-defense defender for that—but Kidd compensates by putting his players in positions and roles that best fit their skill sets, which in turn gives them the best chance to succeed. It's a rock-solid defense that keeps Dallas competitive on most nights.
Jalen Brunson is a legit starting guard and elite shot-maker
Confidence level: high
I won't spend a ton of ink to tell you how good Jalen Brunson has been this season because we called it early here at D Magazine. The 25-year-old will not make the All-Star Game in Cleveland, but he's probably the Mavericks' MVP of the first half of the season. During the aforementioned 10-game stretch in December without Doncic, Brunson averaged 21 points and 7.4 assists on very good efficiency. He carried this team when the season was on the line and prevented a collapse.
Jason Kidd gave Brunson more freedom and more minutes, and it's paying off big time. The key question going into the season was whether Brunson could keep his elite efficiency once the minutes and shot volume went up. The answer has been an overwhelming yes, as Brunson is among the most efficient, high-volume players at making self-created (unassisted) shots for the second season in a row. Even more, the fourth-year guard increased the share of self-created shots—moved right on the chart below—while maintaining high-level efficiency and playing more than 31 minutes per game.
Kidd's decision to make him a starter was a no-brainer, and the same should be said for Mark Cuban's decision to pay him this summer in free agency, if the rumors about Brunson looking for $20 million annually are true. The Mavericks failed to find a secondary playmaker last offseason. They can't suffer a second failure by letting Brunson walk.
Luka Doncic is giving up the ball (but not hitting shots)
Confidence level: moderate
The defense is legit, and the Mavericks have found their secondary shot creator. Now it's time for the concerning part: Luka Doncic hasn't looked right all season.
It's been a grind for the Slovenian superstar, who has navigated conditioning struggles, multiple ankle injuries, and the COVID absence. All of that has to play a role in one of the biggest shooting slumps of Doncic's career, which has dropped his scoring to levels not seen since the end of his rookie year.
After missing all six of his three-pointers (plus several easy shots) in last week's win over Memphis, Doncic said he believes most of his shooting woes are mental and that he is overthinking things. It wouldn't be unusual for a player who has a tendency to get in his own head. This is a guy, after all, who shot 41 percent from three in the last playoffs but only 53 percent from the free-throw line. In eight January games, Doncic is shooting 17 percent from beyond the arc but 83 percent on free throws. He shot 39 percent from three in 10 games in November. Good luck figuring this out—and the hope is Doncic eventually will sometime this season.
Still, despite Doncic's recent poor shooting, positive things are happening on offense. In addition to defense, ball movement was Kidd's other big focus, and that, too, began to click in December. During the first two months of the season, the Mavericks ranked 24th in the NBA in passes per 100 possessions. They are third in passing since December.
Doncic is a driving factor behind that transformation. He's averaging 9.6 assists per game during this period, while his touches and average time he holds the balls have decreased significantly. He's looked comfortable and in control, manipulating defenses and not getting rattled as opposing defenses continue to load up against his pick-and-roll drives despite his shooting slump. Brunson has emerged as a great complement who can attack the gaps Doncic creates with his dribble-drive game. Kidd wanted his "young Picasso" to trust his teammates more. Brunson has more than earned that trust with his recent play, and the next step should be building the chemistry between Doncic and Porzingis.
It took more than half of the season, but the Mavericks finally have a starting lineup with their five best players. We'll see how things evolve with the new unit of Kleber and Brunson next to Doncic, Porzingis, and Finney-Smith. Replacing Dwight Powell with Kleber should mean better spacing and more pick-and-rolls involving Doncic and Porzingis. But Brunson is a high-usage player, and the distribution of shots and touches between the three best offensive players will be interesting to watch. The Mavericks are among the teams with the least lineup consistency—the new starting five previously played only 37 possessions together all season—so finding a rhythm on offense will probably take time just like it did to fix the defense.
The good news is that improved defense and recent winning run has given Jason Kidd more time to figure it out. Dallas currently ranks 15th on offense despite Doncic and Porzingis missing significant time. Now both are back, and if Doncic gets closer to his level from the previous two seasons, it's not a stretch to believe the Mavericks could be a top-10 offense. Ranking in the top 10 both on offense and defense is usually a sign of a contending team, and we've seen enough of this team over the past couple of seasons to make it tough to think of them as a serious championship possibility. That said, nobody believed they could be a defensive-minded team, either, yet here we are. The possibility that this team could reach that level, even if far-fetched, has made the Mavericks interesting to watch again. Based on where things were entering December, that is all we could hope for.
Get the ItList Newsletter
Be the first to know about Dallas' best events, contests, giveaways, and happenings each month.
Author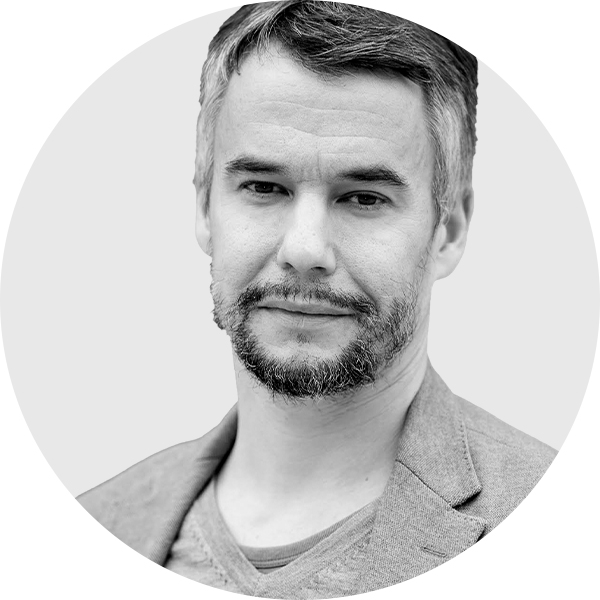 Iztok Franko covers the Mavericks for StrongSide. He is an analyst that uncovers stories hidden in NBA data and basketball…