The 2021 season began with so much promise. After nearly defeating the defending-champion Tampa Bay Buccaneers in the first week of the season, Dallas went on a six-game winning streak, a run that featured an offense scoring over 30 points per game and one magical Cooper Rush victory. The back half of the year? That's when things got a bit dicey, leading to the Cowboys ultimately getting their Super Bowl dreams dashed on wildcard weekend.
What went wrong? And what went right? Here are five numbers that help explain this Cowboys season.
34: takeaways by the Dallas defense
The Cowboys' defense improved drastically compared to their performance in 2020. They went from allowing the fifth-most points in the NFL to the seventh-fewest, and takeaways were the main reason why.
No team in the NFL had more takeaways in 2021 than the Dallas Cowboys. Their 26 interceptions were the most by any team since the 2018 Chicago Bears, a massive haul led by cornerback Trevon Diggs, who had seven picks in the Cowboys' first six games. Diggs cooled off from there but still finished the season with a league-leading 11 interceptions, two of which he returned for touchdowns.
The takeaways helped the Cowboys' defense finish in the top five in several advanced statistical categories, including Football Outsiders' DVOA (second behind the Buffalo Bills) and EPA/play allowed (third behind Buffalo & Saints). Forcing turnovers was the story of the year, but it didn't necessarily point to a completely "fixed" unit. Those takeaways covered up for a defense that still has plenty of flaws.
On a raw yards-per-play basis, Dallas was very average against the pass and below average against the run. Turnovers are huge swing plays, it's true, but they aren't very "sticky" year to year. In other words: don't expect a similar total next year, or at least don't count on it.
13: Sacks from Micah Parsons
Speaking of next year—and the year after that, and many years after that—let's talk about Micah Parsons. During his incredible rookie season, Parsons racked up 13 sacks and three forced fumbles despite spending nearly half of his pass-defense snaps in coverage rather than rushing the passer. He has essentially locked up the Defensive Rookie of the Year award, with the only remaining question being whether he did enough to earn votes for Defensive Player of the Year, too.
How great was he going after the quarterback? Parsons had the best pass rush win rate among edge defenders in the entire NFL. ESPN calculates pass rush win rate using tracking data, looking at how often a defender beats his blocker on passing plays within 2.5 seconds of the snap. Parsons had a higher win rate than Myles Garrett while taking on double teams more often than the Browns' All-Pro defensive end. The Cowboys jumped from having the seventh-fewest quarterback hits in 2020 to having the third-most in 2021, and Parsons was the key to adding that pressure. His 30 QB hits not only led the team but were more than the next two players combined.
Is he the Defensive Player of the Year? That's not even the point. The fact that you could make the argument for him this early in his career is something special. Expect his future to be incredibly exciting.
83.8: Receiving grade for Cowboys pass catchers
Occasional passing game struggles notwithstanding, the Cowboys had a top-notch group of receivers this season, headlined by 22-year-old CeeDee Lamb and his first (of many) 1,000-yard seasons. Pro Football Focus gave Dallas the second-highest receiving grade of any team in the NFL. By the end of the regular season, the team had four pass catchers who were above average in both yards per target and first down rate, as I mentioned after Week 18.
It's important to note that I said pass catchers, not wide receivers, because Dalton Schultz was a huge part of this group in 2021. Schultz finished with as many targets and touchdowns as Amari Cooper. Only five tight ends saw more targets than Schultz's 104. The receiving corps is as good as advertised with Lamb, Cooper, and Schultz, but there's been yet another wrinkle added that could make a big difference next year.
The team likely won't be able to afford re-signing Michael Gallup next year, but how about that Cedrick Wilson? Wilson broke out this year, especially in the latter half of the season. He was responsible for two of the Cowboys' three longest plays this season, including the season-best 73-yard touchdown pass from Cooper Rush.
None of those five names are currently older than 27, either. So when it comes to pass catchers, the kids are alright in Dallas.
5.5: Tony Pollard's yards per carry
The days of Ezekiel Elliott, three-down running back, are over. Elliott carried the ball 237 times in 2021–2022, the fewest carries in a season of his career. That includes the 2017 season, when he played only 10 games. His share of the Cowboys' carries has decreased every year since 2017, and at the rate it's going, next season will mark the first of his career with under 50 percent of the workload.
Some of that decline is due to workload and age. But it also has to do with the rise of Tony Pollard. Pollard carried the ball just 130 times, but he managed more than 700 yards on those carries. His 5.5 yards per carry trailed only Seattle's Rashaad Penny, who had 11 fewer attempts than Pollard.
Running back performance is significantly impacted by offensive line play, but Elliott and Pollard have been playing behind the same line all season. They do, however, tend to run in different situations, which can have a major effect on the running back's stats. One way to account for this is by looking at expected rushing yards from the NFL's Next Gen Stats. Expected rush yards take into account the position, speed, and direction of every player at the time of a handoff and predict how far a given carry will go. And even by this metric, Pollard looks like a top-five running back.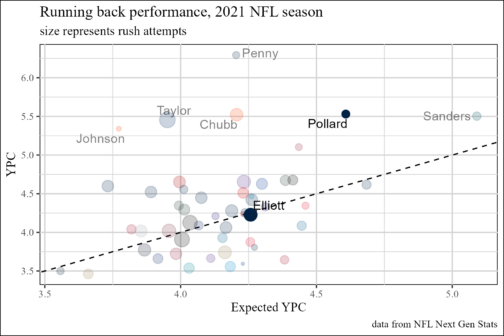 Players above the dashed line earned more yards than one would expect based on where the nearest defenders were. Pollard is clearly one of the outliers. This might not hold if the Cowboys try to force him into an every-down back, but given Elliott's decline over the second half of the season, increasing Pollard's workload to, say, half the Cowboys carries should certainly be on the table next season. It might need to for the running game to see significant improvement.
14: Dak Prescott's rank in EPA/play
Dak Prescott is a very good quarterback. He's had stretches of play when he looked like an MVP candidate, and he's had other stretches when he … did not. The lowlight came in the final game of the year, when the Cowboys' passing offense put up one of its worst performances of the season in the most critical game. 
We probably should've seen this coming based on the decline of the passing game during the back half of the year. Prior to the bye, Prescott was a top-five quarterback by completion percentage over expectation (CPOE)—that is, he completed passes at a higher rate than expected based on when and where he threw the ball. After the bye? He dropped to 20th, just a hair below Texans rookie Davis Mills.
This season there were far more lows than most Cowboys' fans would have liked to see. Prescott finished the year ranked 14th in EPA/play among 31 qualified quarterbacks, per Ben Baldwin's nflfastR model. He was a small notch above Derek Carr, and just below Kirk Cousins and Ryan Tannehill, all of whom are good quarterbacks but hardly elite ones. And for $40 million annually, the Cowboys expect (as they should) elite-level play from Prescott.
If this season taught us anything about Prescott, it's that he might not be able to string together 17 consecutive games of elite-level quarterbacking. Which isn't to say he's bad or should be replaced; a quarterback who can play at even a very good level is both the rarest and most important asset to any NFL team. But it does mean that we shouldn't necessarily bank on him carrying this team to a Super Bowl on his own, no matter his paycheck. 
It was a disappointing end to the season for the Cowboys, but there is still plenty to build on here. The quarterback is good, the pass catchers are more than good, and the defense improved drastically, if not necessarily in a repeatable fashion. There's no reason to think they won't come out swinging for the NFC East crown again next year. But the wait 'til next year started far earlier than anyone wanted.
Get our weekly recap
Brings new meaning to the phrase Sunday Funday. No spam, ever.
Author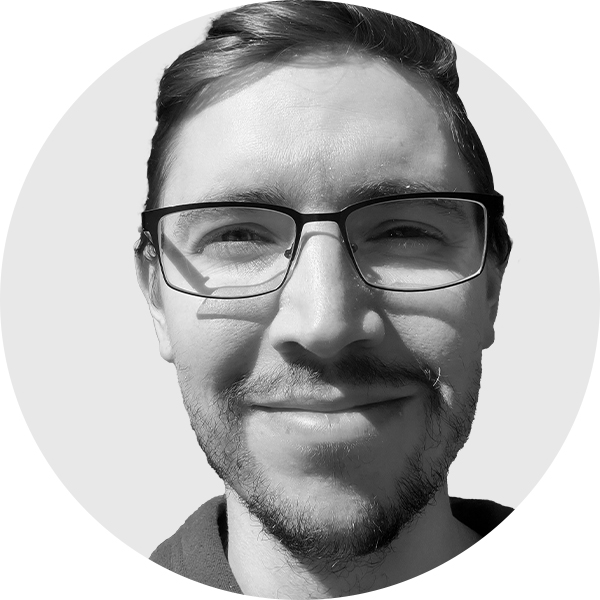 Dan covers the Cowboys for StrongSide. He is a Pacific Northwest native & self-described nerd who has been covering the…