When I parked in front of Toyota Stadium around noon on January 11, I had an idea of what to expect. FC Dallas had invited D Magazine to sit in on the 2022 MLS SuperDraft, and I was hoping for—well, drama. Heated arguments. Sweaty assistants making calls to other teams. Maybe even a couple of binders thrown at the wall as preferred players were taken ahead of schedule.
This was not what I got. Instead, I plopped down in a nondescript conference room overlooking the stadium, the walls plastered with photos of FC Dallas heroes of old. Several whiteboards lined the room. One showed all the players likely to be drafted, their names printed on nametag-sized magnets, arranged on a field in their position. Another board had director of methodology Marco Ferruzzi's picks at each position. A third listed the draft order. Throughout the day, magnets would be moved from the field to the draft order, leaving the available players for all to see. Snacks from Advocare, the team's sleeve patch sponsor, were available to munch on.
Joining me were FC Dallas chairman and CEO Clark Hunt; his brother, team president Dan Hunt; incoming head coach Nico Estevez and three assistants; CFO Jimmy Smith; VP of media and communication Gina Miller; and Nico Estévez and most of the team's coaches. (Technical Director Andre Zanotta was in another room with additional personnel in an effort to minimize COVID-19 risks.)
The room had the energy of something closer to an end-of-week planning meeting than a high-stakes environment that would impact the future of the club. Such is the nature of a remote pro sports draft in 2022, where most of the hustle and bustle dealt with logistics. Inside the room, the MLS broadcast played alongside the production call communicating with each team about when to be ready to announce their respective picks. A second line of communication was devoted to Zanotta to discuss pick strategy, and a third to an adjacent office that had been repurposed as a makeshift studio, where Estévez would periodically wander in to announce the picks on camera. All the while, photographers roamed the room, stepping over the wires that connected the room to the action.
One thing was clear: professional sports leagues aren't much better than the average person at putting on a remote event. Audio would cut out, feeds would be lost, and attempts to put the chosen players on screen while they reacted in their living rooms were often silent or unclear.
Still, other than one moment late in the day, the technical hurdles were about as dramatic as things got. My idea of a draft room might be closer to a Hollywood rendition than to reality, but those in the room confirmed to me that this was calmer than usual. Which is probably good news for the club itself. FC Dallas walked into the draft with a plan to solidify the back line with defenders, and they walked out having mostly executed it.
---
Every team places some level of importance on the draft, but few in MLS are more dependent on it than FC Dallas. The club is widely considered to have the best youth program in the country, and while many of the flashiest names come from their academy, they've come to depend on the college ranks, too. At times last year, all four of the club's starting defenders came to the team through the draft. So did US Men's National Team defender Walker Zimmerman, FC Dallas' first-round pick in 2013, who now plays for Nashville FC.
This year, the needs are more acute than usual. Over the past calendar year, FC Dallas parted with more high-end young talent than ever before, selling right back Bryan Reynolds to Italy's AS Roma last January before shifting midfielder Tanner Tessman to Venezia FC this past summer. This month came the big one: 19-year-old Ricardo Pepi to FC Augsburg for a league record for a homegrown player. Teenage defender Justin Che could be next out the door, having been loaned out to German side Hoffenheim with a purchase option on his contract this summer. Those moves added to the coffers but depleted the talent pool. Three of those four played key roles in the squad, and replacements must come from somewhere. The draft is the most affordable place to start, no small thing for a club that routinely maintains one of the league's lower payrolls.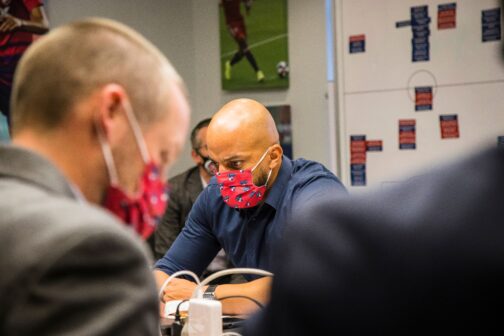 And FC Dallas maneuvered to ensure they had enough capital to reload. They arrived holding the sixth pick by way of last year's 11th-place finish. Then, the day before the draft, they pulled off a stunner, sending Toronto FC $50,000 in General Allocation Money to acquire (and buy out) forward Dom Dwyer's contract in exchange for the third overall pick. They also held the sixth pick in the second and third rounds, too, setting the stage for a huge talent infusion. 
The draft and broadcast began at 1:30 p.m. sharp. Analysis and clips ran on the MLS feed as production talk crackled over another call. Zanotta periodically called in to touch base on the latest chatter. A couple minutes later, Charlotte FC kicked off the proceedings by selecting University of Maryland midfielder Ben Bender. Up next was FC Cincinnati, who plucked Indiana goalkeeper Roman Celentano. The reactions in FC Dallas' draft room were minimal; neither move seemed particularly surprising.
Now FC Dallas was on the clock. Dan Hunt picked up his cellphone and made a call to St. Louis University winger Isaiah Parker, who was a top-five pick on most draft boards. No answer. Hunt checked to make sure the number was right and dialed again. Still no answer.
Parker never picked up, but that didn't deter FC Dallas. Parker was their man, one of the most exciting freshmen in the country and a key part of a Billikens team that had advanced to the second round of the NCAA Tournament. He is among the draft's youngest players after signing a contract with Generation Adidas, which is a partnership between the NCAA and MLS that allows young players to enter the draft early. Finally, a couple of minutes after Estévez had announced the pick, the room connected with Parker, who was celebrating with his family at home and hadn't heard the phone ring.
"Are you ready?" Estévez asked.
"We are thrilled to make you our first pick in the draft," Dan Hunt added.
Parker seemed to reciprocate, albeit with a warning and apology that there was too much celebrating going around him to hear the call.
"Isaiah is a player that can play in different positions," Zanotta said. "He can play as a winger if we see him and as an outside back. He's fast, and his physicality is amazing. He was at the top of our list."
About 10 minutes later, FC Dallas was back on the clock. This time, they threw a curveball, selecting Lucas Bartlett, a 25-year-old center back and graduate student at St. John's. MLS' mock draft didn't have Bartlett getting picked until later in the first round and had him as the eighth defender to be selected.
But FC Dallas has experience turning draft picks into productive center backs, including current starters Matt Hedges and Nikosi Burgess. This is a bet on themselves and their development process. Zanotta believes experience is essential for that position and compared Bartlett to Hedges, a former MLS Best XI defender. Bartlett's athleticism stood out during MLS' combine, and FC Dallas thinks he has a role to play this year. "We need another center back for the roster to have more depth," Zanotta said. "We believe Lucas can impact immediately this season."
Bartlett isn't just an athletic brute who can jump high and run fast, according to Estévez. "He plays very well with the ball, he can find passes into the pocket, he can play with the right and left foot, and he's very aggressive defending forwards," the manager said. "We wanted to have a player with these skills."
---
Finally, toward the end of round one, I got a long-awaited taste of drama.
Even after acquiring two of the top six picks, FC Dallas wasn't satisfied with their draft capital in round one. No sooner had the Parker pick been made than they began to work the phones in search of a way to nab a third selection in the first round. The attempts began with Houston and Austin, offering money and lower picks to move up. No dice.
Management was undeterred. Once the Bartlett pick was made, they renewed their efforts to get something down. For the next half hour, they stayed active. Offers were made and clarifying questions flew from draft room to Zoom call. Are we swapping picks, or just buying an extra one? How much money will we need to swap?
Despite jumping into the draft mere weeks after working on staff for the U.S. Men's National Team, Estévez was no silent participant. He often offered input on players he wanted. He had done his homework.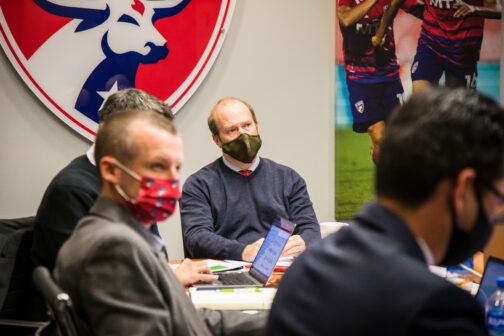 Ten picks passed. Then 15. Twenty. Finally, just when it looked like FC Dallas would be out of luck, they found a taker in NYCFC. The two teams would swap picks, giving NYCFC its sixth pick in the second round and $50,000 to get NYCFC's 28th overall pick, the final one in the first round.
The pick was Tsiki Ntsalabeng, who didn't appear on many first-round mock draft boards. The native South African-born attacker was first-team all-Pac-12 for Oregon State as a redshirt senior, logging five goals and eight assists last season. For FC Dallas, he was worth every penny of $50,000.
"He was a player that really impressed us but was not on the radar of many teams," Zanotta said. He was originally the team's second-round target, but plans changed. "We found out that Toronto had been inquiring about him, so we wanted to make sure we picked him before Toronto."
When the dust had settled, FC Dallas had drafted three players in the first round for the first time in franchise history. It's a bumper crop of talent, but one that comes with expectations. "This puts us under more pressure to make sure we will have MLS players who have a significant impact on our team," Zanotta said. "Maybe not in the short term, but long term, for sure."
Which makes Dan Hunt's brief phone conversation with Ntsalabeng feel fitting. The team finished as one of the worst teams in the league last year, and rising up the table in MLS won't come easy. But there is hope in the form of a new staff, new signings, and, now, a promising new draft crop. "Are you ready to go to work?" Hunt asked Ntsalabeng, who replied affirmatively. "Welcome to FC Dallas. Take care and enjoy."
As I walked out of the draft room at the end of the first round, the experience reminded me that even some of the most exciting moments of team building can be just like any other office job. Planning ahead keeps things on track. Technology snafus happen. Discussions rarely rise to the point of screaming and flipping chairs.
But it's certainly easier to keep calm when a plan comes together. Dallas got the flashy name they wanted in Parker, the experienced defender they needed in Bartlett, even their diamond in the rough in Ntsalabeng. It was a welcome turn of events for a club that hasn't had a lot go right over the last decade. That's as good a place as any for FC Dallas to start the next chapter.
Get the ItList Newsletter
Be the first to know about Dallas' best events, contests, giveaways, and happenings each month.
Author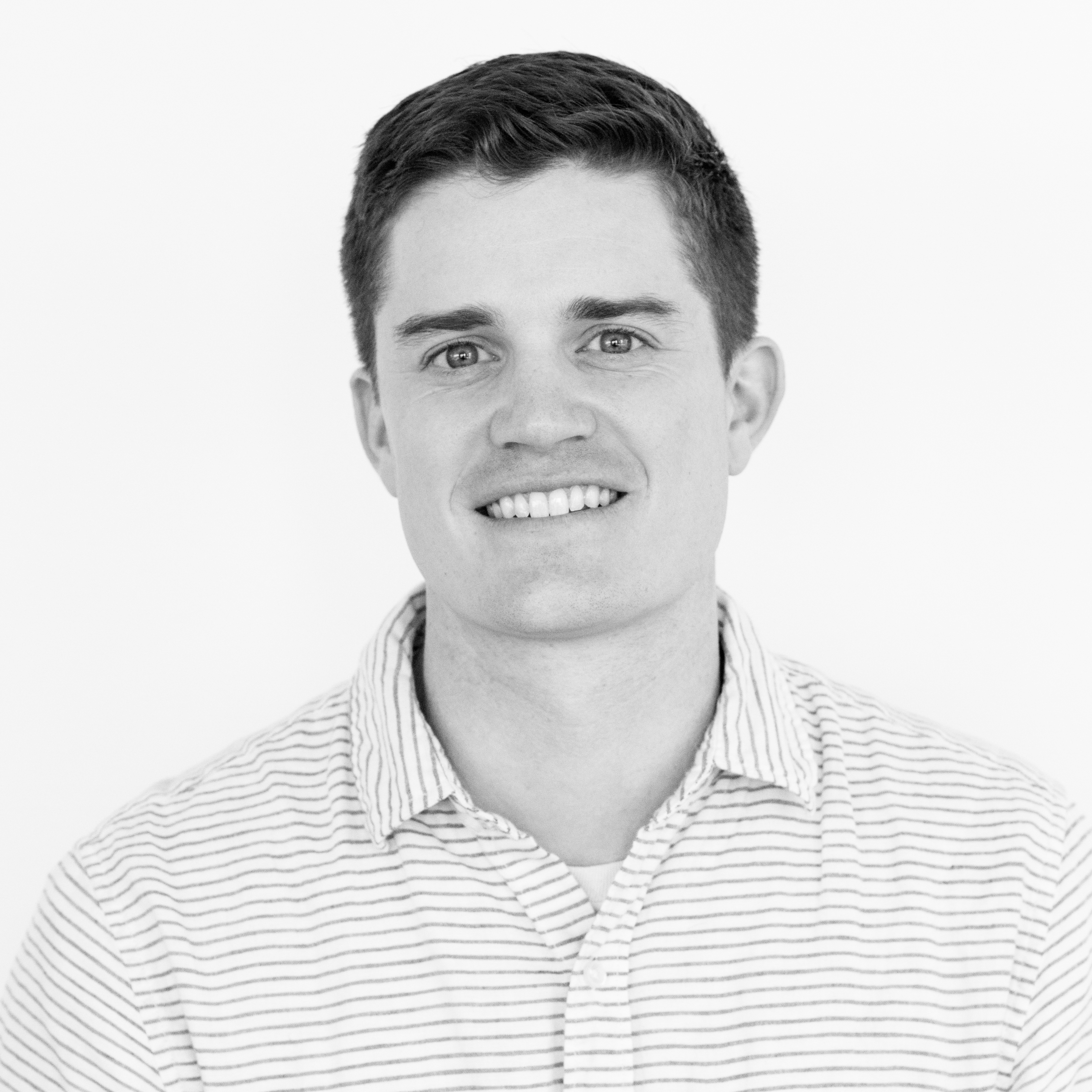 Will is the senior editor for D CEO magazine and the editor of D CEO Healthcare. He's written about healthcare…