2022 couldn't come soon enough for Luka Doncic. For the first three months of the regular season, the soon-to-be 23-year-old superstar looked ordinary relative to the unbelievably high standards he set for himself in his first three seasons. By now, we kind of expect Doncic to be a top-five player in the NBA for the foreseeable future. He was anything but that heading into the new year.
Doncic started the season slowly, hampered by poor conditioning and mentally worn out by a long summer. Most games looked like a grind; he worked hard for points, lacking the burst to get by defenders. His 22.5 points per game in six October games was his lowest monthly average since his rookie season. Then, just as it looked like he was hitting his stride—and his threes—in November, he injured his ankle in the waning moments of Dallas' November 15 win over the Denver Nuggets. Things went downhill quickly after that. The Mavericks lost nine of their next 12 games, four of which Doncic sat out. On December 12, he re-aggravated the injury against the Indiana Pacers. Tack on a stint in the league's COVID protocols, and he would spend 10 more games in street clothes. 
Doncic just couldn't catch a break, and it showed on the floor. We saw spurts of dominance—his trademark step-back game-winner against the Boston Celtics, for instance—but it was not as consistent as we were used to. During October and November, the Mavericks had a negative net rating with Doncic on the floor, and the numbers looked especially brutal on defense. Add in league-wide rule changes, an overhauled coaching staff, and new schemes, and he had little to cling on to.
But of all the amazing things Doncic does on the basketball court, his ability to adapt and problem solve is probably the most impressive. Time and again, when teams try new defensive coverages on Doncic, we've seen him read and react and pick them apart as the games progress. So, like always, Doncic found a way to tweak his game.
Since returning on New Year's Day against the Oklahoma City Thunder, Doncic is averaging a near triple-double with 24.6 points, 10.2 rebounds, and 9.2 assists. Not coincidentally, the Mavericks are 9-3 in January, with the NBA's best defense and third-best point differential while beating several good teams—a marked turnaround for a group that was 1-9 against the league's top-10 teams heading into the month.
He's orchestrating the offense and leading the charge like always, but there are some noticeable differences. For starters, he's been much more aggressive attacking the paint. Getting in better shape obviously helped, but this is a deliberate reaction to his shooting struggles. His 41 percent field goal percentage in January is his lowest of any month this season, but rather than let it ding his confidence, he's adjusted by getting more of his looks at easier spots on the floor. Per Second Spectrum, Doncic is second in the NBA in drives per game in January, the culmination of a trend of increasing his attempts at the rim and in the paint as the season progressed. 
But the best indicator of Doncic's current attacking is his free-throw rate. At the beginning of the season, there was concern over how much new rules designed to crack down on shooting fouls might impact his ability to get to the line. Doncic is not jumping into defenders anymore, and he's drawn only one shooting foul on his three-point attempts this season compared to 36 such fouls in the last two seasons. Fast-forward a few months, and Doncic has increased his free throw attempts from 4.7 in October to 8.2 in January. His shooting-foul drawn rate is back at his career-high levels this month.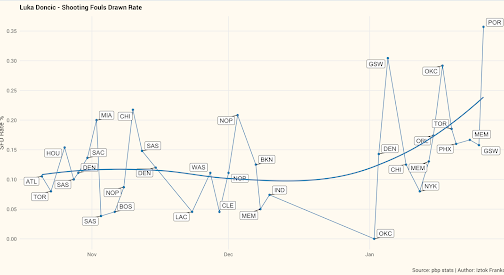 Not only is Doncic getting to the line, but he's also making his freebies once he gets there. Doncic has made 82 percent of his free throws since December. (The next step is seeing if he can find a way to shoot well both from the line and the three-point line at the same time. As you can see in the chart below, his free-throw and three-point percentages look like a video game sliding scale with 100 points to distribute between two attributes. When you move one up, the other comes down.)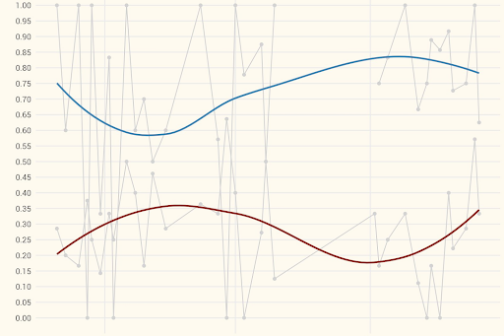 The other part that probably took Doncic—and those of us who watch this team closely—a bit of time to figure out is what Jason Kidd wants to do on offense. While his predecessor, Rick Carlisle, was obsessed with details and spacing, it is evident that Kidd isn't concerned with producing beautiful regular-season basketball. Rather, he's using the regular season as a laboratory for what might work in the playoffs. Already, we've seen an increased focus on getting Kristaps Porzingis closer to the basket and Dorian Finney-Smith bringing the ball up the court while playing on-ball more. 
But, like all the best chess masters, Kidd understands that his important piece is the one that matters the most. Doncic is the queen, his most dangerous piece, who is always attracting attention and who can attack in all directions, as evidenced by some of the unbelivable diagonal passes he throws. Teams are still zeroing in on Doncic; despite his poor shooting, he remains the most double-teamed player in the NBA. But instead of Doncic bringing up the ball every single time and running a pick-and-roll, Kidd is moving his queen up and down the board as he figures out the ideal ways to use his best weapon. While Doncic's touches per game increased in January, there are positive signs that show that Doncic is adapting and more willing to give up the ball. Per Second Spectrum, his number of average dribbles taken and his average touch length are significantly lower than they were earlier in the season—or at any point last season. The Mavericks are also second in the league in passes per 100 possessions in January after being at the bottom in October and November. These are positive signs that Doncic is willing to adjust to Kidd's style of offense that features more and faster ball movement. 
While the results are mixed—the Mavericks still rank just 17th on offense—the big picture is the obvious priority. When the outside shots are not falling in the playoffs, the Mavericks will need to find other ways to score. They will need to expose matchups, find ways to attack the paint, and bully their way to the free-throw line. And this is what Doncic has been doing in January.
There's also reason to believe much more could be coming. The Mavericks have only just begun to experiment with their other playoff weapon: playing Porzingis at center and running more Doncic-Porzingis actions. A lethal two-man game has been the holy grail ever since Porzingis was acquired three years ago, and we're still waiting for it to reach its full potential. That, too, will take time, as Doncic isn't the only one in that partnership who is struggling. Porzingis is making just 28 percent of his three-point shots on the season and, per Synergy, is currently shooting just 29 percent out of pick-and-pop plays with Doncic while only 15 percent when he pops behind the three-point line. Teams have started to leave Porzingis open and collapse on Doncic's drives, something that has never happened in the past. As adaptable as Doncic is, his next adjustment will go much easier if Porzingis starts making jumpers. 
Still, the Mavericks are 28-21 with both of their stars shooting below 30 percent from three and having played in only 22 out of 48 games together. That is more than enough reason to feel good about this team, particularly because I think it's inevitable that both Doncic and Porzingis will eventually shoot better, which in turn will unlock more possibilities for them together on offense. But even if they don't, it's a safe bet that Doncic will find another way to get the job done. As he's back to reminding us, he always does. 
Get the ItList Newsletter
Be the first to know about Dallas' best events, contests, giveaways, and happenings each month.
Author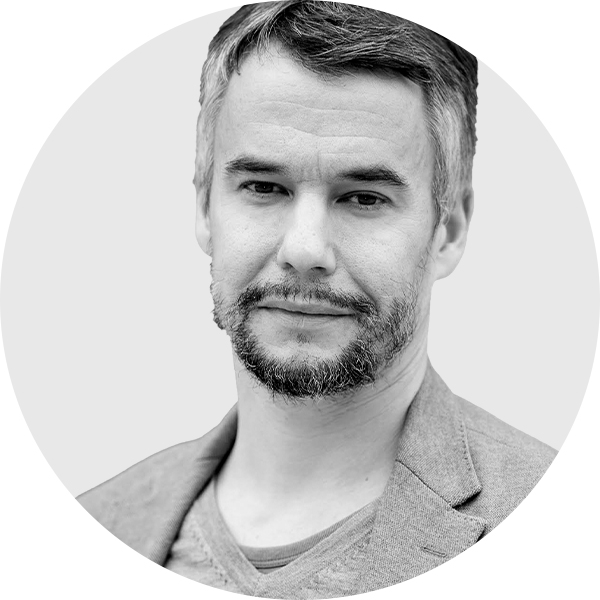 Iztok Franko covers the Mavericks for StrongSide. He is an analyst that uncovers stories hidden in NBA data and basketball…