The Cowboys vanquished what might've been their only real challenger for the NFC East title on Sunday afternoon. They did it decisively, too, at least for the first two quarters. Sure, things got a bit dicey there in the second half, but division games are weird. The offense sputtered, to say the least, in the second half, but the defense came up big when it needed to.
And that's what we need to talk about today. There's one number that defined a good chunk of Sunday's contest, and it's the same number that has defined a fair few Cowboys games this season: 11.
Let's talk about No. 11, Micah Parsons.
It took Parsons less than a quarter to make a huge impact on the outcome of the football game. Washington, after managing only 11 yards of offense on their first two drives combined, looked poised to get themselves right on drive No. 3. After moving across midfield and facing a 4th and short, Washington elected to roll the dice and try to get back into the game which they were already losing by two scores. And then Micah Parsons happened.
MICAH PARSONS IS UNREAL.

Forces the fumble that's returned for a Cowboys TD 💪

(via @NFL)
pic.twitter.com/aqexB5vKs6

— Bleacher Report (@BleacherReport) December 12, 2021
It couldn't have come any later either, because Curtis Samuel appeared to be coming open underneath for a first down. Half a second longer and the story of this game could be vastly different. Instead, though, we were treated to Parsons' third forced fumble on the year. In fact, all three of those forced fumbles have come since Week 9, which is tied for the most in the NFL in that time frame.
The Cowboys, as a whole, spent quite a bit of time in the Washington backfield in this game. They hit starting quarterback Taylor Heinicke eight times, then backup Kyle Allen twice after Heinicke left with an injury. Per Pro Football Focus, they pressured Heinicke on over half of his dropbacks—the second-highest rate this week, behind only the Packers going up against the Bears' offensive line. And while Demarcus Lawrence actually led the Cowboys in total pressures this week (he had six), it was Parsons who had the biggest impact plays.
We can actually measure that impact, too, beyond just his five pressures. We've discussed EPA in this column before, but for those that don't recall it stands for "Expected Points Added." Expected points are a way of measuring the impact of any given play by adding more context than simple "yards gained" would get you. That context includes down, distance, time remaining, and field position, and if you want to read the in-depth statistical stuff that goes into it, check it out here. Quite often EPA is used to measure offense, but it's possible to flip it around to discover which defensive players are making the highest-impact plays for their team. Brian Burke was the first to try this over at Advanced Football Analytics, and more recently the great Daniel Houston of Cowboys Stats & Graphics account on Twitter brought it back and dubbed it "playmaking EPA." Any time a defender makes a play (be it a tackle for loss, sack, interception, etc.) that is a net-negative for the opposing offense (in terms of EPA), that counts towards his playmaking EPA.
Among rookie defenders, no player comes close to the EPA generated by Parsons. But we don't have to stop at rookie defenders. Take a look at the league as a whole: only Darius Leonard has helped generate more playmaking EPA than Parsons this season.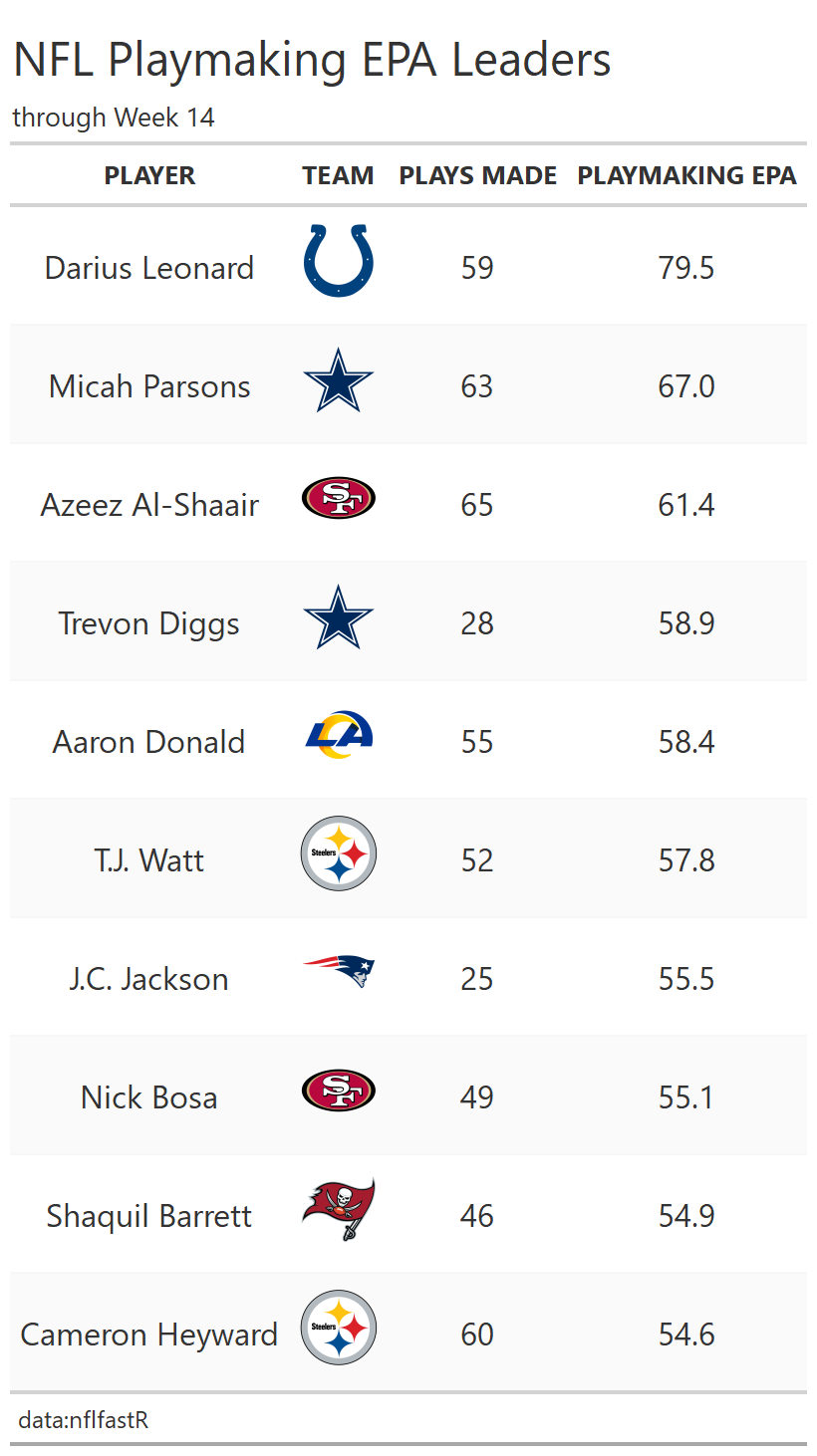 At this point, winning Defensive Rookie of the Year is all but a lock for Parsons. Draft Kings currently has him with an 89.6 percent chance of taking that one home. But it might be time to think a little bigger for this dude. Parsons has made his impact rushing the passer, and he's doing it more often than guys like Aaron Donald, Nick Bosa, and TJ Watt. He is making a case for the NFL's Defensive Player of the Year.
His 12 sacks put him only at 7th in the league right now, so immediately one can see the pushback you might get with this take. Why give it to Parsons when guys like Watt and Myles Garrett are on the verge of dropping 20-sack seasons? Well, to put it simply, Parsons is getting his sacks with far, far fewer opportunities. In eight of 13 games this year, Parsons actually spent more snaps in coverage than snaps rushing the passer. Myles Garrett has rushed the passer more than 400 times, while Parsons currently sits at 255 opportunities, per PFF. 
His pressure rate this season is, quite frankly, astonishingly good.
His 21.6 percent pressure rate is the third-highest among any defender with at least 150 pass rush snaps going all the way back to 2006, per PFF. And he's the only player in that timespan with a pressure rate above 20 percent and at least 10 sacks to show for it. It's a truly remarkable season we are witnessing.
To put into perspective the numbers behind the first 13 games for the Cowboys rookie, consider how they compare to a previous Defensive Player of the Year. Khalil Mack, the winner in 2016, had fewer sacks, QB hits, tackles, and tackles for loss than Parsons currently has. And Parsons still has four games to go.
Rushing the passer has been the key aspect to Parsons' success thus far, and there's one more metric that agrees he's been one of the best. ESPN tracks something called Pass Rush Win Rate (PRWR), which measures how often a player can beat his blocker within 2.5 seconds. This helps cut down on plays where the quarterback holds onto the ball for too long for blockers to hold up. Parsons unfortunately doesn't have enough snaps at edge rusher to qualify for the leaderboard right now, but as of two weeks ago we know he was third among all edge rushers. He's put up 10 pressures in 31 pass rushing snaps since then, so I feel comfortable assuming if that number went anywhere, it was up.
This all just goes to show that it's extremely difficult to find a number that paints the season Micah Parsons is having as anything other than special. It's an absurdly impressive season from a rookie, let alone one that wasn't even supposed to be primarily a pass rusher. And it's absolutely worthy of the highest honor for a defensive player in 2021.
Get the ItList Newsletter
Be the first to know about Dallas' best events, contests, giveaways, and happenings each month.