The 2021-2022 Dallas Stars are like something out of a 19th-century gothic novel, transforming from Hyde to Jekyll in barely more than 20 games. It's kind of fitting when you think about it, though. Since Jim Nill took over, the Stars have made the playoffs four times and missed the playoffs four times. They've looked like a good team as often as they've looked like a mediocre team. They've been a young team, and they've been an old team, and, most important, they've been a team that went from guns blazing to guns holstered. 
So the wild swing adds up. But that still doesn't explain how the Stars, who took longer than any other team in the NHL to record their first regular-season win, have won seven in a row and nine of their last 10. Were they good in the beginning but unlucky, or were they bad and unlucky? Or were they some odd mixture? Who are they now, and what should we expect moving forward?
The obvious explanation is that Jason Robertson got healthy, and Roope Hintz woke up. Dallas is 8-2 when Hintz tallies at least one point, and he didn't start scoring until Robertson came back. I'm not a fan of this explanation, though, because while not having elite players might explain team results, they can't explain team performance. Was not having Robertson the reason Dallas nearly blew a two-goal lead against New York by disappearing completely in the second period? Does Hintz's scoring drought explain Dallas not showing up in the first period against Boston? How did Dallas go from a team starving for offense in ways that were making history to a team making history with its offense? 
In my estimation, there's a simpler explanation: Dallas is great at home but very meh on the road. 
It's there in the obvious numbers: Dallas is 9-2-1 at home but 4-5-1 away from the American Airlines Center, with three of those wins coming past regulation. At home, they spend over half the game with a lead thanks to their aforementioned quick-strike offense, which is second-best behind only the Colorado Avalanche. On the road, they're in the lead for less than a quarter of the game, which is fifth-worst in the league. But it's also there in the less obvious numbers. At home, Dallas is just an average general possession team (50.15 Corsi For percentage, which measures the share of raw shot attempts), but when it comes to getting in the home-plate area of the ice, they're elite, controlling 54.4 percent of the scoring chances generated on either side of the ice (or SCF%). The sum total of their overall shot quality is not as good by comparison (51.44 expected goals percentage), but it's still a favorable split. On the road, however, Dallas is a below-average general possession team (46.6 CF%), and a bit better but still average at controlling shots as they increase in quality (48 SCF% and 48 xGF%).   
To be fair to Dallas, teams always do worse on the road. In fact, home teams in every sport have historically had an advantage. The most common explanation for "home field advantage" is preferential treatment by referees, which Tobias Moskowitz and L. Jon Wertheim famously studied in their book Scorecasting. In college hockey, there's a hilarious but identifiable correlation between added wins and crowd density. In the NHL, coaches have actually argued over opposing arena's ammonia refrigeration systems, or lack thereof, thereby creating bad ice.  
It's fun to fall down the rabbit hole of possible explanations, but in hockey, home-ice advantage adds a specific wrinkle to team tactics: home teams get the last line change at the beginning of each period and after each stoppage. This allows for controlled matchups, which absolutely matter. 
In fact, Meghan Hall scraped through the data to examine the effect of last change by looking at which teams generate more offense when they get to pick the lines and the resulting difference when they don't. As you can see, teams generate more unblocked shot attempts when they have control of the matchups. It's not a major difference, but it is a difference and a particularly relevant one to Stars fans since some of the data suggest Bowness is especially good at last change (asterisk: Bowness has a smaller sample size than most, granted).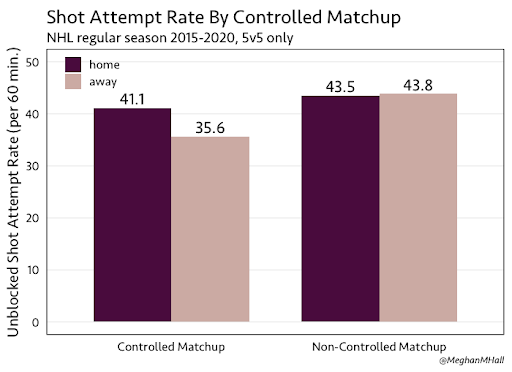 These are good signs for Dallas, and it's something we saw first hand in their November 23 game against the Edmonton Oilers. With Bowness able to match up Miro Heiskanen against Connor McDavid, there was hardly a shift that went by for the two-time Hart Trophy winner against someone other than Heiskanen; in fact, almost 70 percent of McDavid's night was spent opposite Heiskanen. It was a great matchup with Heiskanen getting the clear decision and subsequent Norris buzz. Heiskanen may be the only blueliner who can defend McDavid one-on-one, which is an ace up Dallas' sleeve no other team can claim.
It's a great sign, but it's something Dallas won't always have access to. Does anyone think head coach Dave Tippett has any interest in seeing a rematch when he has the ability to keep McDavid away from Heiskanen altogether in Edmonton? Of course not. In other words, Dallas' turnabout feels pretty cut and dried: Dallas played more games on the road at first and thus lost more, then played more games at home and thus won more. 
Still, this doesn't answer what should be the second question: is Dallas closer to who they are home, or who they are on the road? 
It's easy to see why the pattern might continue on the road. If you're an opponent, the game plan writes itself: keep your best offensive players away from Heiskanen and attach your best defensive forwards to the Hintz line. Who else can carry Dallas offensively? To put Dallas' secondary scoring into perspective, Minnesota's fourth line of Brandon Duhaime-Nico Sturm-Nick Bjugstad have only eight fewer points than Jamie Benn, Tyler Seguin, and Alex Radulov. This was part of my concern going into the season: the focus on replacing players like Jason Dickinson and Andrew Cogliano would result in additions who could only ever play down the lineup, not up. No offense to Joel Kiviranta, Luke Glendening, or Michael Raffl—these are not the players who elevate Benn and Seguin's games, which might also explain why they're struggling. 
This might sound like doom and gloom, but it's entirely possible that Dallas can live with their lack of depth. Jake Oettinger is every bit the starting goaltender Dallas inexplicably didn't trust him to be to start the season, but joke's on us critics since Dallas now has an excellent backup in Braden Holtby, a trade chip in Anton Khudobin, and Ben Bishop might be back soon, too? As long as they tread water on the road and dominate at home, what's the problem? They're about to enter a December stretch of 12 games in 24 nights. Half of them are on the road, and all of their home games are against Central teams. Dallas is in good shape. They more or less made the Thanksgiving cutoff, and their best players are their best players right now. Why act like a Chicken Little here? 
I don't think I am, but the Stars seem to be a team of extremes, with extended highs and extended lows. If their struggles on the road continue, the recipe is there to hit one of those regular-season bad patches. Which is to say, if the Hintz line isn't scoring, no one is. That's the issue that could creep up on Dallas, whether at home or on the road.     
It's tempting to use the past as a blueprint and imagine what Dallas would have been like in the Stanley Cup Final two seasons ago if they'd added the Hintz line. But we can't add Robertson to that roster any more than we can take back the years that have diminished Benn, Seguin, and even Khudobin, who played a massive role in that run. Maybe that's the key to turning it around for good: adding to the magic being built rather than reigniting who they once were. 
We'll know what Dallas thinks once the trade deadline looms closer. I'm not here to argue whether there even is a problem. But I do think there's a caveat to their current run: the mere act of going from horrible to unstoppable might be a problem in and of itself. Constantly transforming into something completely different is not a good sign. How are the Stars supposed to be comfortable away from home if they're still figuring out who they are?    
Get the ItList Newsletter
Be the first to know about Dallas' best events, contests, giveaways, and happenings each month.