It was hardly pretty, and there were moments when it was barely interesting. But the Cowboys got back in the win column, defeating the Saints in New Orleans 27-17. Here's what else got accomplished:
---
Reminded us that a win is a win
This will not go down as your favorite Cowboys win of the season, nor should it. How could it be when so much of this game felt lifeless?
It would be unfair to say the Cowboys survived last night, but they certainly didn't cruise, either. They mostly plodded — and, on way too many running plays, plodded directly up the middle, usually with a clearly hobbled Ezekiel Elliott. They were outgained by a New Orleans team missing its best player (Alvin Kamara) and both starting offensive tackles mostly thanks to Taysom Hill, the NFL's most lucrative gadget player, who cosplayed as a quarterback for the night and gashed them for 101 yards on the ground. If only it had stopped there: Hill piloting what was left of New Orleans' offense to as many first downs (17) and drives (14) as Dallas' league-best attack while slightly edging them in yards per play (5.9 to Dallas 5.8). Did you know who Deonte Harris was prior to last night? If not, you certainly do now after he slithered through the Cowboys' defense for a 70-yard catch-and-run touchdown.
Ultimately there were flickers of the Cowboys we saw so often in the first two months of the year, and those proved to be enough to carry Dallas to a win they generally deserved. CeeDee Lamb broke a defender's ankles on a 33-yard bubble screen in the first quarter while Tony Pollard's 58-yard touchdown on a toss sweep left broke the Saints spirit in the third. Turnovers did the rest: Dallas picked off Hill four times after notching only five defensive turnovers in the previous five games.
But apart from the back half of that first scoring drive, when all three of Lamb, Amari Cooper, and Michael Gallup made key plays, their performance felt choppy, almost piecemeal. This will not cut it against a good team, perhaps not even a mediocre one at full strength. And in the playoffs? That's a recipe for another year without a postseason victory.
These are not the playoffs, of course, and therein lies the silver lining. There is still time to clean things up, to get Cooper fully healthy — he only played on third downs and in the end zone — and ease DeMarcus Lawrence off his snap count. Dallas has more than a month to get Dak Prescott back to peak sharpness and locate the pizzazz missing from Kellen Moore's playbook. Randy Gregory and Neville Gallimore will soon return, thus completing Dallas' deepest defensive line in years. And, of course, they'll have their head coach and several other members of Mike McCarthy's staff, too, once they weather COVID.
Process yields results in the bigger picture, but after three losses in four games, Thursday wasn't about next week, let alone next month. The Cowboys badly needed a win, and they got it while depleted in a brutal building to play in. Their reward is nine days of fine tuning and, with any luck, even more improved health. That leaves them with plenty to smile about.
Delivered their most exciting catch of the year …
You know you watched something special when your Twitter timeline dissolves into a puddle of exclamation points and groupthink.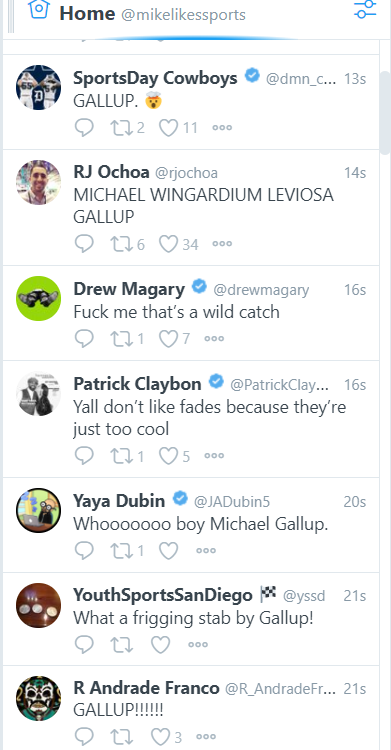 And, make no mistake, Michael Gallup's first-quarter touchdown grab was special. Let's go to the replay in case you forgot, or in case you want an encore of midair body control at its finest.
Michael Gallup is that dude. Sheesh. pic.twitter.com/pAEAeQVJEc

— Joey Hayden (@_joeyhayden) December 3, 2021
Now let's freeze frame:
Gallup nice with it pic.twitter.com/3AL63dATPj

— Dallas Texas TV (@DallasTexasTV) December 3, 2021
That's the good stuff. As our pal Jonny Auping pointed out on Twitter, this is not the first time Gallup has scored in spectacular fashion. This 2019 touchdown is almost a mirror image of Thursday's.
— Jonny Auping (@JonnyAuping) December 3, 2021
Someone is going to pay very handsomely for his skills in free agency this offseason. But in the here and now, that was the most exciting catch of the Cowboys' season to da—wait, what's that?
… And then one-upped themselves
I've watched this clip about 20 times, and each time I was blown away by how Jayron Kearse did this less than a quarter after Gallup's grab:
Toe drag swag for the INT 🔥@Jayronkearse8 | #DallasCowboys

📺: #DALvsNO on NFLN/FOX/PRIME VIDEO
📱: https://t.co/LMzEctbvnL pic.twitter.com/IrxzNmUWzT

— NFL (@NFL) December 3, 2021
This would be difficult enough if the ball were low or drifting out of bounds. Together, with several bodies in the area, it's borderline miraculous. That is the Cowboys catch of the season.
It's also worth zooming out to look at the full play, too, for what Micah Parsons did to force that interception.
.@Jayronkearse8 secured that! 💯

📺: #DALvsNO on @NFLonFOX pic.twitter.com/nKapAgvjqI

— Dallas Cowboys (@dallascowboys) December 3, 2021
Last week, Parsons was wreaking havoc off the left edge while subbing in for the injured Lawrence. This week, with Lawrence back in the lineup, Parsons nonchalantly shifted back to linebacker and shadowed a wide receiver on a go route to force an interception. And then, early in the fourth, he dropped down to blitz again and took down Hill for his fifth sack in as many games, the first time a rookie has recorded sacks in five consecutive weeks since the Los Angeles Chargers' Joey Bosa, now a three-time Pro Bowler, did so in 2016.
See why Jake made the case for him as a generational talent?
Welcomed back their defensive heartbeat
Parsons is now this defense's best player, Trevon Diggs its mainstay on SportsCenter, Randy Gregory its most pleasant surprise. Lawrence remains its ballast, however, and he wasted no time getting back up to speed after missing the last 10 games with a foot fracture, making a pair of tackles on New Orleans' opening drive and chipping in a key deflection that was briefly ruled a forced fumble:
demarcus lawrence is back. pic.twitter.com/uZ1jb0rrWh

— cristianˢᵖᶠᶜ (6-6-1) (@Cristianspfc_) December 3, 2021
Dallas functioned passably enough without Lawrence, and the aforementioned Parsons-Diggs-Gregory trio stacked up enough highlights in his stead that there was almost an "out of sight, out of mind" element to his absence. The relatively unsung nature of his game—his fine-ish sack numbers belie a long track record of applying pressure on the quarterback—probably doesn't help that, either.
But Lawrence has reigned for years as Dallas' most dependable playmaker on the defensive line and longest-serving leader, and both still hold true at age 29. If anything, last night proved how his value could amplify going forward: Lawrence holding down full-time edge rush duties allows Quinn to maneuver his star rookie wherever and whenever he pleases versus tethering him to pass-rush duties out of sheer necessity. His return now gets Dallas one step closer to the very best version of its defense, in which he and Gregory line up on the ends with Parsons in a free role behind them. We've seen one game of it so far this season, a microscopic sample size that means even less when accounting for it being Parsons' first NFL game. He's much better now, and it's safe to say Gregory is, too. But Lawrence? Thursday reminded everyone he's still steady as it goes.
Stayed true to themselves
No pretense on #Cowboys #DanQuinn – 'head coach' on natl TV, still dresses like he's at Walmart buying a rake. pic.twitter.com/wJkje5gI80

— fishsports (@fishsports) December 3, 2021
May we all be blessed with the self-assurance to remain our most authentic selves during the most important moments … even if we're begging to be memed along the way.
Dan Quinn tonight: "How do you do fellow kids"?#TNFonFOX pic.twitter.com/PoHVEHDjSB

— Dr. Chinstrap #D4L (@ChinstrapD4l) December 3, 2021
Dan Quinn was 4-8 against New Orleans' Sean Payton going in. He's now 5-8. And if he keeps up the tremendous work he's done in his first year as Dallas' defensive coordinator, he may one day get a chance to run his own team once again—for much longer than a Thursday night.
Get the ItList Newsletter
Be the first to know about Dallas' best events, contests, giveaways, and happenings each month.