Rangers scout Jay Heafner knew who he needed to sell when sat in a high school conference room in China Grove, North Carolina, across the table from Owen White and his parents in September 2017. Heafner had made this speech many times before, pushing the pluses of pro ball and gauging the family's interest in choosing it over college. In this case, if the Rangers were in a position nine months down the road, in the 2018 MLB Draft, to select Owen, a three-sport star with bloodlines to match. All of the Whites were athletes. His father, Tim, was a semi-pro softball player, while his mother, Casey, was a Hall of Fame softball and basketball player at Pfeiffer University. Each of his three older sisters excelled in softball (Jacqueline), volleyball (Michaela), or both (Mackenzie) at the collegiate level, too. 
Heafner knew that Owen was something else entirely, and experience had taught him that when it comes to teenage boys—not to mention the baby in the family—the mother is often the toughest person to sell on turning pro out of high school. Not Casey White. 
"Owen needs to get his butt outta here and get to work," she told Heafner.
That was music to Heafner's ears and certainly would be to the Rangers, too. After all, if White went to college, he wouldn't throw his first professional pitch until 2021 at the earliest.
Yeah. About that. 
As it turns out, it would take every bit that long for White to make his pro debut thanks to an extraordinary series of setbacks that sidelined him for three calendar years. That set the stage for an even more improbable comeback, one which would cement him as the hottest prospect in the Rangers' farm system and among the breakout pitchers throughout the minor leagues. For Texas, it's been well worth the wait. 
---
White and his family stayed true to their word after the conversation with Heafner. He was, in fact, ready to get to work when Texas selected him in the second round of the 2018 draft, signing for $1.5 million—roughly $250,000 more than slot value—to forgo his commitment to South Carolina and turn pro. 
But the work that he anticipated putting in would have to wait. The Rangers had innovated a "de-load" program for White, first-rounder Cole Winn, and other high school pitchers they'd drafted that summer, keeping them out of competition to rest their arms instead of assigning them as to low-level minor-league clubs to begin facing pro hitters like other teams do.The Rangers would instead work with them on strength, conditioning, nutrition, and the mental demands of pro ball to give them a foundation to build off of before turning them loose in 2019.
It caught White off guard. "It shocked me," he
said that October
, hours before getting a chance to throw two exhibition innings at the end of fall instructional league
against a group of Padres prospects
and get a quick taste of pro competition. "I just felt like I was coming off strong, like I was getting better throughout the year. I felt really good." But he endured the experimental shutdown anyway, champing at the bit to get rolling in the new year. 
Then, at the beginning of May 2019, two months into his first spring training work in Surprise, Arizona—and weeks before he would have been assigned to a farm club to start facing other teams—he found out he needed Tommy John surgery to repair a torn ligament in his pitching elbow, pushing his pro debut back to at least the summer of 2020. The waiting would continue. The kid who had never missed any significant time while playing baseball, football, and basketball growing up was set to spend more than two years between competitive games. 
"He's a ballplayer, not just a pitcher. And he wants it. He wants the responsibility of leading. He wants that pressure.

Carlos Cardoza-Oquendo
Still, White bided his time, dutifully going about his rehab and keeping an eye toward August 2020, the date when, assuming no further setbacks, he'd finally be back on the mound for his pro debut. Once he chose pro ball over college in 2018—a decision he says he never thought about again, even while recovering from his elbow injury—he'd expected to spend 2019 bonding with his new teammates in the chase for a playoff berth. Instead, it was a group of fellow rehabbers and the coaches and trainers in charge of their recovery who helped him get through his first full year away from home. 
"Having such a tight relationship among the group [of injured players] and positive atmosphere from the coaches is what gets you through it," White says, pointing to the "great energy" that Rangers rehab pitching coordinator Keith Comstock used to set a tone in the gym and on the back fields every day. "We would all take after Commie, rely on each other, push each other to get better in rehab, to come back stronger and healthier both on [the field and on] the mental side." White's religious upbringing was another source of strength. "Staying true in faith was huge as well," he says. "God has a plan. I just relied on God himself and his word." 
White made it through 2019, and a summer return in 2020 remained in sight. But then he'd have to wait again: the minor leagues canceled their season due to COVID-19. He coped by focusing on what would be on the other side. "The canceled season just made me want the 2021 season more," he says.
He'd been through so much, without the benefits of a winning streak, a playoff chase, or showing off a revamped breaking ball to balance out the losses and the slumps. Few upticks, as sports had so reliably given him all his life, to offset the downturns. But Heafner, the Rangers scout who had put the organization's first set of eyes on White, never doubted that he would handle it just fine. He hadn't forgotten his conversation with White four years earlier after the high school righthander had a disappointing summer on the mound going into his senior year. "He was upfront and very blunt about it," Heafner recalls. "He took full accountability for himself, blaming no one. He started waking up at 5 a.m. to work out with a renewed commitment. You don't see many high school-aged kids recognize this on their own and set forth fixing it, let alone having the humility to admit it." 
After all, Casey White says, "Owen has never had it easy as far as getting his ego stroked," adding that his three older sisters "dog him constantly about being better than him at everything."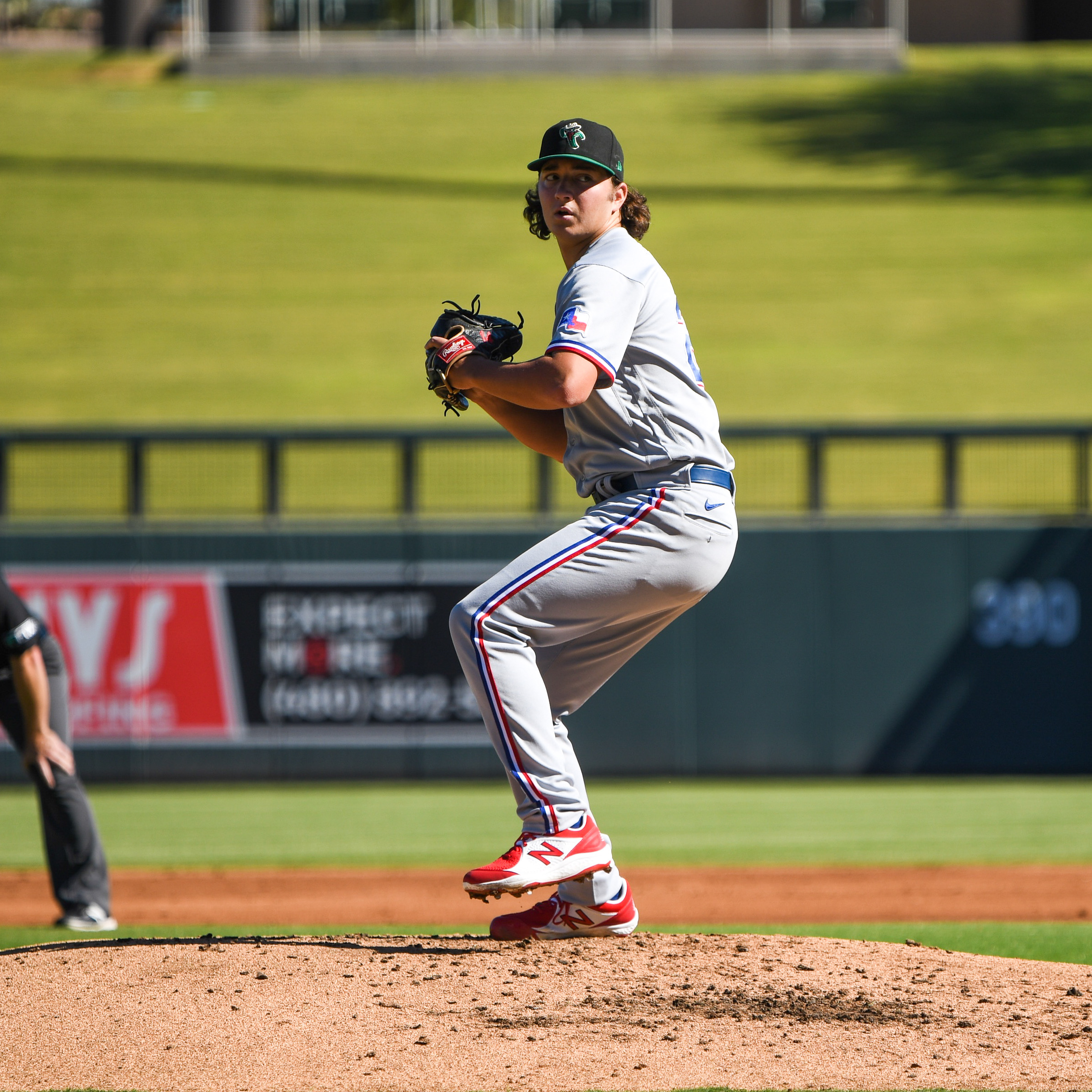 So he didn't get deterred when he spent much of the summer in Arizona getting physically ready to pitch in a modified fall instructional league setting in September and October. He created a stir when he finally took the mound, touching 97 mph with his fastball and showing feel for a curveball, slider, and changeup as well, in spite of so much lost development time.
Finally, the waiting was over. His body was intact. His mind was strong. The stuff had come back. After years of things finding ways to fall apart, everything finally seemed to be coming together. 2021 would be his year. 
---
White made his pro debut on a brisk May night under a grim, overcast sky. It had been 35 months since the day he was drafted out of a high school 10 minutes up Route 29. Now, he and his Down East Wood Ducks teammates were in Kannapolis, North Carolina, set to kick off the 2021 season—and White's career.
It started well enough. White struck out two Kannapolis Cannon Ballers in a scoreless first. He completed a quick, 12-pitch inning in the second, registering his third strikeout. An error allowed the first hitter of White's third frame to stretch a single into three bases. Runner on third, no outs. It was White's first bit of adversity between the lines as a professional baseball player. He responded by coaxing the next hitter into bouncing a ball in front of the plate on the first base side. White bolted for the dribbler, gathered it, and fired home to get the runner streaking from third. The throw sailed high. The run scored. Tie ballgame. White punched the ground in frustration.
Moments later, he noticed something far more troubling than the score: the pinky finger on White's pitching hand didn't feel right. Still, he told himself that if he could throw through the pain, he'd be fine. 
But in his heart, dashed so many times over the last three summers, he wasn't wondering if he'd broken the finger. "I knew," White says now. "It crushed me. Everything flew through my mind, but I couldn't change it." 
White never motioned to the dugout or gave the coaching staff any indication that he was hurting. He didn't even give them a chance to come check. He faced four more hitters—striking the first out swinging—and gutted his way to the prescribed 60-pitch limit for his start. But his hand was so swollen that he had to tell Wood Ducks manager Carlos Cardoza-Oquendo what he'd been dealing with over his last 25 pitches before handing the ball off and slinking down to the dugout. "It definitely wasn't my proudest moment," he says.
He would miss more games. A lot of them. And this time it hit White differently. "I can't say I truly hit rock bottom, [but] breaking my hand was when my heart hurt the most," he says. "But within two days, you get over it and start working to get back to the team and baseball."
"It crushed me. Everything flew through my mind, but I couldn't change it.
He was out three months, returning to the mound on August 10, the day after his 22nd birthday. He electrified, striking out four in two hitless innings as his fastball sat between 95 and 97 miles per hour. The following Sunday, 12 batters faced, one run allowed in 2 1/3 innings. Then one run in four frames the Sunday after that. Sunday became White's day: he pitched each one for the rest of the year, increasing his pitch limit each turn in the rotation. His final three regular-season starts were dominant: four runs on 11 hits and two walks in 18 2/3 innings with 33 strikeouts. He walked none of the final 53 batters he faced and fanned 24 of them. All told, after the hand injury, White held Low-A East batters to a .191 average with 50 strikeouts and only 10 walks. In his final start, he forced a decisive Game 5 in the league's championship series, a remarkably composed performance by someone who would have had every reason to be tentative in what amounted to his rookie season.
"He's a ballplayer, not just a pitcher," Cardoza-Oquendo says. "And he wants it. He wants the responsibility of leading. He wants that pressure. Like [Rangers manager Chris Woodward] says, the best way to deal with pressure is to apply it. And we've seen that Owen's going to prepare to apply it to the team on the other side every time he goes out."
But the best was yet to come—and finally, waiting would play in his favor. 
Had White pitched a full season, the Arizona Fall League wouldn't have been a consideration. But with only 33 1/3 innings under his belt, he had more in the 2021 tank and the Rangers wanted to see—and wanted White to see—how his stuff would fare against more experienced competition.
It fared remarkably well. The AFL was an offense-heavy league this year, one in which the average batter posted a .786 OPS and the league ERA was 5.66. White went 5-0 with a 1.91 ERA and .202 opponents' batting average in six starts (28 1/3 innings). An
electric one-inning performance
in the "Fall Stars Game" lasted only nine pitches (eight strikes), over which he flashed a 94-mph four-seam fastball, a hard slider, and a curve, never getting around to the heavy two-seamer that he considers his separator, or the changeup that plays off of it.
White's victory in the win-or-go-home season finale put his Surprise Saguaros in the AFL championship game, hours before which he was
named the league's pitcher of the year
. For a player whose career (and even his 2021) has been firmly situated behind an endless series of stumbling blocks, it's hard to imagine he could go into 2022 with any more momentum. As small sample sizes go, White's was pretty special. His reemergence as an arm to dream on is perfectly timed for a Rangers club heading into a rebuild—as trying as it might have been to get to this point.  
"Adversity makes you stronger—and sometimes, it reveals who you really are at the core," Cardoza-Oquendo says. "For Owen, I think it's done both. He's handled some things that were out of his control with extreme poise and maturity, especially for a young man and player of his age." 
Back home in China Grove, White is ready to celebrate a different kind of Thanksgiving. It's the first in his three years as a pro that isn't cloaked in uncertainty, the first as a top prospect based on more than mere projection. One might expect a 22-year-old with such a challenging start to his pro career to be able to point to a moment when he knew he had arrived. When he felt he'd turned a corner to find a sign, in full view, that says: It's my time. In a year that has had several breakthrough markers along those lines, can White pinpoint one as "the moment"?
"No," he says without hesitation. "Not yet. Still grinding my way back."   
When next spring approaches and Casey White tells her youngest of four, "You need to get your butt outta here and get to work," it won't just be a parent's nudge of confidence and an inspiration to chase a dream. This time, finally, it will be a send-off with spark, a spirited bon voyage to pick things up right where he left off. 
For once, when it was time to head home from baseball for the winter, White wasn't ready to stop—in stark contrast to all those ended seasons when he simply wasn't ready to go. Time is finally on his side. 
Get the ItList Newsletter
Be the first to know about Dallas' best events, contests, giveaways, and happenings each month.