Watching the Dallas Mavericks play basketball has been a struggle. In a season when Luka Doncic has looked mortal — at least until that game-winner Saturday — and Kristaps Porzingis has battled injuries yet again, Jalen Brunson's play is a rare bright spot. The 25-year-old has been the Mavericks' second-best player so far after Doncic and, on a team that recently struck out on development projects, represents Dallas' best hope for internal growth. 
Brunson has raised his game each year he's been in Dallas, and after torching the San Antonio Spurs for 31 points last week — including 13 in a row down the stretch in the fourth quarter — the question is no longer whether we're seeing another step in his development but, rather, how big it is. The answer will have major implications for the Mavericks' team-building, including how much it will cost to build around him at all as he approaches free agency.
For an analytics nerd like me, the best way to predict the future is to look at the past. The NBA has a good track record of undersized guards who entered the NBA late and whose careers didn't skyrocket out of the gates. Toronto Raptors' guard Fred VanVleet is the most obvious comparison because of similar size and body type; Brunson is listed at 6-foot-1, 190 pounds, while VanVleet checks in at 6-foot-1, 197. Others who come to mind are Kyle Lowry, Goran Dragic, Mike Conley, and Malcolm Brogdon. Brunson is not on the same level as these players, but we're talking about their early careers here. None of them had flourished yet, either. 
Brunson hit a 200 career-games mark at the start of this season, which gives us a big enough sample for our comparisons. Can he follow the path of those other late bloomers, all of whom developed into quality NBA starters and some even into All-Stars? I analyzed eight NBA guards' — see the image gallery at the top and bottom of the post for a full list with data analysis and comparisons — early career trajectories to help us answer our question. 
When it comes to scoring and scoring efficiency, Jalen Brunson checks all the boxes that most of the players on our list did at the 200-game mark. His raw per-game scoring numbers are a bit lower than the best on our list, but he comes out ahead in all of the other non-minutes-related metrics (more on that in a moment). 
How? Brunson emerged as a competent three-point shooter last season, which was a sore spot early in his career. But his biggest improvement was transforming his body to help him blow by defenders off the dribble. Brunson is deceptively fast and a master of fake dribble hand-offs and hesitation dribbles, which he uses to deploy surprise attacks before defenses set in. More recently, he has become one of the league's best finishers at the rim, something evaluators were skeptical he could do coming out of college because of his size (only peak Goran Dragic is better in our group). He has continued to evolve and make his team better, which jibes with what Mike Procopoio, the Mavericks' director of player development from 2013 through 2019, recalls from when the team selected him in 2018.
"I was in the draft room when [former general manager] Donnie [Nelson] made the decision," Procopio tells me. "He had to have him and wasn't taking no for an answer. He repeatedly said he's a winner about 30 times before the team drafted him. Which took a lot of guts because the head coach actively wanted Yogi Ferrell, and he went against the grain to draft him."
That ability to attack the rim in early offense, coupled with being able to run a  pick and roll to get to his deadly mid-range shot, made him one of the most efficient shotmakers in the league last season. Based on True Shooting percentage, which measures a player's efficiency shooting the ball, Brunson was the most efficient scorer on our list over his first 200 career games. What's more: per NBA Stats, only Steph Curry was more accurate on shots with greater than two seconds of touch time — a characteristic of a self-created shot — among all players who shot at least 400 of those.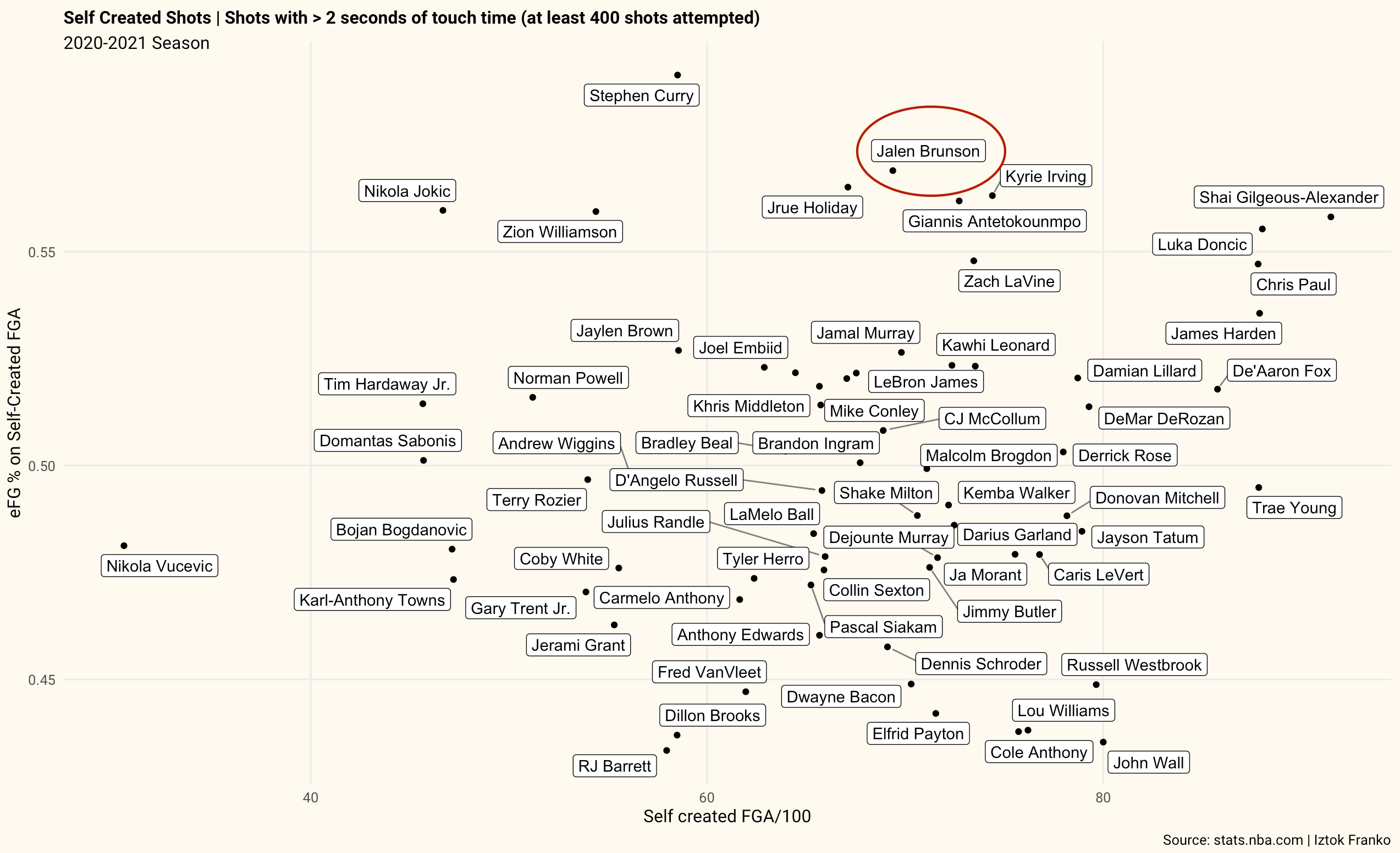 Based on the data, there is no doubt Brunson is a great off-the-bench weapon. Can he take another step and do it as a starter on a 30-minute-per-game basis? If you look at our comparisons, most of them started playing 30 minutes per night around the 200-game mark, although a few did at 300 career games. And Jason Kidd is saying the right things about letting him do precisely that going forward. "If you give him 30 minutes, he's gonna have success," the Mavericks head coach told the media before the Mavericks faced off against the Boston Celtics. "So, hopefully, we can get him his 30 minutes." 
One of Kidd's mantras since taking over the Mavericks' head coaching job is to let guys play more freely. Kidd trusts them to make the right plays on the court. That's especially true for Brunson, who noted after his big performance against San Antonio, "Coach is giving me — I don't want to say freedom, but he's letting me play. He's letting me do a lot." Which Procopio believes is exactly what Brunson needs. "NBA minutes develop players a lot faster than just working out on the practice court," he says. "He needs to continue to get more minutes, make mistakes, and figure out why he played well and why he didn't." 
Right now, it looks like he's doing it in real time. Brunson is averaging 15 points, 5.1 rebounds, and 4.5 assists per game, all of which eclipse his career averages. Offensively, Brunson is a good fit next to Doncic, a secondary attacker who can play both off-ball or create when Doncic sits or needs a rest. Opposing teams' gameplans are focused on stopping Doncic so much that aggressive "attack mode"-minded Brunson still catches most of them off guard. Brunson is also a good spot-up shooter, a must for any guard who wants to play extended minutes alongside Doncic. Brunson is probably the player Doncic trusts the most on this roster, which begins with a strong off-the-court relationship and is demonstrated by his willingness to take a backseat to watch Brunson cook on several possessions in the clutch against the Spurs. When they play together, the Mavericks' offense is off the charts, scoring 121.3 points per 100 possessions, which currently ranks among the 99th percentile of all lineups leaguewide. Each one benefits the other, which Procopio believes creates an environment conducive to giving Brunson those coveted starter's minutes, even with some imperfections in his game.
"He doesn't have to be a great playmaker to start for Dallas," he says. "He's playing with one of the smartest point guards that the league has ever seen. As long as he can initiate the offense and be a shotmaking and scoring threat when he gets it back, he will be fine."
Defense is where Brunson's spot in the starting lineup and his long-term fit gets tricky. Like Tim Hardaway Jr. and, occasionally, Porzingis, Brunson can add more questions than he solves problems on that end. None of the Mavericks' three best guards scare opposing teams as a point-of-attack defender. Individually, Brunson is a good positional defender, makes smart decisions, and is one of the best on the team at taking charges. But he's not on the level of Lowry or VanVleet as a disruptive force and might never be. This doesn't mean he won't continue to improve. Mike Conley developed into a competent defender despite his size, and Procopio believes Brunson is savvy enough to fix some of his shortcomings on defense with more minutes and experience.
Regardless of what he does the rest of the regular season, Brunson must also show he can matter in the playoffs before he's fully cemented as a core piece of this team's future. The memory of Brunson's struggles against the long, athletic Clippers last season are still fresh. He started off well, but the Clippers adjusted by throwing longer defenders at him, and Brunson had no countermove, averaging only 13 minutes and 4.5 points in the last four games of the seven-game series. Yes, the Clippers were a bad matchup, but teams typically play bigger at the guard positions in the postseason. Based on Brunson's work ethic and track record, I wouldn't bet against him to figure it out and become a good postseason player. But we still need to see it to say for certain what he might be.
Which presents a problem for the Mavericks. They have only this season and these coming playoffs to make the call on what they believe Brunson might be before he heads into unrestricted free agency. That comes down to his ceiling, and the data show that the best case might be way better than it might first appear. Let's face it: the Mavericks would be regarded differently if Doncic and Porzingis were playing with Van Vleet or prime-aged Conley or Dragic, right? If Brunson reaches his ceiling, the search for Doncic's long-term backcourt partner might be over — because Brunson will have cemented himself as a player worthy of that role on a great team. That would make him a worthy long-term investment. Now it's time to give him the minutes necessary to find out if he can become that.
Get our weekly recap
Brings new meaning to the phrase Sunday Funday. No spam, ever.