The title contains some strong words, but in my defense, they're not even mine. They're stolen from Andrea Pirlo, the Italian soccer icon-turned coach, and he was talking about the importance of playing a more aggressive, possession-based style over a counter-heavy approach after completing a dissertation on systems and structure. "Players are much more important than coaches," he told James Horncastle from The Athletic. "It's the coaches who must adapt."
Dallas was the last team to secure a regulation win this season, so something has to change. Furthering that point, here's a not-so-fun fact. NHL teams have collectively fielded 456 different rosters since 2007. Among those 456, the Stars have the fourth-lowest goals-per-game rate at even strength. There's no qualifier there, either; they're barely outscoring the 2013-2014 Buffalo Sabres, who were led by Cody Hogson and Tyler Ennis on a team that fired their coach halfway through the season. That's not going to remotely cut it if the Stars have designs on returning to the playoffs. So, does Pirlo's logic extend to hockey, too? Is it the players or the coaches who need to adapt? 
It's hard to take a glancing look at the 2021-2022 roster—filled with strong veterans like Tyler Seguin, and Jamie Benn, and strong prospects like Miro Heiskanen and Jason Robertson—and declare Dallas is literally one of the four worst offensive teams of the last 15 years. Even if you're inclined to blame the roster, surely they don't belong in the same breath as the rebuilding Sabres, and the soon-to-be-evicted Arizona Coyotes.
That leaves the more likely explanation: it's the coaching. Since Rick Bowness and his staff took over, Dallas has 45 regulation wins. That ranks 22nd in the league, lower than even the putrid Coyotes. The Stars are in an exclusive group of also-rans, making their magical Cup run feel like the anomaly it may have always been. Under the current regime, the Stars have consistently had awful starts, and in response, the coaching staff doesn't adjust to extend leads. Instead, they choose to preserve them with a style that would rather counter than strike first.
It's important to use the word "style" because that's usually what we mean when we talk about "systems." Coaches like Lindy Ruff are the anomaly. Most teams run the same forecheck in the offensive zone, they activate their d-men, and dump-ins are often used for zone entries. It's not what a system is about, but how it's about it—specifically, what signature or style they leave on a given system. Going back to Pirlo's words, what are coaches for if not to understand where each chess piece should be positioned to better manage each attack and each defense? We give so much credit to the staff for building a strong defensive team, deservedly so. Why can't we credit them for the lack of offense, too? Especially when so much of what we're watching is by design.
Let's start at the beginning. You'd expect a team that can't score to start slow, but since 2019, Dallas has followed a consistent pattern. In terms of goal differential, the Stars are a -13 in the first period, a -2 in the second period, and a +27 in the third. This is more than starting slow; they're letting opponents punch first. It's hockey's version of rope-a-dope, except the negative differential in the middle stanza suggests that opponents are consistently adjusting to Dallas' predictable corner-and-board attack. That implies Dallas is doing so well in the third because of score effects—as in, they have no choice but to attack aggressively. I'm not being figurative, either: Dallas is the second-most likely team to enter the third-period trailing. Since Bowness took over, they spend 20 percent of the game at even strength down a goal. 
Which would be bad enough in a vacuum, but Bowness and Co. exacerbate it in two key ways. First, most teams position their top lines to play in high-pressure situations, whether offensive or defensive. Not this staff. When down a goal or trailing, a lot of names are being left off the ice this season in proportion to usage; namely, Roope Hintz, Denis Gurianov, and Alexander Radulov. According to Natural Stat Trick, John Klingberg is also spending less time on the ice when Dallas is down a goal, ranking fourth among Dallas defenders behind—in order—Heiskanen, Esa Lindell, and Ryan Suter. It's an odd paradox: the staff trusts its system to execute a defense-first approach, but they don't trust some of their best players to execute the defense-first system in score-close situations. This may seem like a small thing, but some moments matter more than others. How else can teams capitalize on those moments if not by adapting to them using their best players? 
Second, when it comes time to adjust, they stick with their counter-heavy approach even when they no longer have time to counter. Looking at the prior two seasons under Bowness and his staff, there's a clear pattern: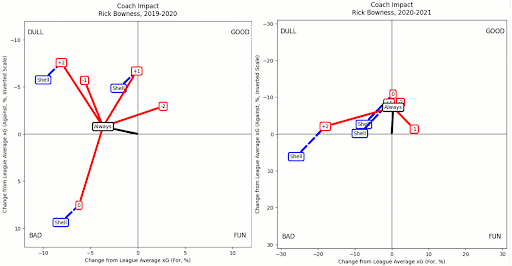 Coaching impact by scoring situation. Data via HockeyViz
When tied, Dallas never pushes for offense. Even in situations you'd expect them to start pushing (down a goal), few adjustments get made to crack a window offensively. In Bowness' first season, the Stars were good at shutting the game down with a lead but would keep it tight even when trailing. The following season was more of the same, with the team playing not-to-lose hockey even when they're losing. Playing it safe causes them to keep losing out on extra chances.  
Jack Han's brief-but-fantastic breakdown of Dallas' offensive system likened the attack to a snow plough, lumbering through the neutral zone like a more literate version of the Flying V. It can be effective at keeping games tight, but not at setting the tone. This is in keeping with a multi-year study done by Jen LC several years ago that tracked over 7000 goals. The big reveal? Uncontrolled entries (i.e., dump-ins) accounted for only 22 percent of all goals, while controlled entries accounted for 64 percent. This also probably explains why Dallas has the second-worst shooting percentage of any team since 2019 at even strength. You'd expect a "regression to the mean" moment at some point, but their style and usage simply aren't conducive to it.            
I struggle to blame the players here because, historically, we've seen Benn, Seguin, and Klingberg play a dynamic multi-touch transition game under former head coach Lindy Ruff. We know they can adapt, even if we might wonder the degree to which they can, or whether they still have what it takes. But how do we know the coaches can adapt if they don't try? You don't have to read between the lines of Klingberg's comments about Dallas' style to see some very diplomatic criticism of the team's dump-and-chase system. Their effort can only be as good as the direction they're asked to channel it. 
As for Bowness himself, he's committed to having Dallas' players hold the puck less in order to take fewer risks. He was recently asked about trying to slow the game down so that players could reset for better entries instead of always getting the puck deep as quickly as possible, but  dismissed the notion on account of other teams being "too good." After the loss to Nashville last week, he doubled down on trying to tighten things up defensively. Which is fine: we've seen defensive teams like the New York Islanders have success over the years. Dallas has also benefited from playing a strong defensive system; so much so that over the last three seasons, they've been a top five team in goals against and expected goals against. Despite struggling to keep the puck out this season, they're performing well defensively.
For that matter, there's nothing inherently wrong with dumping the puck in—Philadelphia is a dump-heavy team that's been fairly successful this season, although it's worth noting they also currently have scoring problems—or keeping the game tight, but creating offense is a fluid process. It can't be restricted to one way. 
And that's the issue: Dallas' offense is underperforming right now because it's expected to underperform. Ultimately, this is a criticism of game management. It's the difference between being selectively aggressive instead of being aggressive only when trailing; trying to extend the lead against teams instead of always trying to hold it no matter the circumstance; and better leveraging the offensive strengths of players that are fit to capitalize on game states that more intensely benefit their skills.
The Stars want to hold themselves to the same standard as the two-time defending champion Tampa Bay Lightning, as they should. Jon Cooper's system is similar to Dallas in many ways, but Cooper's style and signature are very different. He trusts his stars to play in key spots, whether offensive or defensive, and the coaching staff is willing to push the pace to extend leads. If you think this is nitpicking, consider the evidence that the importance of elite talent is greater in hockey than, say, soccer. Ultimately, the best teams, in any sport, seem to have a fluid identity rather than a static one, and Dallas doesn't seem interested in doing anything other than locking games down. 
Careful readers will notice a paradox to Pirlo's thesis. If players are so much more important than coaches, then why is it so important for the coaches to adapt? That's a fair point. I don't have a good answer to that. I just know that the players have successfully adapted to Dallas' system because they are, in fact, a good defensive team. How will we know that Dallas can be a good offensive team if the coaches aren't willing to adapt in turn? 
Because, if they don't, it's going to be hard for Dallas to climb up the standings when opponents can rely on taking at least one point from them. Four of Dallas' Central rivals are averaging at least three goals a game. Not surprisingly, they all have a higher points percentage. It's nice to see the team finally score some regulation wins, and hopefully put together a streak. It's nice to see some adaptation with their player deployment, too. But adaptation is like the sport of hockey itself: if it doesn't happen fast enough, it'll be too late.    
Get the ItList Newsletter
Be the first to know about Dallas' best events, contests, giveaways, and happenings each month.