"Just burn the tape and move on." 
The sports world is full of banal clichés, so it's hard to pick a favorite. But this is mine. I very seriously doubt that any coaching staff at any level has actually followed through on this suggestion, either figuratively or literally (though I would love to see a team post a video of them actually torching game film before a practice). We do hear it quite a bit, however, from coaches, players, media, and fans. The idea is "There is nothing we can learn from this game. It was an anomaly. And our poor performance was a result of our own mistakes or the randomness of luck."
After the Cowboys offense and Dak Prescott put forth one of the worst (if not the worst) performances of the Prescott era Sunday, it was time to do what we do best in the sports world: reduce this thing to a binary world. Was it just a bad day for the Cowboys offense, with Dak a little rusty and possibly still injured, receivers dropping passes, and an abnormally shaky day from the offensive line (the regular starters included, not just the backups)? Or did Broncos head coach and defensive guru Vic Fangio provide the long-awaited blueprint to the rest of the NFL for how to shut down this dynamic Cowboys offensive attack?
As always, the answer is a little bit of both. To be sure, not having Tyron Smith on the field was a factor, as it has been for Dak's entire career. I was not a fan of moving Terrance Steele to left tackle with the return of La'el Collins to the starting lineup at right tackle, as Steele has been more than you could have ever ask for filling in on the right side. Why disrupt that? But, still, should a Denver defense that came into that game ranked 14th in defensive EPA (expected points added) — a mediocre ranking they built with the since-traded Von Miller — be able to blank your elite offense for 56 minutes? Results that differ that drastically from the expected outcome deserve more than just "I guess it just wasn't their day."
Fangio began his postgame press conference Sunday afternoon by saying, "How about them Broncos, as Jimmy Johnson used to say," so you know this guy was ready to talk a little bit. When asked what made him believe he could stop the Cowboys' offense, Fangio's retort was classic "defensive coach who has heard about enough about the offensive revolution":
"I just felt that we had the right stuff to give ourselves a chance. We just had to do it the right way, call it the right way. Which I'm in charge of, so you know that's going to be taken care of. Teams just haven't played them the right way."
Teams just haven't played them the right way.
I don't know about you, but when the guy credited with creating the blueprint the Patriots used to shut down the Rams in Super Bowl 53 says something like this, I listen. You could take this as a coach just feeling himself a little bit, proud that the thing he's known for just materialized into possibly the best win any NFL team has had this season. Except, they did play Dallas differently. 
The Broncos came into this game with the sixth-highest blitz rate in the NFL at 33.6 percent, per Pro Football Focus. They blitzed Dallas on just six of 46 dropbacks (13 percent). That's not only the lowest blitz rate Denver has posted this season; it's the lowest blitz rate the Dallas offense has seen all year.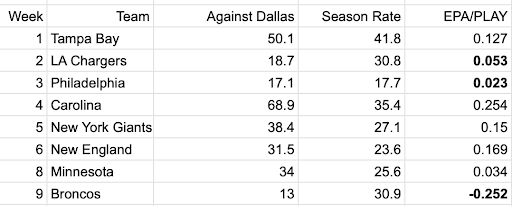 The Cowboys' three worst offensive performances by EPA came against the three defenses that blitzed them the least. Shockingly, for the season, Dallas and Dak are the second-most blitzed offense in the NFL. I say "shockingly" because they've been very good against it. They've been the fifth-most successful team against the blitz. The four teams above them in that category are, in order, Arizona, Kansas City, Tampa Bay, and Los Angeles. Those four offenses are in the bottom third of the league in blitzes faced. It appears defensive coaches got the memo on those teams. It does not appear that most of them did regarding Dallas. 
Except, maybe Vic Fangio and his protégé, Chargers head coach Brandon Staley, did? To be sure, there is much more to a defensive game plan than the rate at which a team blitzes. The Chargers played more zone in coverage, while the Broncos deployed the interesting schematic combination of very little blitzing and tons of man coverage. However, in addition to drastically decreasing their blitz rate against Dallas, both defenses played with six or fewer defenders in the box at a rate considerably higher than they had up to this point. These two defenses deployed a light box at the two highest rates Dallas has seen all season.
Two defensive minds who are tied at the hip have employed largely the same strategy and produced the best results against the otherwise unstoppable Cowboys offense.
Even the personnel are similar. The Chargers and Broncos are both solid in pass defense, ranking eighth and ninth in defensive pass EPA, respectively. Interestingly, they are also right next to one another in defensive rush EPA, at 20th (Los Angeles) and 21st (Broncos). In fact, almost every defensive category you pull up, be it production or tendencies, these two teams are right next to or near each other. 
So is this "the blueprint"?
I believe we are here looking at the intersection of "blueprint" and "just a bad day." The best defense against Dallas appears to be: have reliable players in coverage, don't blitz, and play a light box. Hope that Prescott doesn't pick you apart underneath, and hope that when he does, you luck into a few key drops that have huge yards-after-the-catch opportunities. But also hope that he can't connect on any of the few deep shots that will be there. Hope that you get a few critical fourth-down stops. And most important, hope that Dallas simply cannot sustain a run game that keeps the chains moving. 
There is a lot of hope involved in that strategy, but I think there is a decent chance we see teams back off the blitz against the Cowboys while also inviting them to run the ball as much as they'd like. The results have varied. Dallas was able to run on Los Angeles thanks to huge games from Ezekiel Elliott, Tony Pollard, and the offensive line. That was the Cowboys' highest rush EPA of the season. Against Denver, meanwhile, they turned in their fifth-best day in eight games. Really, it should be lower; their worst performance of the season by this metric came against New England because Prescott was charged with a fumble on the goal line, essentially giving away nearly seven points. 
You have to make Dallas beat you on the ground. I still believe that on most days the Cowboys can — but it is a way better strategy than daring Prescott to beat your blitz, because he will. The Falcons don't blitz often, ranking 22nd in the NFL in blitz rate. But if they decide to back off of that rate even further, we'll know the league has seen enough to make this a genuine strategy. It will be up to Mike McCarhy, Kellen Moore, and Dak Prescott to consistently prove they have a counter to the counter.
Get the ItList Newsletter
Be the first to know about Dallas' best events, contests, giveaways, and happenings each month.