If viewed with the widest possible lens — as the Texas Rangers would strongly prefer you do — the team's key objective in 2021 was to evaluate which players might fit as potential pieces of the roster moving forward. The results of the season's individual assessments have begun to take shape, leaving the Rangers with a new goal: trim down the roster to make room both for impact players at the top and minor league prospects at the bottom. 
On Saturday, we learned that pitchers Mike Foltynewicz and Hunter Wood and outfielder Jason Martin had quietly been dropped from the roster at season's end without being claimed by another team. All three opted to become free agents rather than remain as non-roster players, which leaves 38 players on the club's 40-man roster.
Problem solved, right? Not quite. Five days after the World Series ends, a couple of things happen: veterans without contracts for 2022 become free agents, and players on the 60-day version of the injured list must be reinstated to the roster (or let go). Texas has only three players in the first category — Jordan Lyles, Charlie Culberson, and Brock Holt — and unless they sign new deals beforehand, they will hit free agency, taking the roster down to 35 players.
But the club has eight players on the 60-day injured list: pitchers Jonathan Hernandez, Jose Leclerc, John King, Nick Snyder, Kyle Cody, and Edwar Colina, and position players Eli White and Ronald Guzman. There simply isn't room for all 43 players.
And the tricky part is the job isn't only figuring out which of the 35 holdovers and eight injured list occupants are good fits for the 40 spots on the roster. It's also to clear space, no later than November 19, for prospects the Rangers want to protect from the Rule 5 Draft while also leaving room for what management assures us will be an active foray into the free-agent market this winter. The Rangers need to get down to a number much smaller than 40.
It won't be easy. Certainly not as easy as one might figure for a team coming off 102 losses.
Let's reverse-engineer and project that the Rangers might need to get the current 43 down to 31 players so that they can make room for six prospects and three big-league additions. (There will certainly be more major leaguers than that brought to camp of the non-roster type like Culberson, Holt, Adolis Garcia, and Ian Kennedy were a year ago.) 
The effort to add impact veterans could take any number of forms, no matter how married the front office is to whatever Plan A might be. The best free agents in the game will have plenty of suitors to choose from, and the Rangers aren't in a position to presume they go into the offseason as any star player's first choice. But for purposes of this exercise, let's assume Texas will sign a shortstop, an outfielder, and a starting pitcher to multi-year deals this winter. Trading for players at those spots with multiple years of control is another option — and could involve roster members going the other way — but this story would be 20,000 words if we turned over every stone. 
As for the prospects, the Rangers could certainly add fewer than six, but it would be tough to add more. Josh Jung and Jack Leiter haven't been pros long enough to be Rule 5-eligible, but I could still name a couple dozen eligible players who probably merit some level of discussion. Narrowing things down to the prime candidates, I would say righthander Ricky Vanasco (coming off Tommy John surgery) and infielder Ezequiel Duran (who came over from the Yankees in the Joey Gallo trade) are locks. Let's put pitchers Jake Latz, Ronny Henriquez, Cole Ragans, and Tim Brennan; infielders Chris Seise, Ryan Dorow, and Keyber Rodriguez; and outfielders Bubba Thompson and Steele Walker on the next tier.
If we're going to add six players from the system to make sure they can't be drafted away in December, the guess here would be pitchers Vanasco, Latz, Henriquez, and Ragans, the infielder Duran, and Thompson, an outfielder whose speed and defense could make him a real risk to be drafted via Rule 5 if not rostered (drafted players must stay in the majors for the entirety of the next season).
Now, how do we get down to 31 to accommodate our three free agents and six prospects?
Let's first reinstate Hernandez, Leclerc, Snyder, and White from the injured list. That doesn't mean we're ruling out King, Cody, Colina, and Guzman surviving cuts; we'll get back to them shortly.
Adding those first four to the existing 35 pushes our 40-man roster to 39 players. But we want to get down to 31, so let's identify players we need to think about and move them into that King/Cody/Colina/Guzman bubble group.
Should you wish to play along, here's the current 40-man roster (with the above-mentioned injury reinstatements in italics):
PITCHERS (21): A.J. Alexy, Kolby Allard, Drew Anderson, Joe Barlow, Brock Burke, Matt Bush, Jharel Cotton, Dane Dunning, Demarcus Evans, Taylor Hearn, Jonathan Hernandez, Spencer Howard, Jose Leclerc, Brett Martin, Glenn Otto, Joe Palumbo, Spencer Patton, Yerry Rodriguez, Dennis Santana, Josh Sborz, Nick Snyder
CATCHERS (5): David Garcia, Jonah Heim, Sam Huff, Yohel Pozo, Jose Trevino
INFIELDERS (8): Sherten Apostel, Yonny Hernandez, Andy Ibanez, Isiah Kiner-Falefa, Nathaniel Lowe, Nick Solak, Anderson Tejeda, Curtis Terry
OUTFIELDERS (5): Willie Calhoun, Adolis Garcia, DJ Peters, Leody Taveras, Eli White
I'm going to get that 39 down to 19 by moving 20 more players to the bubble list, then we'll pick 12 of them to get the 19 locks back up to our targeted total of 31. 
Including King, Cody, Colina, and Guzman, the occupants of the bubble list are:
PITCHERS: Kolby Allard, Drew Anderson, Brock Burke, Matt Bush, Kyle Cody, Edwar Colina, Jharel Cotton, John King, Jose Leclerc, Brett Martin, Joe Palumbo, Spencer Patton, Dennis Santana, Josh Sborz
CATCHERS: David Garcia, Yohel Pozo
INFIELDERS: Sherten Apostel, Ronald Guzman, Yonny Hernandez, Andy Ibanez, Anderson Tejeda, Curtis Terry
OUTFIELDERS: Willie Calhoun, Eli White
The Rangers shouldn't be in payroll-cutting mode, and among their eight (possibly nine) players eligible for raises from league-minimum territory to arbitration-driven salaries, there's really only one — Kiner-Falefa — projected to get a meaningful bump. After earning $2 million in 2021, he is likely to make closer to $5 million in 2022. (This is probably as good a place as any to recognize that MLB's collective bargaining agreement expires December 1, and a new deal could change baseball's pay structure. Then again, a new deal is also less than a lock to be in place right away.) Hearn projects at $1.1 million, and that's an easy call for Texas to make.
The minimum salary should be in the $600,000 range in 2022, so arguably it shouldn't be problematic paying Anderson, Bush, Guzman, Cotton, or Martin double that at most. But that's not the issue. I'd suggest all five could be on the bubble even if they were still making rookie money: Bush because he'll be 36 on Opening Day and would be a good bet to clear waivers; Anderson and Cotton because they were fine but, remember, we have a lot of players we need to move on from to make all of this work; Guzman because he's out of options and would be a long shot to unseat Lowe; and Martin because the Rangers have proven that they will move effective relievers plus, in today's game, his stuff and his ability to miss bats don't stand out. If Allard is granted "Super Two" status and gets early access to the arbitration system, he seems more likely than the other five to survive roster cuts because he does offer potential as a starter and is still just 24.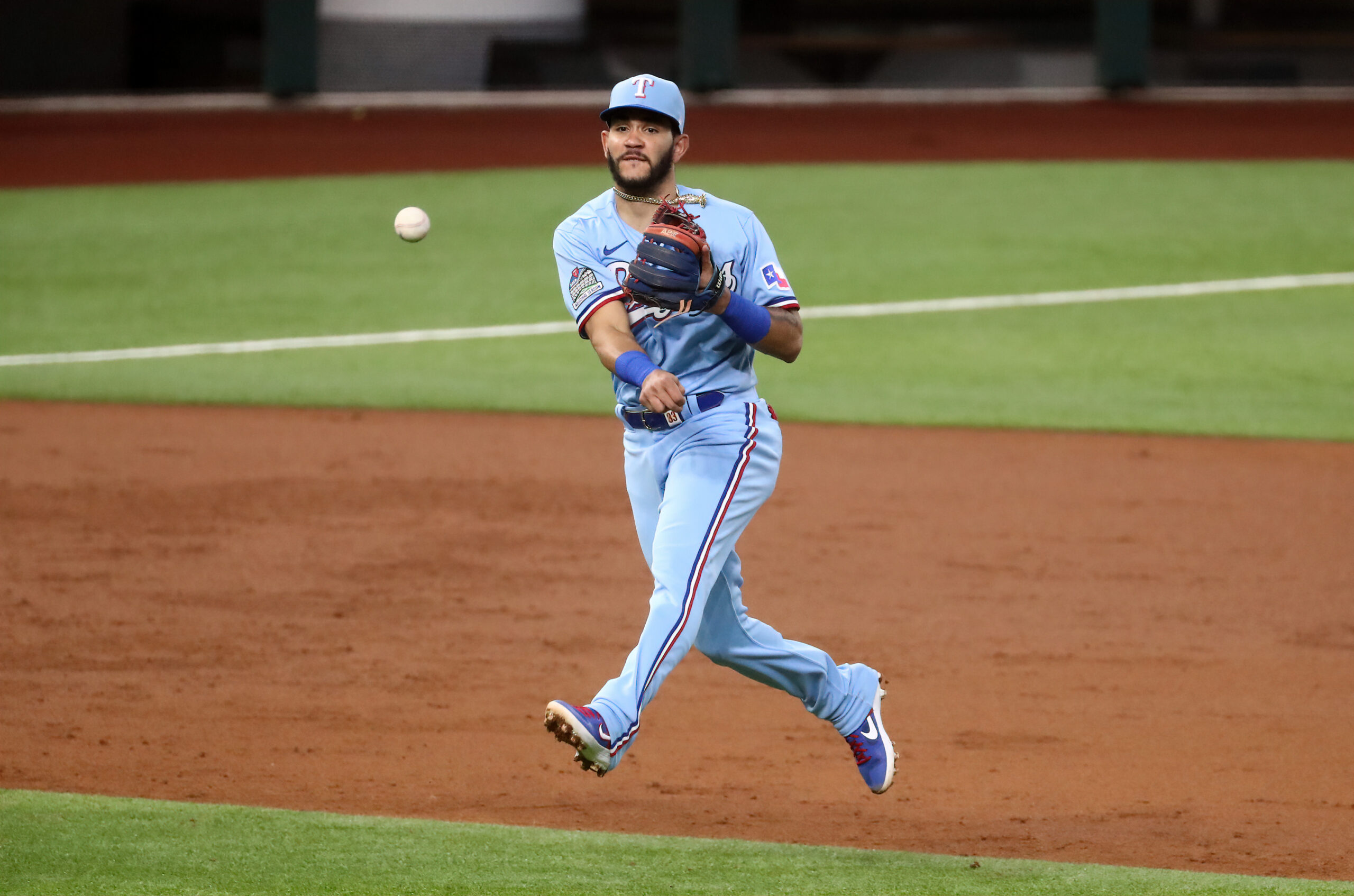 That leaves Calhoun among the arbitration eligibles, and he's slated to land a 2022 salary in the $1.6 million range. Again, the money shouldn't be an issue, but have his unfairly fluky injuries put him in the "running out of chances" column? It's not as if the Rangers are overloaded in the outfield and DH, but if the club aims to sign an outfield bat, where does Calhoun fit with Garcia, Peters, Taveras, and White all better defenders, plus hitters like Solak and Ibanez as possible DH options?
The other pitchers on the bubble list fall into four categories: 1. unproven with recent injury histories (Burke, Cody, King, Palumbo); 2. reasonably effective relievers who aren't quite indispensable (Patton, Santana, Sborz); 3. a pitcher coming off Tommy John surgery whose $5.5 million guarantee could discourage rivals from claiming his contract (Leclerc, the only player on the roster with a contract for 2022!); and 4. Colina, who was claimed from the Twins a week ago but seems like a good candidate for the Rangers to try to sneak through waivers themselves, given he underwent elbow surgery in May.
The Rangers are deeper in the infield than the outfield, and that's before adding Duran plus a possible free-agent shortstop to the mix. If they decide to keep two of the six bubble infielders on the winter roster, I'm going with Ibanez, a surprising bright spot for the big club this summer, and Apostel, who was overmatched when rushed to Arlington but whose power potential would be tough to walk away from. Among those omitted would be Terry, whose struggles in 48 Texas plate appearances and defensive limitations cloud his outlook. Hernandez and Tejeda would also be out in the cold; they deserve to be on somebody's 40-man roster, but again, space is at a premium.
At catcher, Pozo had some big moments but offers less long-term promise than Garcia, the 21-year-old whose defense profiles in a backup role at least.
In my opinion, White makes the winter roster (and quite likely the big-league club once his recovery from elbow surgery is complete), while I'm betting on Calhoun getting that one last chance.
Would there be a team that is thin on the farm, believes it can contend, and might be interested in adding Martin to its bullpen, giving Guzman a shot, and taking on a prospect like Tejeda, Hernandez, or Palumbo in exchange for one big-league player (or a couple low-level, high-risk/fair-upside prospects)? It wouldn't be a star-level player without more from the Rangers, but it might be a worthwhile play to try to move several bubble players who might end up on the waiver wire otherwise.
So the players who end up off the roster by November 19 — with the caveat that Texas could hang onto a few of them past that date and move on from them one by one as free agents or trade acquisitions are added later in the winter — are pitchers Anderson, Bush, Colina, Cotton, Martin, Palumbo, Patton; the catcher Pozo; and infielders Guzman, Hernandez, Tejeda, and Terry. But several are traded rather than simply waived.
And with that, we're at 31 players, which grows to 37 with six prospects added next month:
PITCHERS (21): A.J. Alexy, Kolby Allard, Joe Barlow, Brock Burke, Kyle Cody, Dane Dunning, Demarcus Evans, Taylor Hearn, Ronny Henriquez, Jonathan Hernandez, Spencer Howard, John King, Jake Latz, Jose Leclerc, Glenn Otto, Cole Ragans, Yerry Rodriguez, Dennis Santana, Josh Sborz, Nick Snyder, Ricky Vanasco
CATCHERS (4): David Garcia, Jonah Heim, Sam Huff, Jose Trevino
INFIELDERS (6): Sherten Apostel, Ezequiel Duran, Andy Ibanez, Isiah Kiner-Falefa, Nathaniel Lowe, Nick Solak
OUTFIELDERS (6): Willie Calhoun, Adolis Garcia, DJ Peters, Leody Taveras, Bubba Thompson, Eli White
Then, as long as the owners and players can agree on a CBA for 2022 and beyond, the Rangers can get to adding that frontline pitcher, shortstop, and outfielder to headline the whole bunch. The club is now down to the studs and it's time to build. The sell-off has run its course.