The Dallas Cowboys are on a roll.
After three straight wins, the Cowboys sit atop the NFC East and second in the NFC as a whole. They rank fourth in total points scored, trailing only the Cardinals, Chiefs, and Bills. The offense is one of the more dynamic — and diverse — attacks in the NFL. There's the steady-as-ever Ezekiel Elliott and his breakout backup Tony Pollard in the backfield, who have combined for five rushing touchdowns so far, more than every other running back group aside from the Browns'. And when defenses load the box to stop the run, the Cowboys can rely on Comeback Player of the Year frontrunner Dak Prescott, who is on pace to throw more than 40 touchdowns.
The passing offense, in particular, was expected to be great this year, as Dallas boasts one of the best wide receiver trios in the league in Amari Cooper, CeeDee Lamb, and Michael Gallup. But that's not the position group that needs to be discussed in more detail today. No, today we're focusing on the less-talked-about unit that's quietly becoming one of the NFL's best. And to get there, let's talk about the number 29.
Cowboys' tight ends Dalton Schultz and Blake Jarwin have combined for 29 catches through four weeks, the second-highest mark for a TE group in the NFL behind Kansas City's 32, 20 of which have come from Travis Kelce, the standard of the position. But this is not an even split in Dallas: Schultz has become an incredibly consistent target for Prescott. After adding six more on Sunday, he now has as many catches as Lamb (20) and only two fewer than Cooper. He's blossoming into a genuine star right before our eyes.
Dalton Schultz is currently PFF's 2nd-highest graded TE (82.0), behind only Travis Kelce. #Cowboys

— John Owning (@JohnOwning) September 29, 2021
Schultz has been especially effective when it matters most, as five of his six targets on third downs have moved the chains. That 83.3 percent conversion rate is the highest on the team. Not just among the tight end group — it's better than Cooper and Lamb's conversion rate too. Dalton Schultz has become arguably the most reliable receiving threat in this Cowboys passing attack.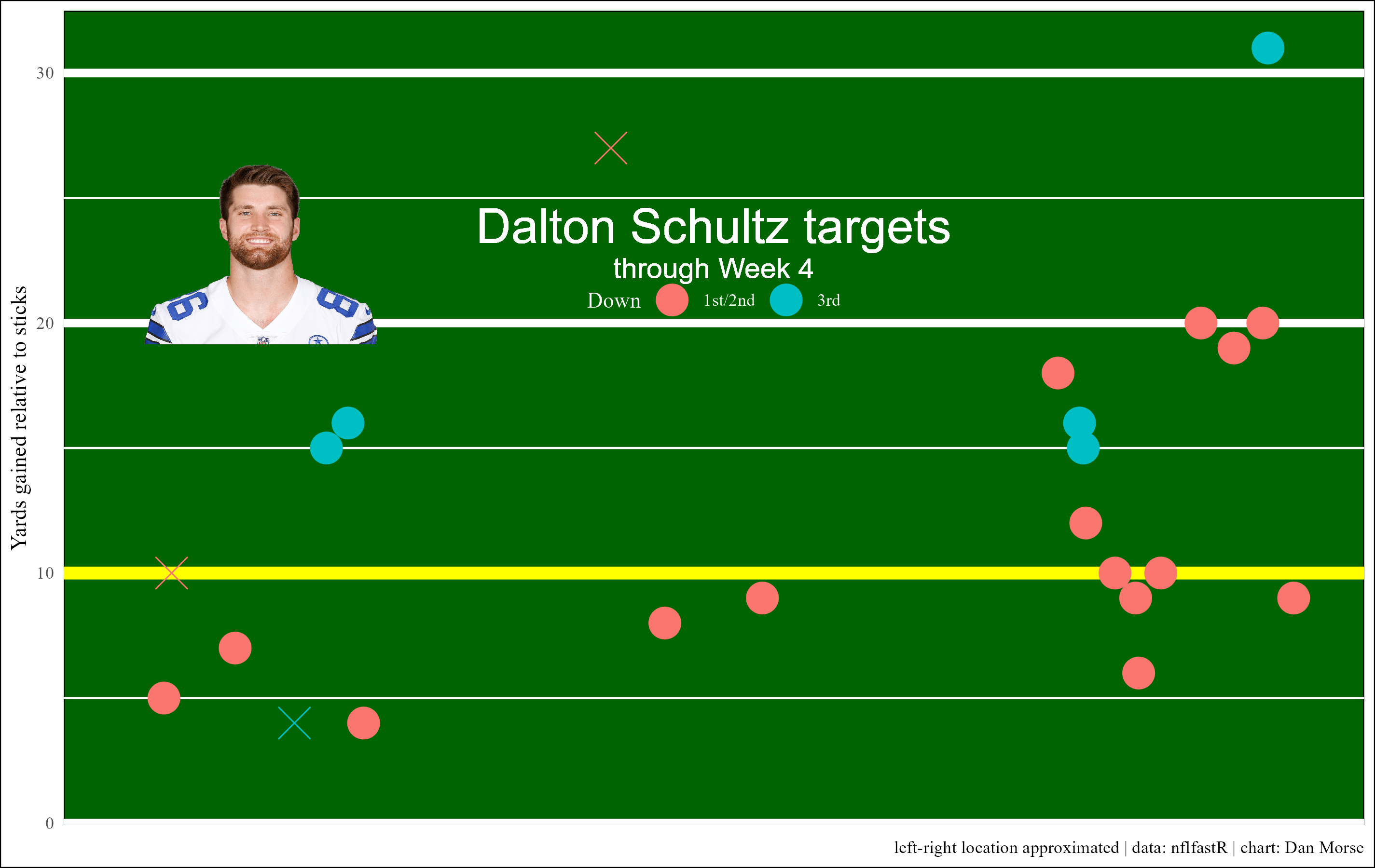 Adding the best receiving tight end Dallas has seen since Jason Witten to an already potent offense is a recipe that could launch this team into a legitimate Super Bowl contender. Before the season, the question figured to be whether defenses load up to stop the run or drop into coverage to slow the wide receiver trio. Well, now they'll have to add 'How do we stop Dalton Schultz?' to their pre-snap considerations. The Stanford product is currently on pace to finish the year with 85 catches, the most for any Cowboys tight end not named Jason Witten (and, in fact, more than a few Jason Witten seasons).
While Schultz has taken the bulk of the receiving workload, he wasn't the only tight end to catch a touchdown pass on Sunday.
Dak to Jarwin 🙌 #DallasCowboys

📺: #CARvsDAL on FOX
📱: NFL app pic.twitter.com/o88lm4yF0G

— NFL (@NFL) October 3, 2021
It was good to see Jarwin, who is in the second year of a four-year, $22 million contract, find the end zone for the first time since November of 2019. A torn ACL in Week 1 ruined his 2020, which opened the door for Schultz to take on the larger role he's maintained in 2021. At the moment, it's a fine problem to have. You can never have too many receiving options.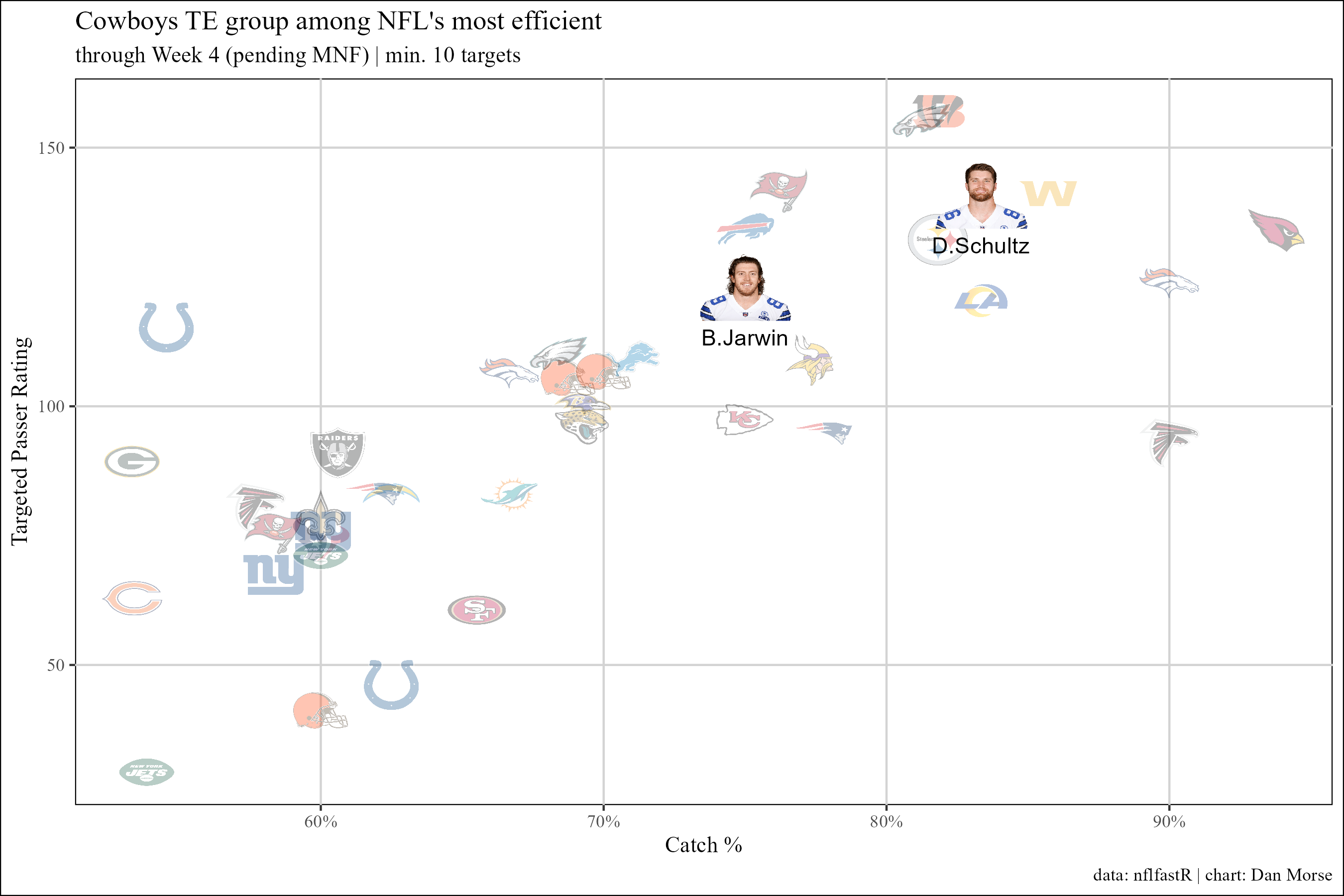 But this will present a bit of a conundrum in the coming offseason.
Schultz is set to become a free agent at the end of the 2021 season. If he keeps up this level of play, he'll certainly command a contract larger than that of Jarwin. If that's the case, it's hard to imagine that contract is with the Dallas Cowboys. As it currently stands, Dallas is set to be $25 million over the cap in 2022. There are always ways to restructure deals to get cap compliant by the time the season starts, but that nonetheless will make it difficult to justify allocating over $10 million in cap space to two tight ends. There's also the issue of Gallup, another pending free agent who could be in line for a solid payday elsewhere. Can Dallas afford to lose both Gallup and Schultz this offseason? Or would it perhaps behoove them to get out of the Jarwin deal much earlier than anticipated?
It's still far too early to hazard a guess, but the way in which the tight ends are deployed going forward could tell us a lot about their plans for the position in the future. So far in 2021, the pair have practically the same number of routes run according to Pro Football Focus, though Schultz has been targeted twice as many times as Jarwin. Coaches seem to trust Schultz more than Jarwin when it comes to the run game as well. Although they have nearly identical run blocking grades, Schultz entered Week 4 with 65 percent more run blocking snaps than Jarwin. Jarwin hasn't had a better run blocking grade than Schultz since 2018. While PFF grades are not the be all, end all when it comes to evaluating blocking talent, I don't think many would disagree with the premise that Schultz is the better blocker of the two.
https://t.co/KpJ0P2YzQ1 pic.twitter.com/XNTKuhGZBU

— Dan (@danmorse_) October 4, 2021
The future is murky when it comes to the Cowboys' tight end room, but we can worry about that later. Right now, in the present, it's a group that gives Dallas an embarrassment of riches on the offensive side of the ball. But as you continue to watch the receiver trio cook defensive backs and the running backs plow through front sevens, don't forget about those tight ends. They will not be stopped.
Get the ItList Newsletter
Be the first to know about Dallas' best events, contests, giveaways, and happenings each month.