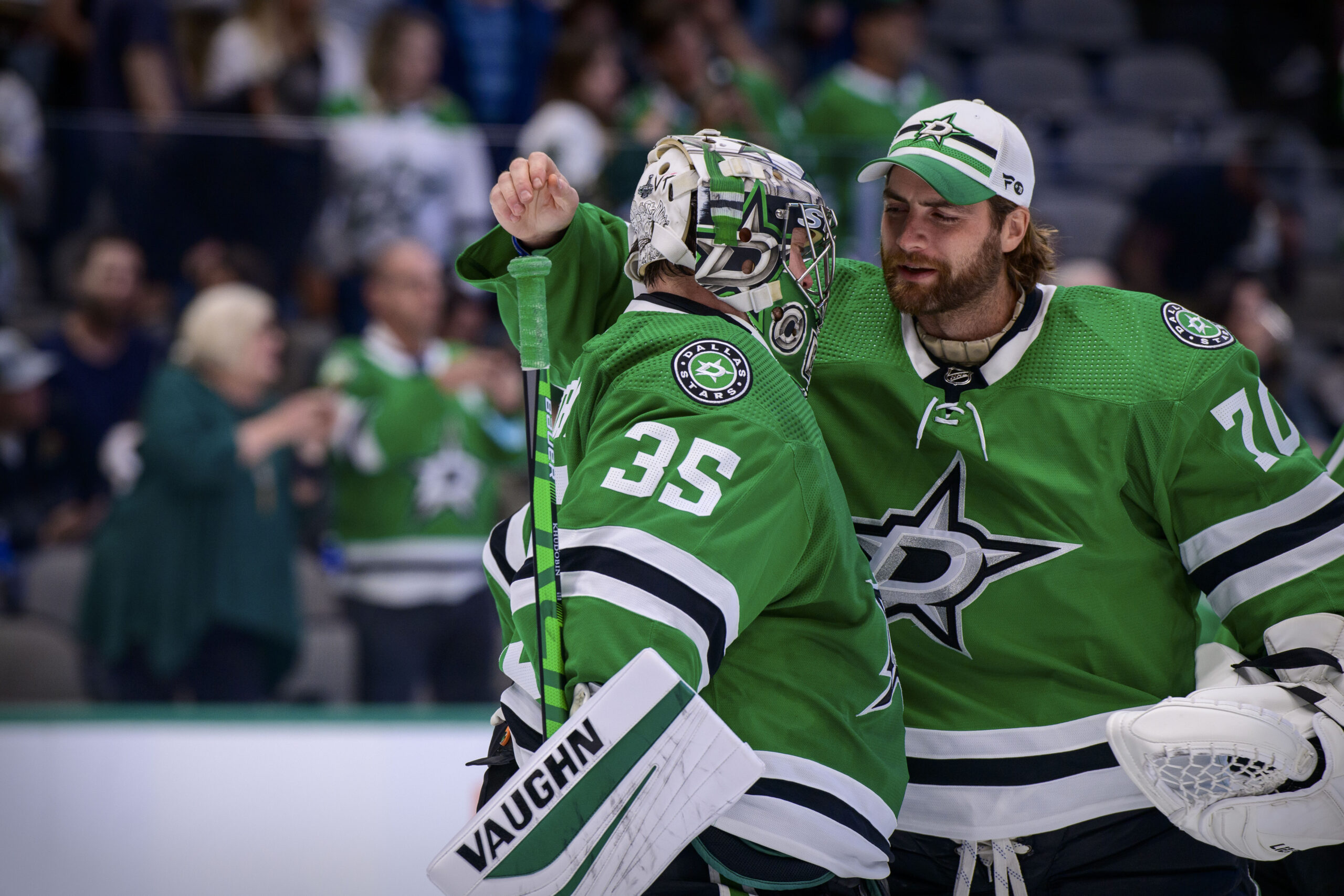 Stars Vibe Check: Owen Newkirk Talks Seguin, Goalies, and a Pivotal Stars Season
Plus: the biggest question he wants answered by the quarter mark
We're 48 hours from the start of Stars season, and I'd submit that there is no team in town we know less about. David Castillo and I will get more into that as the week goes on, but for now, who better to give us some insight than Stars radio host Owen Newkirk? He shares his thoughts on what must happen for this team to play more like the 2020 edition than 2021, makes his prediction on which goalie leads the team in appearances, and explains why Denis Gurianov is the question he needs to see answered in the first quarter of the season.
Plus, I put him on the spot: is Roope Hintz more likely to win the Art Ross this season, or Miro Heiskanen the Norris?
This conversation has been edited for length and clarity. We'll check back in with him at the quarter mark.
---
Looking at this roster's core components, I can't figure out if this is an older team or a younger team. You could probably make a case for each, which is what makes this season kind of fascinating. Does this have the feeling of a sort of Last Dance, "make or break" year given that three huge pieces in John Klingberg, Alexander Radulov, and Joe Pavelski are heading into free agency?
Yes and no. One of the things that Jim Nill has been trying to say is that there may be kind of a Last Dance vibe to some subset of the roster. His goal — and most GMs are like this — is to recognize that they're constantly replenishing and constantly evolving, and so while one might be aging out, the next one is coming into their prime, the next is coming into their NHL run, the group behind that is developing in juniors or in the AHL, you're drafting the one after that. The key is — and this is the model he's come from in his long time with the Red Wings — to have that constant motion of every time you have your core, you add a couple, you may lose one or two, but it's not this "burn it down and build it from the ground up."
With all that said, this team, with the number of guys in their 30s plus the contracts that you've mentioned definitely have a "this could be it this year" [feeling] because, as you said, Radulov is up, Klingberg is up — although I see the Stars and Klingberg very much wanting to try to get that next deal done. He could test free agency. It's sort of in his court, but I could see that being a longer-term relationship so it may not be it for him.
But, yes, with Jamie Benn getting older, and Ben Bishop playing but not playing but he wants to play this year, Radulov, and [Anton] Khudobin's not any younger, and Braden Holtby isn't a rookie by any stretch of the imagination. Blake Comeau signed up for one more year thinking, "Hey, we still have a chance to win"; Comeau probably could have signed somewhere else. Yeah, he wants to come back because he likes Dallas, but he also only does it because he believes they can win.
Two years ago, this team is two wins away from winning the Stanley Cup. Last year, they don't make the playoffs. Aside from the obvious factor of improved health, what must happen to make 2022 end more like 2020 and less like 2021? 
[Laughs] Well, I mean, health is the difference between what we saw last year and the year before. Dallas, when they went on that great run in the bubble, was not one of the teams in the NHL in the regular season, but they were in the mix. Jim Nill has said over and over that if you can get in, you have a chance. He's right because among the major sports in the United States — and I include soccer in that mix — it's much easier and you have a better chance, in hockey, for the 8 seed to knock off the 1 seed in a playoff series.
The Stars, because they're a defensive team with a lot of structure and very good goaltending in the past, have been built for playoff success, and we saw that in the bubble.
Last year, they just couldn't stay healthy. Everybody was beat up. And so I don't know if the Stars are a team that's going to tear apart NHL regular-season records as far as wins and points. But if they stay healthy, they're as good as just about anybody in their division. Is Colorado a sexier pick? Maybe. But if Dallas stays healthy and Roope Hintz gets to the point where he can be considered a top center around the league with Tyler Seguin healthy and Radulov healthy, Radek Faksa was playing hurt all last year with his wrist problem — these guys get healthy, all of a sudden, maybe they are a pretty good regular-season team.
I know you said other than health, so what's other than health? Well, last year, one of the things they struggled with was scoring. How do you improve on that? The answer initially is health [laughs] because some of the big guys who want to be in the lineup and scoring those meaningful goals. You didn't have Tyler Seguin, who is still an elite player. You didn't have a healthy Roope Hintz; he's playing through an injury all year. Radulov said he was fighting stuff for the last five years that nobody even knew about; now he feels better than he has in that five-year window. Jamie Benn seems sort of ascendant at center and revitalizes a career that kind of looked like it was on its decline. So you get all those factors and they're healthy, maybe they score more goals, and then maybe you're looking at a team that can win more games because they're not forced to try a 1-0 or a 2-1 game all the time.
So let's talk about the goalies because there's a lot going on. Ben Bishop may be here, which is a surprise to I think a lot of people from where we were three months ago. Jake Oettinger could be in the minors at some point if all these veterans are out there. Khudobin is still around, Braden Holtby's here. It seems like anything is on the table over the course of the year. Instead of me trying to make sense of it, I'll put you on the spot: when the year is over, the goalie who makes the most starts is …?
Right now, I think it's Braden Holtby. That's as of right now.
At the beginning of training camp, Ben Bishop came out and talked to us and said he's feeling pretty good. He's anticipating at some point playing in a preseason game and definitely intends to play in games for the Dallas Stars this year. He sounded very optimistic. Well, then Rick Bowness says it's not in the plans for Ben Bishop to play a preseason game. That's a "hit the brakes" moment because of something we don't know publicly about. He's not ready. I saw him in practice today; he looked like Ben Bishop. Now, there are things they're not sharing with us, but he's participating. These are questions I can't answer: is he not there yet? Are there three more weeks of training that he needs to get to the point where he can try it out in a game? They're not going to play Ben Bishop in an NHL game without him testing his body in a game. Preseason, that window's closed, so it would have to be an AHL stint. It's kind of an early warning system: if any Dallas Stars fans are excited and hopeful that Ben Bishop might return, you're going to have to see him do that conditioning loan first, in my opinion.
So as it stands now, the opening-night rosters are due on Monday afternoon, so we'll have a lot of clarity. I believe — this is just my thought — that Jake Oettinger will go down to the AHL [Ed: Oettinger made the Opening Night roster and remains on the team at least for the time being]. Not because he wasn't playing well enough in preseason, but because they signed Holtby and Khudobin and they have Bishop rehabbing, they have flexibility here. Because Oettinger can go down without having to go through waivers. The Stars can protect more of their assets in the AHL and playing versus being a backup or even a third goalie sitting and not playing in the NHL.
Holtby looked absolutely fantastic Tuesday night against St. Louis.
He was a really, really good goalie not that long ago.
He won a Stanley Cup with the Capitals in 2018.
Yeah! We're not talking about someone who is that removed from a high peak. 
He did have a bad year. He tested free agency with Vancouver and did not have a good year last year, but there's also some storylines that maybe the style of play that Vancouver played wasn't really conducive to helping goalies out, and that was part of it. Remember, he had been with the Capitals his entire NHL career, and we've seen other players change teams for the first time — Joe Pavelski's a great example of that — after an extended run with your only NHL team and struggle acclimating to a new environment. Pavelski didn't have a great year in '19-20 but had a great playoffs, and he translated to another solid year last year. From a goalie perspective, I think you're going to see Holtby and Khudobin playing at the start. Bishop's health is the outlier we don't know. Oettinger goes to the AHL and plays because you don't want him sitting. Then you sit there and go, "It's really a meritocracy." If you're playing well, you start; if you're not playing well, the other guy starts. That's kind of where they were at with Bishop and Khudobin, with the exception that Bishop was clearly the No. 1 and Khudboin was the backup but he also played really well and led the league in save percentage two years ago.
There's a lot of depth on this roster. There are plenty of good players. There are upper-echelon players. I think the question is whether there are elite guys on this roster, both in the present tense and especially going forward. I don't think I'm breaking any news by saying the two guys with the best chance of becoming that caliber are Roope Hintz and Miro Heiskanen. I'm not saying either of these outcomes are particularly likely this year, but if you had to bet on one happening, which is more possible: Roope winning the Art Ross, or Miro winning the Norris? 
I think it's probably more likely that Miro wins the Norris, but I think Roope, if he's healthy, is going to have a fantastic season. The reason why I say that is that Roope could very well vie for that, but I think Dallas' system, which is predicated on defending first and creating scoring chances because of your defensive structure — that doesn't mean they won't score but it might be more situational about opponents. Miro has said that he needs to do more offensively, and I think the league — especially after the playoff run in the bubble, a lot of people outside Dallas realized just how good Miro Heiskanen is.
The one thing he didn't do last year was maintain that point production and be near the top of the scoring title among defenders. Because everybody acknowledges he is an elite defensive player, and he can play a 200-foot game. But he's also in a division with Cale Makar, who is one of, if not the best right now, offensive defensemen in the league. Then you have another guy in your conference in Quinn Hughes who's going to be getting a lot of attention, and young Rasmus Dahlin over in Buffalo. Drew Doughty, who always seems to be in the conversation in L.A., if they get better. And of course, Victor Hedman is the gold standard in Tampa. Roman Josi's in your division, and he is an excellent defenseman who plays both ways and scores. So for Miro, everyone can recognize the skill is there, but he has to have the offensive numbers to back that up because you can't just be a good defensive defenseman; you've got to put up points. If he does that, he's in the Norris conversation because he's no longer a secret to non-Dallas Stars fans and media.
Our Stars writer, David Castillo, is writing this week about how Tyler Seguin is maybe the Stars' greatest X factor this season, and I think that's a pretty fair name to pick because we've seen Tyler play like one of the best centers in the league, and we've also seen his body take an absolute beating. How has he looked in camp, and what should the realistic expectation be for him?
Tyler Seguin looks very good in camp. He's looked dangerous on the power play, and he is such an elite skill player. Watching him in practice, sometimes you have to sort of pinch yourself and realize you're watching a guy with the caliber of talent you just don't see every day. He does things that people can't do, so you watch him pick corners on one-timers on power play, or he is an exceptional passer. You watch it overall, and sometimes you get dulled to it; like, of course, he does that. Then it's, wait a minute, that's not the norm, people can't do that like he can.
The thing that Seguin brings the most to this year — look, he's going to score goals, he's going to create points. He's an offensive guy, he's elite. But I think on the power play, I think he is just such an elite player that — it looks like the Stars have two groups of five with Ryan Suter coming and Seguin being healthy, Hintz healthy, Radulov, Miro: it could be almost a battle to see which of those two power-play groups is better than the other, and it might fluctuate back and forth, and that's a really exciting thing for the Stars.
Last one for you: what is the biggest question you're looking for this team to answer in this first quarter of the season?
Denis Gurianov had a bit of a sophomore slump last year. Can he bounce back from that and get to the level that he was playing in his rookie year and also in the bubble, when he was electric? If he can do that, whether he's playing on the second line or a third line because of your offensive depth and balance — we're talking about Seguin being an X factor, Gurianov has the speed, the power, and the scoring to be a game-changer. Can he do that, and can he do it consistently? Because when he's on, he's a handful. But there are nights when he's nonexistent.
Gurianov is an interesting one because I don't think Jason Robertson is going to have a sophomore slump. I think he's just such a smart player with such great hockey sense that he's going to figure out how to play in the league with more attention on him than last year. Can Gurianov, who struggled with that attention, can he figure out a way to take the next step? If he can, that's really going to help this team.