"Don't draft me. I'm not coming."
That's what Ryan Hollingshead told teams that called him after his senior season at UCLA, when he was 2012 Pac-12 Player of the Year and guided the Bruins to the second round of the NCAA Tournament. He led his team in goals and was projected to be a top pick in that year's Major League Soccer draft.
One problem: Hollingshead wasn't sure he wanted to be a professional athlete. He'd grown up a Christian outside Sacramento, and he felt called to help his brother Scott, who also played soccer at UCLA, start a church in the area. Which is why he repeated those two sentences to everyone who called. He didn't want anyone to misconstrue his intentions.
Assuming his fate was sealed, he went to Haiti in January 2013 to work at an orphanage as the draft approached. While his peers were at the draft combine, trying their best to impress pro scouts and improve their stock, he was playing street soccer with kids in the dirt roads of Port-au-Prince. Without an internet connection or a cell phone, he was unaware of what was happening at home.
"When I got back into the States and turned my phone on, I had all these calls from Dallas that were like, 'We drafted you,'" the 30-year-old says at Toyota Stadium in Dallas. "And I thought, 'Oh, no.'"
Feeling Hollingshead's talent justified the risk, FC Dallas had taken him in the second round of the draft. "You guys made a huge mistake," he told the club. 
Eight years later, it's one of the best mistakes FC Dallas ever made. He has played more minutes in 2021 than any other player, he has been named team MVP by the fans, and won the MLS Humanitarian of the Year Award. Along the way, he has become an occasional team captain who marauds down the left flank, ranking as one of the best attacking players on the team—from a defensive position. His unconventional start has led to an unconventional career in North Texas. But the very things that make him different from most professional athletes are what make him one of the club's most important figures.
---
Hollingshead made good on his word: he really did start that church, turning down FC Dallas' initial contract offer following the 2013 draft to join Scott at Doxa Church in Rocklin, California. He was more or less an operations director, running day-to-day operations while his brother handled the preaching and teaching. His day job at the time was as a leasing agent for a real estate company. Still, FC Dallas had not forgotten about him. FC Dallas technical director Fernando Clavijo would call Hollingshead to ask about the church and his family, eventually getting around to seeing if he wanted to join the team.
But in his mind, Hollingshead had moved on. "When I was back in California, I was hardly playing because I was like, 'It's over. We're killing it. We're committed to this church, and we want to see this thing explode."
In the end, the work he poured into the church is what got him back to soccer. Soon after launching, the church had enough financial support to hire staff and pay someone to do what Hollingshead was doing, leaving him with another major decision. Scott, who had been the one to help recruit him to UCLA and bring him along to build the church, was ultimately the one who pushed him back into the game he loved. "This is your chance if you want to go play," Scott told Ryan.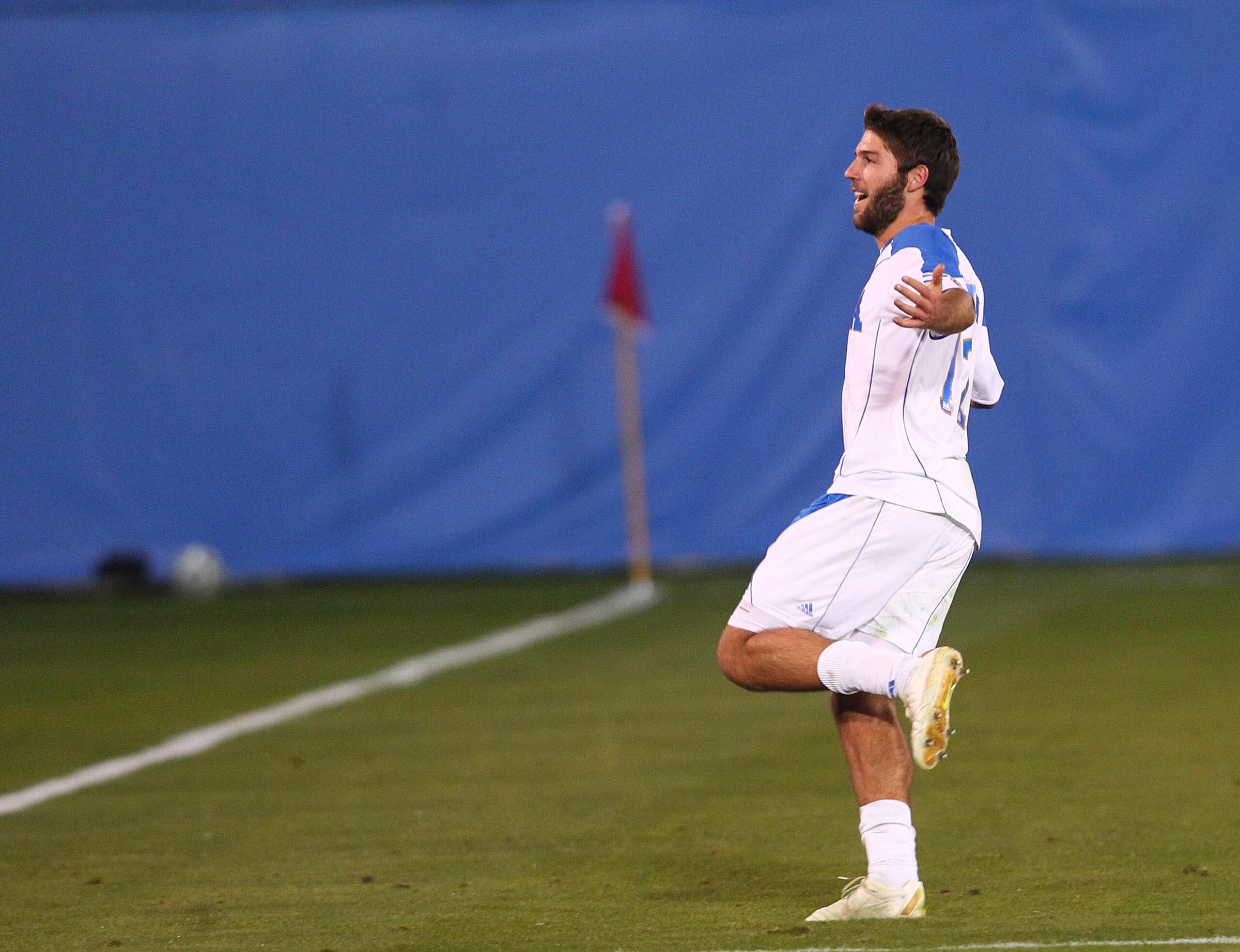 Finally, he made contact with FC Dallas and told them he was ready to join. He was out of shape and struggled to get back up to speed after only sporadically playing pick-up with friends for nearly a year, but eventually, he found his form. He would make 11 appearances for FC Dallas in 2014 but soon became a starter and major contributor. By 2016, his career was humming along nicely under coach Oscar Pareja. FC Dallas had the best record in the league that season and won the U.S. Open Cup as well. Hollingshead appeared in nearly 40 total games that season, flashing a rare eye for goal from a left back.  
"When I first said 'no' to the draft and said 'yes' to the church, everybody was like, 'That's the stupidest decision you've ever made. Why would you ever do that?'" he says. "But by doing that, God was faithful, and I ended up doing both."
---
Hollingshead remembers the sky was dark and the roads icy on the January 2017 night that changed his life. It's the sort of night you stay in on, and he would have, too, had a friend had not gotten into a minor car accident and needed Hollingshead and Hollingshead's wife, Taylor, to come pick him up. They didn't make it there. 
The Hollingsheads' drive got cut short when they watched a car in front of them lose control and crash into the median. The headlights were smashed, and the driver was blocking the lane. Hollingshead stopped the car; he wanted to make sure the other driver was alright. He prepared to call 911 when he realized the driver wasn't.  
That's when another car came barreling in. The third driver managed to swerve out of the way of the crashed car, only to collide directly with Hollingshead instead. He was launched into the air and down the highway, so violently that his shoes flew off. One thought dominated his mind when he landed: I'm paralyzed. 
"I can't move any part of my body, and I'm halfway in the median and halfway in the fast lane of the freeway, sitting there," he recalls. "I'm about to die."
After 30 excruciating seconds, he realized he wasn't. He began to move his fingers. Next, his legs. Eventually, he pulled himself to his feet. His face was cut up and scarred, his shirt and jeans torn up. Both of his arms felt like they were broken. They weren't—but three vertebrae in his neck were. When the doctors realized what had happened, they immediately immobilized him. One slip on the ice or a sudden move in the wrong direction would paralyze him—for real, this time. 
Surgery would mean fused vertebrae and a loss of movement, and a potential end to professional soccer. For a couple of days, he says, the doctors were unsure if they would avoid surgery and save his career. But while avoiding surgery would keep the hopes of his soccer career alive, there was no guarantee that his neck would heal and be stable enough for full-contact athletics. 
They decided to try a rehabilitation-focused approach. He spent the first two weeks after the injury bedridden, lying flat on his back all day to avoid aggravating his immobilized neck. It would be two weeks before he was able to sit up and start to walk. He had never suffered a major injury before, much less one that took so much from him. "You lose a ton of muscle in your legs, arms, and core," he says. "It all starts to grow weak in that two-week period of just sitting still." 
But small bits of relief were on the way. Once the two weeks were up, he was able to start walking. He remembers palpable relief the first time he could ride a stationary bike. His neck and back were stabilized, but he could move his legs again. 
He knew that it wasn't just his soccer career that was in jeopardy. If he didn't heal correctly, he could experience lifelong back and neck pain. He had kids to play with, youth teams to coach. "Tell me everything I need to be doing to make sure that this does not become a lasting problem in any way," he told his doctors at the time. Then, he made sure to follow their instructions to the letter.
He continued the rehab through the winter and spring but was never given a recovery timeline because of the nature of the injury. Everything depended on how the bones in his neck healed. Finally, after four to five months of intense rehab, he rejoined the team halfway through the 2017 season, coming off the bench and starting a few games. He eventually played in 18 matches that year, and though he wasn't quite where he wanted to be on the field, he was named MLS Humanitarian of the Year in 2017 for his selflessness.
---
If 2017 was the most trying year of Hollingshead's career, 2019 was the most rewarding. On the pitch, he experienced the best season of his career, playing in 34 games and starting nearly all of them, scoring six goals. By now he was entrenched as a team leader and excelling on both ends of the pitch. When the year was over, he'd be voted FC Dallas' MVP by the team's fans. He was also due for a new contract. 
The negotiation would have an unusual wrinkle. That same year, the Hollingsheads, who had two children together, decided to grow their family by becoming foster parents. The process can be long and tedious, taking up to a year just to be certified. The Hollingsheads wanted to foster-to-adopt, which meant they would provide a home for a foster child in the hopes that the child would be adopted. But the children are often placed back with their parents or extended after being removed from the home, and adopting can take years. The need in Texas is considerable: the Texas Department of Family and Protective Services reported that 13,009 children were removed from their homes because of abuse and neglect by the state in fiscal year 2020, and there is a constant shortage of foster placements.
Each state has its own foster certification, which meant the Hollingsheads would have to start the process over if Ryan were to move to a team outside of Texas. So when it was time to begin negotiations on a new deal, he was in a bit of a pickle. He didn't want to be anywhere else, for reasons on and off the pitch, but letting the team know he wanted to stay could cost him leverage. In the end, just like he had in his MLS draft year, he decided to be transparent. 
"We love our community here," he told team president Dan Hunt. "We love our church here. I don't want to say I'm willing to take a worse contract, but it's where we want to be. We have a lot of goals outside of soccer in the community here that we want to pursue." 
Hunt was floored.  
"I had never experienced a player saying, 'I'm going to foster and see where it goes from there.' It was one of the shortest conversations I've ever had in making a decision," Hunt says. "It took me about two seconds to say, 'Great, let's do the deal.' We love Ryan. We wanted him whether he was fostering or not. He was somebody who we wanted to stay at FC Dallas. But it's just one of those easy things where you have the human side come into it. We're so appreciative that there are people that are so giving of themselves."
He signed a two-year extension that runs through the 2021 season. Two years later, he and Taylor realized their dream by adopting 2-year-old Amari, whom they'd fostered since early 2020. As with most children who have experienced trauma, there were difficulties adjusting. "You can see there are things within him that cry out for attention in different ways. It's not a conscious thought in his head, but it comes out in certain moments," he says. "It was not only a chance for us to show our desire to care for the marginalized and those who don't have a place, but it was an addition that we didn't know we needed but that has been beyond special."
---
This has not been a season to remember for FC Dallas. The club sits second from the bottom in the Western Conference and fired manager Luchi Gonzalez last month, but Hollingshead is once again thriving. He has led the team in minutes played this year, is fifth in goals scored, and third in assists, all while playing several different positions and occasionally captaining the team.
But he hasn't lost sight of the big picture. Soccer is still just one part of his life. "I've been trying to connect on-the-field stuff with the off-the-field stuff," he says. "I try to have my whole life be one that's not just succeeding on the field. I want to succeed as a father, and as a husband, and as a Christian, and I want to succeed in serving the community."
Along the way, he's challenged himself to cultivate passive revenue streams—so that "when I am done playing soccer, I don't want to have to go work a job that I don't want to work," he told the FC Dallas podcast in July. In 2018 he started FOM Capital Group, a local real estate company that specializes in buying and selling single-family homes, small multifamily complexes, vacant lots, and mobile home parks. He is also developing a wedding venue back in California. Meanwhile, he remains a husband, a father, and active in his church. "I don't know how he does all that stuff," says FC Dallas captain, Matt Hedges, Hollingshead's longtime partner on the backline. "He's always got something going on,"
But Hollingshead doesn't stress it.  He has a tattoo of the eighth chapter of the New Testament book Romans written in his wife's handwriting on his arm. The sixth verse is of particular importance: "the mind controlled by the Spirit is life and peace." As long as he stays true to himself and his values, everything else will slide into place. 
His team wouldn't have any other way. "He's outspoken, and he'll say what he means," Hedges says. "We have a lot of young guys on the team, and it's something that they need to experience." Eight years after they got their first taste of it, FC Dallas knows they're better off for it. 
Get the ItList Newsletter
Be the first to know about Dallas' best events, contests, giveaways, and happenings each month.