Texas Motor Speedway's new GM, Rob Ramage, is steering the track into the next generation. But his dream for the future is shaped by his past.
Resting on the corner of his desk at the Speedway Club overlooking TMS' 1,500-acre property in North Fort Worth, is a single photo. It's his father at the 1997 Interstate Batteries 500, the first race in the track's history.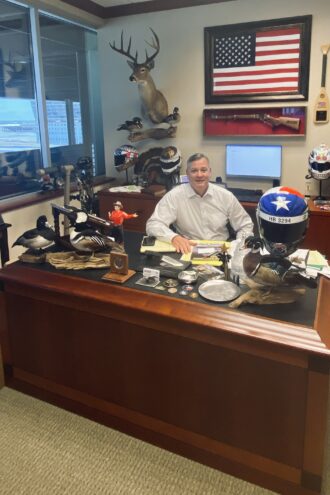 Ramage's father is why he's a motorsports fan. As a child, he'd join his dad on race days in the Ramage farmland barn in Oklahoma, where they'd do work and listen to the grainy radio call of IndyCar and NASCAR races. So when Bruton Smith brought NASCAR to the intersection of Interstate 35W and State Highway 114, Ramage knew he had to be there at the track's opening day.
It was a sunny April afternoon—perfect weather for what everyone hoped would be a perfect inauguration. It became anything but. In the days leading up to the race, Fort Worth experienced an onslaught of showers. The sun may have come out, but the track stayed slick, which led to a 13-car pileup on the first turn of the first lap. "They'll have to do a total reconstruction to get it right," driver Rusty Wallace told the media afterward.
That didn't stop Ramage from falling in love all over again. The fanfare, the adrenaline, and the environment were everything he loved about racing. Twenty-five years later, the Great American Speedway isn't just his workplace. It's now his domain after getting promoted from general counsel, a role he assumed in 2013, to senior vice president and general manager in August.
Ramage rises each day at 4:30 a.m. He's in his office, which is decorated with driving helmets and mounted ducks and deer, by the time the sun rises just beyond the world's largest outdoor television (22,704.64 square feet, to be exact). He leaves when the job is done. Some nights, that's 9 p.m. He knows the gravity of the task at hand.
Texas Motor Speedway overcame that rocky start to become a poster child for NASCAR, and founding GM Eddie Gossage was the reason why. He turned a rude 13-car pile-up awakening into a venue that has hosted the NASCAR Cup Series, All-Star Race, EchoPark Automotive 500, and more. Gossage also brought IndyCar races and World of Outlaw showings to TMS. He wrangled the likes of The Rolling Stones, ZZ Top, and Willie Nelson to play concerts at the venue. He retired this past summer, leaving behind enormous shoes to fill.
Now the job falls to Ramage. Despite his affinity for racing, he never envisioned himself working in the sport. He enrolled at the University of Oklahoma as a physics major, challenging his mind with relativity, quantum mechanics, and technologies. But then, he says, "I questioned myself: 'What in the world am I going to do with a physics degree?'" So, he shifted gears and found a new passion: law. He graduated OU with a political science degree before earning his J.D. at Oklahoma City University and went on to work cases ranging from wrongful deaths to intellectual property. His sweet spot, though, was commercial litigation. That range of skills helped him get hired at the racetrack, where in addition to general counsel he held the titles of director of governmental affairs and senior vice president of finance and compliance.
When Gossage took charge of Texas Motor Speedway, the track's surroundings were little more than a cow pasture. The area was, for all intents and purposes, a blank canvas. Gossage got to work and over the years coaxed restaurants, country clubs, luxury hotels, and even the road warrior's wonderland, Buccee's, to town.
Ramage wants to innovate in a different way. "My vision is that our campus becomes modernized and developed with new structures that we have yet to see in order to add experiential value," he said. The speedway will always be about fast cars, of course, but Ramage believes Fort Worth's asphalt kingdom could do more. Lux hotels, a waterpark, commercial office space, retail space, product testing centers, and proving grounds—they're all developments Ramage is considering for the TMS' campus.
NASCAR is currently undergoing a campaign to grow the fan base, and Ramage is pushing the value of a multipurpose estate. If he can attract the non-NASCAR fan to drive in TMS' gates for a concert, a shopping experience, or a relaxing getaway, he thinks he can convert that into motorsport interest and eventual fandom. If someone can romanticize the venue now, they can romanticize the sport later.
But there's still the matter of the product itself, and Ramage believes its future lies in technology. Which is why TMS will unveil a series of nonfungible tokens (NFTs) on Oct. 17 at the Autotrader EchoPark Automotive 500. The NFTs will be available for fans who want to digitize their tickets as an asset.
TMS and NASCAR want their fans to possess unique event NFTs; the tokens being introduced will be certified, authenticated, and verifiable assets that can be traded or sold. On race day in October, 10,000 commemorative digital ticket NFTs will be available free of charge, while 500 of them will be randomly upgraded as golden ticket NFTs. Tokens will have sound effects or audio embedded. TMS will also present one NFT coin to the race winner and auction off a similar coin to eager bidders after the race. It's a modernized version of NASCAR's strategy of marketing unique items throughout the years, from gaudy T-shirts to die-cast model cars.
He's also dabbling in augmented reality. The Carolina Panthers recently introduced the technology to the NFL by releasing a video of a giant panther marauding throughout their stadium, and the Houston Texans followed up by creating a Hot Wheels-type augmented race in their venue. Ramage loves it.
"Augmentation is fun, experiential, Instagrammable, and memorable," he says. "Augmented reality will allow our consumer to drive a car on our racetrack going 203 miles an hour. It can allow our fans access to different celebrity athletes you might not get otherwise."
Beyond that, Ramage will continue to snag concerts, trade shows, charity events, and more for TMS. The facility will also be on-call ready for natural disaster relief; in the wake of Hurricane Ida, TMS set up a camp hosting evacuees in early September. "If there's ever an act of God or a weather event, we're always going to offer our assets for people in our community, state, and surrounding states," Ramage says. "I want to use my blessings to do good."
He's particularly stoked for one event well into the future: in 2023, Texas Motor Speedway will host a 200th birthday party celebration for the Texas Rangers—the law enforcement agency, not the professional baseball team.
But, as much as anything, Ramage prides himself on being accessible. He was a racing fan before he was an executive, and now that he's in a position to shape the track's future, he wants to use his enthusiasm to spark excitement. "What the fan would think is fun, are things I think are fun," he says. "And those are the things we want to do." That's why he ends his radio appearances by broadcasting his personal cell phone number. It's a move that has resulted in several prank calls from truck drivers surmising there's no way Ramage is on the other line, but he sure is. He's also gotten serious inquiries from fans.
Wether it's the curious fan or zany truck driver, Ramage tries to always ask the caller two questions: What do you want to see when you come to my property, and how do I make this property better for you? "[My PR guy] scratches his head when I do those type of things," Ramage says with a laugh. "But for me, I have to be hands-on in all aspects." That's the job he's here to do.
Get the D CEO Newsletter
Stay up to speed on DFW's fast-moving business community with weekly news reports, interviews, and insights.