Chef Kent Rathbun started Rathbun's Curbside BBQ the first week of the pandemic. "When the restaurants closed and we started having to figure out how we're going to feed ourselves and our guests, we came up with the idea to do this barbecue pickup thing," he says. "I was going to just put a few things on my website and cook some biscuits, and the whole thing just exploded."
He's now up to five fire-engine-red rigs. The biggest is a 33-foot custom trailer dubbed HQ because it holds all of his gear, computers, sound systems, televisions—pretty much everything he needs for his catering operation. There's Big Red, a mobile kitchen that was built in Tyler and contains a smoker, grill, oven, sink, prep areas, and its own hot water heater. And then there's the Little Smokehouse, which comes from J&R Manufacturing in Garland and can handle up to 16 briskets and 70 racks of ribs.
"We've got a lot of money invested in our rigs, and we update them almost every week with something new," Rathbun says. "We try to keep them looking sharp and running well."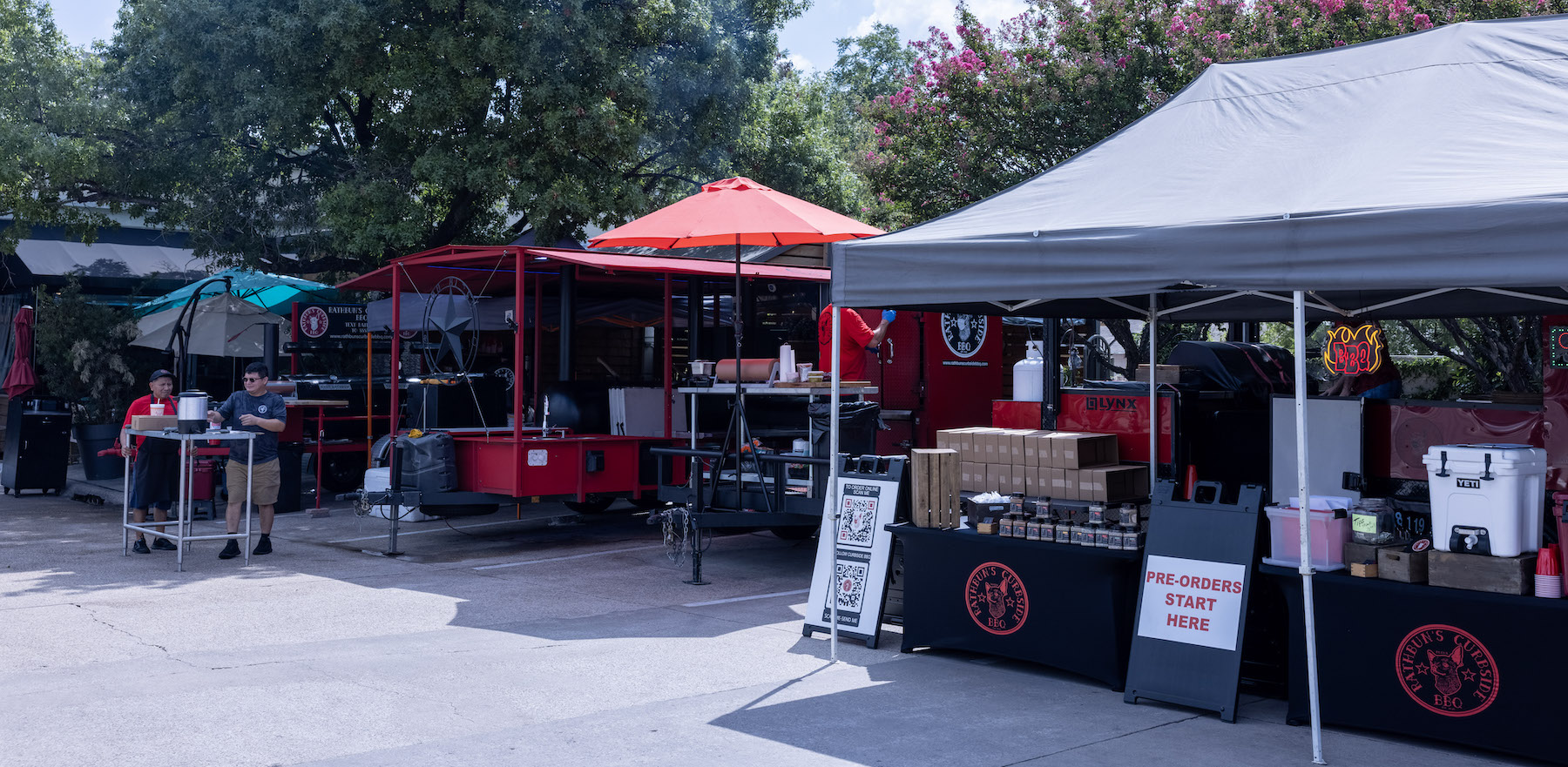 On weekends, the rigs set up in a couple of parking lots for barbecue pickups and a bit of a mobile party. On a recent Saturday, I stopped at RMC Property Holdings on Luther Lane to load up my overly ambitious order of smoked salmon and turkey in addition to the $160 family pack (which includes smoked chicken, ribs, brisket, pork loin chops, and wagyu cheddar jalapeño sausages, plus sides like aged gouda mac and cheese, Granny Smith apple coleslaw, and maple brown sugar baked beans). I was offered my pick of Rathbun's signature seasoning rubs and a Solo cup of beer while I waited for my items to get wrapped in butcher paper and boxed up.
It ended up being enough protein to feed about 12 people (although you'd need to order some extra sides to keep fights from breaking out over the loaded baked potato salad). The turkey and pork loin chops were the surprise favorites and most coveted leftovers. On another night, the day's special of smoked beef ribs was the star of the show, even more meltingly tender than the brisket.
Sunday pickups at Lovers Seafood & Market, however, are where the real party is at. The restaurant opens the bar and patio with a limited menu starting at noon. "We call it Solo Cup Sunday," Rathbun says. "We serve everything in the Solo cup. We have live music. We have TVs on the trailer. We have TVs on the patio. We have TVs in the bar. You pick your game and sit down. You can eat your barbecue and have a cocktail at the bar. It's really cool."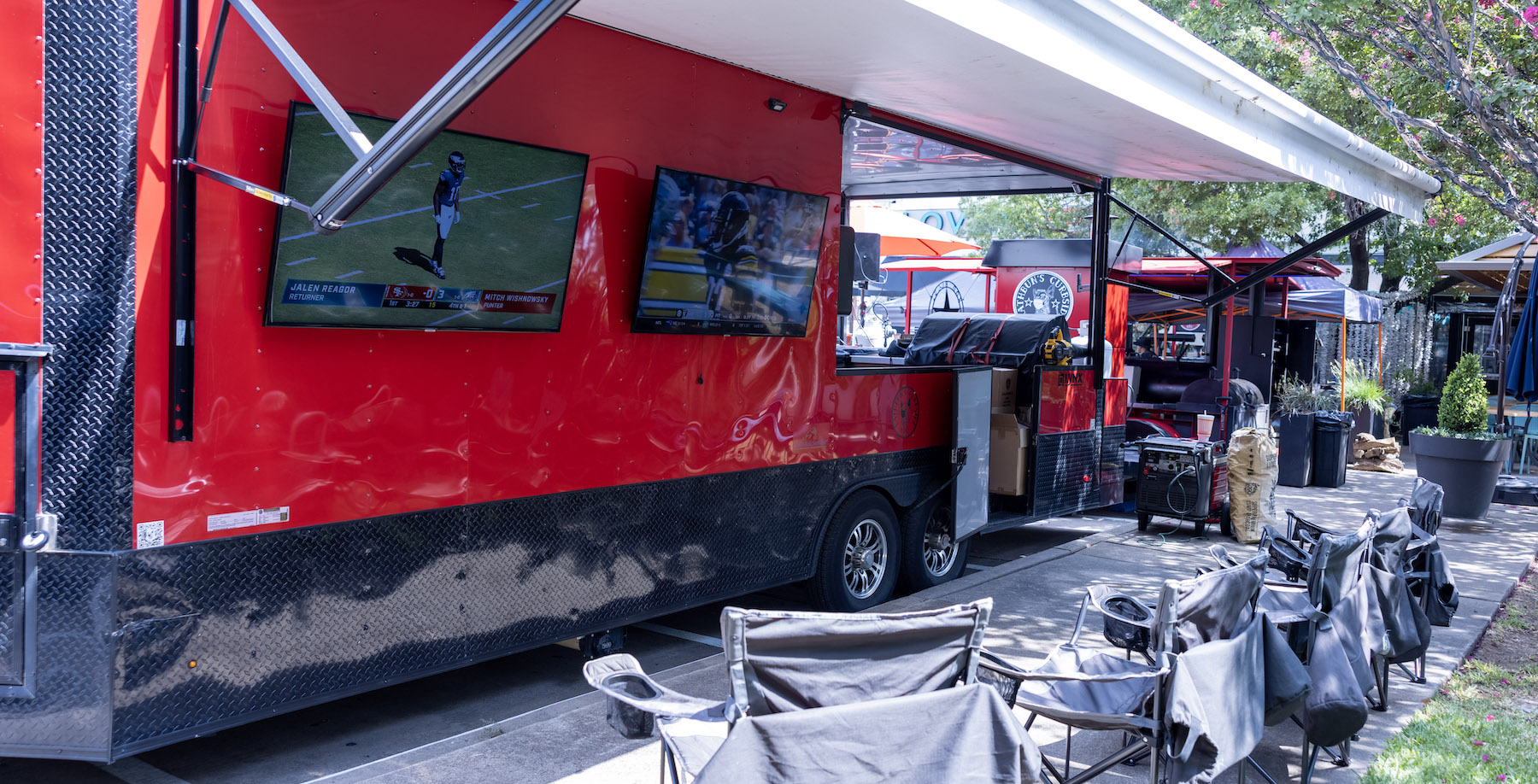 The most popular item is his pork belly burnt ends. "We're going through three or four whole bellies per day for our pickups," Rathbun says. "What we do is we smoke the bellies with all of my seasonings: the Steak & Chop Garlic Salt and a seasoning I call Sticky Pig, which is a kind of barbecue rub with a little bit of raw sugar. Once we get them all smoked, we cut them into 1-inch cubes. We put that back on the grill and grill it over an open fire, and then we take an orange-soy glaze and put it over the top of these pork bellies, and then we put them back and finish them in the smoker. They are ridiculous, they are so tasty."
The rigs are also available for private catering and events, and Rathbun says he plans to offer special Thanksgiving and Christmas day menus. This year, he'll do smoked turkey breasts in addition to whole turkeys, beef tenderloin, and smoked salmon. Much of the menu will also be available for his new mail order service as well.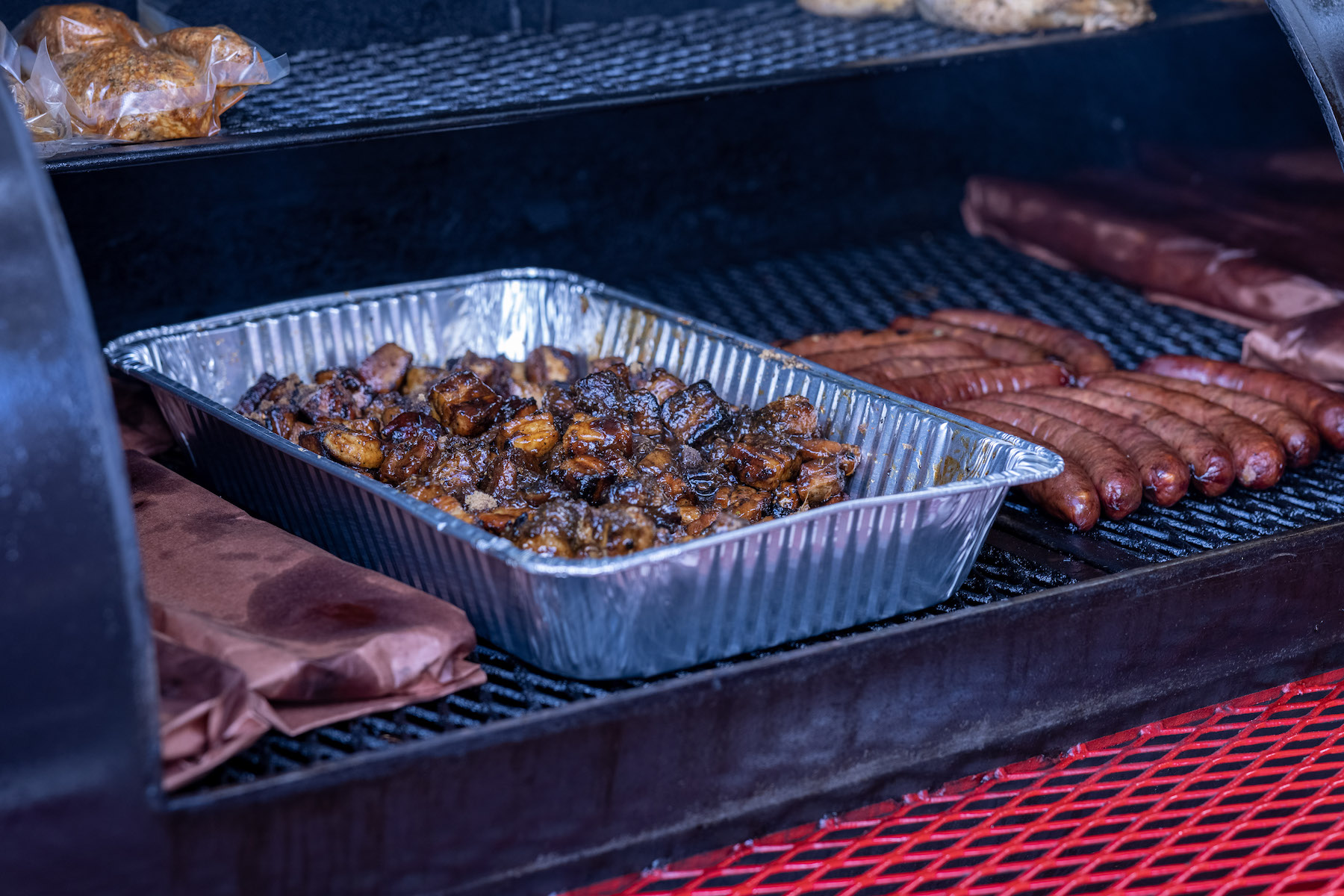 It may all seem like a big U-turn from Rathbun's fine dining résumé, but he says smoke and fire have been his media all along.
"I grew up in Kansas City, Missouri with a dad who loved to smoke meats and grill meats, so I learned a lot about that when I was a kid," Rathbun says. "I've been doing these kind of foods my whole life. And even in our fine dining restaurants, which was, you know, Abacus and Jasper's, we had wood-burning ovens in all of these restaurants. So even though they were considered fine dining, we encompassed a lot of wood-grilled and wood-smoked foods off those smokers for the menus."
Rathbun says the best way to keep abreast of his comings and goings is to go to his website and scan the QR code. He'll then send out text message updates: where the rigs will be appearing next; if he's doing a cooking class or hosting a wine dinner; for Thanksgiving menu details. He likes to treat the whole operation like he's just hanging out with friends, giving them a friendly heads up when he'll be in their 'hood next.
"It's just kind of fun," he says of the whole curbside operation. "I mean, why not spend Saturday and Sunday drinking a couple beers and barbecuing? The catering thing has turned into quite a little deal."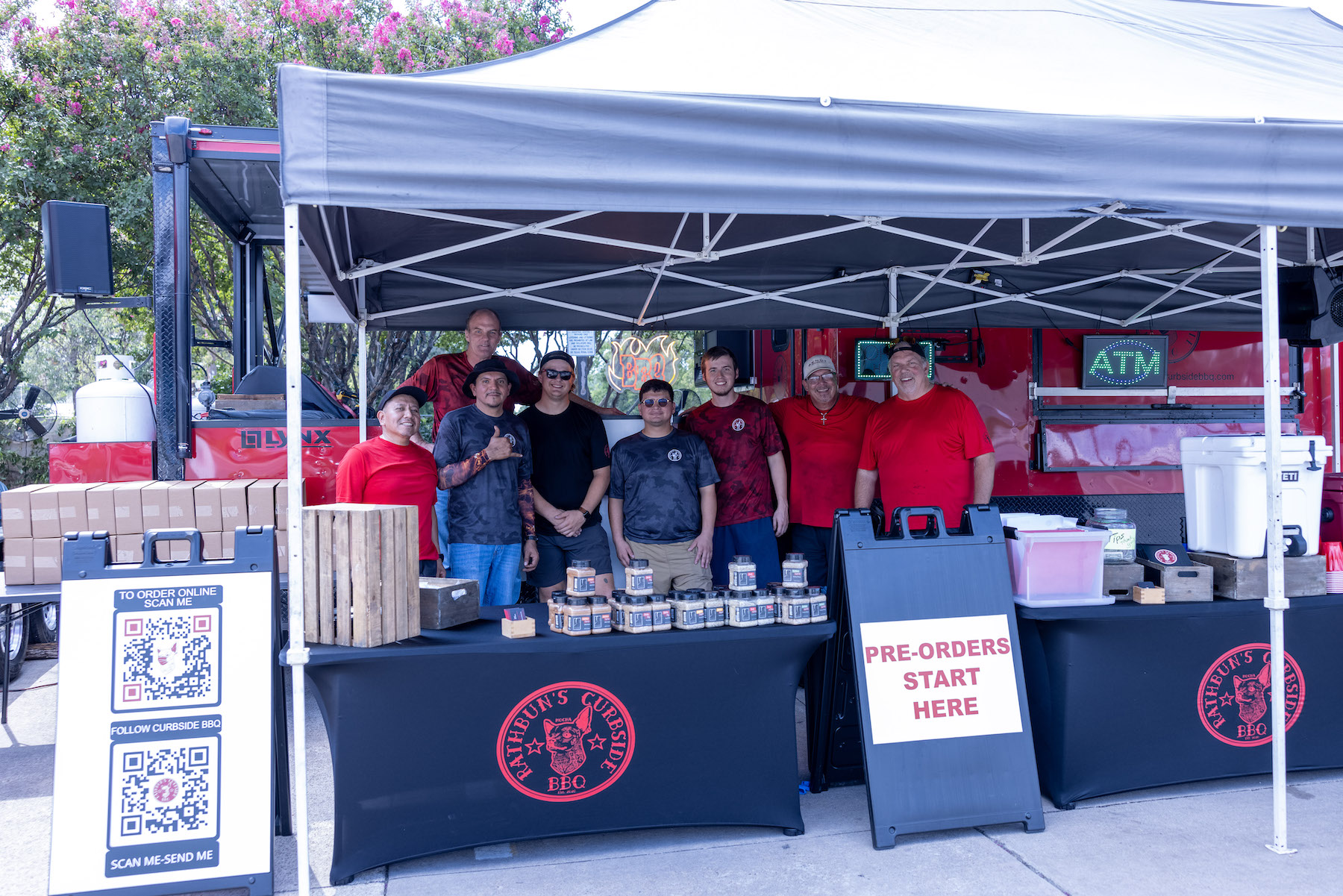 Get the SideDish Newsletter
Dallas' hottest dining news, recipes, and reviews served up fresh to your inbox each week.