This is the time of the year when every team in the league looks like the next NBA champion. Everyone is excited for the new season. Energy is off the charts. Everyone but Dwight Powell is shooting 95 percent from three in the training camp videos. But if we look past the typical training camp cliché quotes, there have been a few things said that give us the first glimpse into Jason Kidd's thought process and what to expect when real basketball starts. 
Kidd recently compared Luka Doncic to a young Pablo Picasso — who, I should note, was never told to use all the paints — and his message was very direct: Luka needs to rely on his teammates more. That raised some eyebrows. Pointing out Kristaps Porzingis as the underused color in his point guard's palette, on the other hand, did not. No more 7-foot-3 Latvian standing in the corner. Porzingis, in his head coach's words, will have the freedom to be a basketball player again. Kidd wants to see the New York version of the Unicorn again, a player who can put the ball on the floor, post up, or roll to the rim out of a pick. Kidd's focus on getting the most out of Porzingis is not surprising. As our Jake Kemp put it, the clock started ticking when Luka Doncic signed the super max extension, and Porzingis is the man who can stop it.
This is why Kidd's first big lineup decision caught me off guard. A starting five unit of Doncic, Porzingis, Powell, Dorian Finney-Smith, and Tim Hardaway Jr. is not something I expected to see based on what we heard from the coach so far. First, no new faces in the starting five is more of an indictment of the front office than of the head coach. Second, there is plenty of past evidence that shows that these specific parts don't work well together. At least not in the way Kidd wants the "new" Mavericks to play, which is a team that competes harder on defense and with a more involved, engaged Porzingis on offense.
Don't get me wrong, this lineup will be very good when they have the ball. Pairing Doncic with a great rim roller (Powell) and three competent shooters is a proven recipe for an elite regular-season offense. Per Cleaning the Glass, lineups that featured Doncic, Hardaway Jr., Powell, and Porzingis ranked in the 99th percentile in the NBA over the last two seasons. 
The problem is that, when paired with another center in Powell — yes, Porzingis is a center; more on that in a minute — the Latvian's role in the offense gets automatically diminished. Powell is a non-shooting big man whose value lies in the pick and roll with Doncic. Porzingis' and Hardaway Jr.'s reputations as long-range bombers, paired with Finney-Smith in the corner, give Doncic and Powell space to unleash one of the deadliest pick-and-roll attacks in the league. 
This lineup works best with Porzingis spacing the floor, which is what both Kidd and the Latvian big man want to avoid. Last season, when Powell and Porzingis were on the floor together, Porzingis' usage rate dropped significantly, from 27.1 percent without Powell to 19.6 percent with Powell on the floor. Rick Carlisle had his flaws, but understanding modern NBA offenses and spacing was not one of them. Carlisle knew well that teams would sag off Powell and clog the paint any time Porzingis had the ball when both big men were on the floor together. Whenever Porzingis was involved in the primary actions, you can see Powell in the dunker spot (the position under the basket opposite of the ball) or around the elbow. Regardless of where Powell was, his defenders disregarded him and clogged the paint.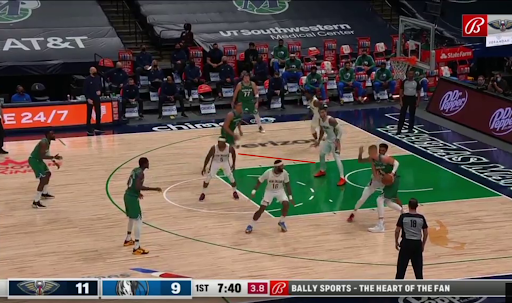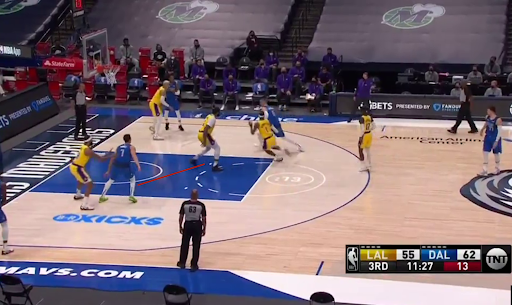 In a recent interview on The Hang Zone, Porzingis talked about playing with Powell as "having another five man out there." Maybe this was a Freudian slip on his part, but it revealed that Porzingis sees himself primarily as a center. This comes as no surprise. Last season, when asked about playing the power forward position (alongside Powell), Porzingis was even more blunt: "When I'm at the [power forward position] I only have the option to pop, and when I'm at the [center position] I can pick-and-pop and roll, so I can mix it up and just be more involved." 
And an involved KP is what Kidd wants to see. So starting the season with a lineup where Porzingis is most efficient in the things Kidd wants him to do less of — spacing the floor and being a spot-up shooter — is certainly an interesting paradox.
Things get even trickier on the defensive side of the ball. Kidd has preached defense on every occasion since he was introduced as the new Mavericks' head coach. So here is where the decision to go with an offense-minded starting lineup puzzles me. It's difficult to have a competent point-of-attack defense with Doncic and Hardaway Jr. as your lead guards. Add Porzingis to the mix, and at least based on what we saw last year, things go from bad to worse. Lineups with those three were elite on offense but among the worst in the league on defense last season, conceding 124.3 points per 100 possessions, which checks in at the bottom 2 percent in the NBA. But wait. There's more: Porzingis-Powell combinations were literally the worst defensive pairing in the league last year, conceding 133.2 points per 100 possessions. Most of this data looks bad because Porzingis was terrible on defense last season. He never looked comfortable after coming back from a meniscus injury. His mobility was gone, and he spent last season playing catch-up. 
To be fair to Porzingis, these same combinations — including Porzingis and Powell together — looked much better a season earlier. He was a big plus defensively that year, and based on his first lineup choice, it's obvious Kidd expects the 2019-20 version of Porzingis to show up this season. But by surrounding KP with two below-average on-ball defenders in Doncic and Hardaway Jr., plus another big in Powell, Kidd will put him on the hot seat from the get-go. The Mavericks were one of the worst pick-and-roll defenses last season (25th in the league), and it's difficult to imagine this lineup will be significantly better. Under Carlisle, Dallas mostly played conservative defense with Porzingis in drop coverage, which allowed him to anchor the paint and force opponents to settle for mid-range shots, which are generally the least efficient looks in the game. While this tactic was successful in the past, the league as a whole improved against it last year, and that trend figures to continue as more and more skilled players keep entering the league. 
So that strategy probably can't be relied upon going forward. And based on Kidd's track record in Milwaukee — plus how much he talks about defense when he talks about his Lakers tenure — we can expect Kidd will want to play more aggressive defense anyhow. Both of those teams were among the league's best at forcing turnovers, a direct contrast to the Mavericks being among the league's worst at that over the past three seasons. Something is going to give, especially considering that the "new" (old) starting lineup is basically the same team we watched over the last couple of years. It will be a huge win if Kidd can get more out of the same parts. If "more" equates to an above-average defense, he should be in early conversations about coach of the year. 
But I think Kidd's path to better defense will eventually be playing smaller lineups with better, more versatile defenders. The good news is that there are options on the bench with Maxi Kleber, Reggie Bullock, Josh Green, and Frank Ntilikina. Ultimately, however it gets done, Kidd — and the front office — will have to surround Doncic and Porzingis with three above-average wing defenders, especially if Porzingis' decline on defense last season was not temporary.
Maybe I'm overanalyzing and putting too much stock into the starting lineup. You can make an argument that in competitive games, the closing lineup will matter much more. My counter to that is that the starting unit is a lineup that plays the most minutes together. They set the tone early on. Especially if you have a brand-new coaching staff and a new system, it makes sense to play your best lineup as much as possible. At least for now, Jason Kidd seems to be betting that we've already seen the best five Dallas has to offer — and that he can take it to another level.
Get our weekly recap
Brings new meaning to the phrase Sunday Funday. No spam, ever.