Consider Jabril Cox, perhaps the most adaptable, multi-skilled athlete on a Cowboys roster full of them. Over the past year and a half, Cox has ping-ponged from Fargo to Baton Rouge and now to Dallas, with stops in his native Kansas City in between. In five years, he has metamorphosed from a high-school quarterback into an NFL linebacker, a transformation that has astounded no one more than it has him. Flexibility has been his meal ticket in football. It has meant survival.
And in the throes of his rookie season, it could position him as part of Dallas' future. The 23-year-old's skill set represents the evolution of the linebacker position itself.
This sort of statement doesn't tend to get made about fourth-round draft picks, much less ones who graduated high school without a single scholarship offer from a Power 5 college. A decade ago, Cox likely wouldn't have been a linebacker at all. His was a position of brutes: 250-pound maulers flying downhill toward the line of scrimmage, clanging and banging in the trenches, their bodies and games tailored toward stopping the run.
Then football changed. Rule tweaks predicated on player safety intermingled with schematic innovation to create a new breed of turbocharged passing attacks, ones committed to putting the ball in the air more often and more efficiently than ever before. Among the best defensive countermoves has been to pull linebackers from the field in favor of an extra pass defender. The ones who stay on it have been recalibrated from heat-seeking missiles into more malleable weapons, players who can power ahead or drift back and shadow receivers. With each passing year, more emphasis has been placed on the latter; only three NFL teams ran more than they passed during the 2020 season. The brutes are facing extinction.
Cox never figured to be part of that football evolution. He grew up a quarterback, part of the new generation of signal callers whose mobility helped nudge defenses forward. Cox played three other sports at Raytown South High School in Raytown, Missouri—he was a four-year letterman in basketball, ran track for three, and dabbled in baseball as a freshman—but ever since he picked up football at 8 years old, the game has captivated him in a way nothing else could. It is simply what the Cox men do, from his father to his uncle to all three of his brothers, each of whom has played two- or four-year college ball. His adolescence was marked by the entire family—Jabril, his six siblings, and parents James and Lotu—spending each fall Saturday at a football field, watching one son after another. Jabril's older twin brothers, Jamaal and Jameel, were up first. When their game ended and the stats were compiled, Jabril had his baseline. He knew what he'd have to do on the field later that day to best his brothers.
"If they scored two touchdowns, I wanted to score three," he says. "If they scored three, I wanted to score four. I always wanted to up them in everything." When the games were over, the family would return home and pile into the living room to break down the film. Everything was a competition. "If you're always competing with your siblings, you're always getting better."
The years passed, and those afternoons helped mold him into one of the most exciting high school juniors in Missouri, a 6-foot-4 dervish who was athletic enough to moonlight at wide receiver, safety, and linebacker depending on the season and situation. Nearby Power 5 programs began sniffing around. None of them had extended an offer yet, but that was coming. "I really did feel I was on top of the world," he says.
Then Cox tore his ACL midway through the season, and the future grew murky. The knee healed in time for his senior season in 2015, and Jabril picked up where he'd left off, passing for more than 2,000 yards, cracking 1,000 on the ground, and racking up 31 combined touchdowns. But the big schools never circled back, while the smaller programs that swooped in couldn't agree on where to play him. Northern Iowa wanted him as a quarterback. Illinois State envisioned him as a safety. Missouri State thought he should play wide receiver.
North Dakota State sold him on linebacker. Cox's highlight tape showed a dynamic player with the ball in his hands, but defensive coordinator (now head coach) Matt Entz keyed in on Cox's build: lanky, with broad shoulders and long arms. "He has the hips of a safety, [and] he has the length of a defensive end," Entz says, a frame tailor-made for where the position was trending. No, the Bisons weren't a Power 5 school — they weren't even FBS — but they were the standard-bearers of FCS football, four-time reigning national champions with a penchant for placing alumni in the NFL. Come to Fargo, and Cox would almost certainly win big in college. Play his cards right, and he could be the first member of his football family to get a shot at the pros.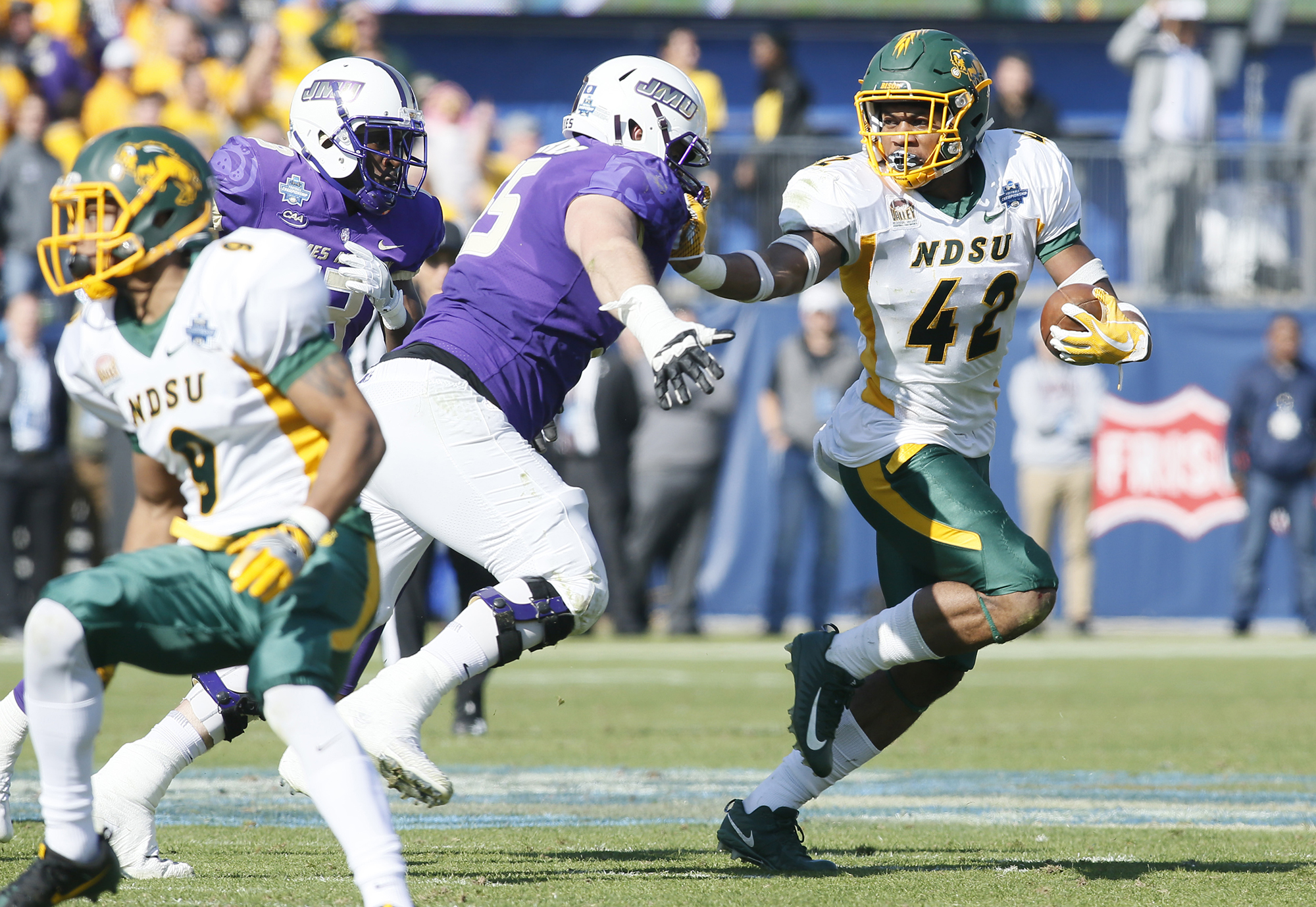 Cox jumped on board. Linebacker wasn't foreign to him; he'd played the position at an all-conference level as a high-school sophomore. But he'd never devoted himself strictly to defense. So Cox took a redshirt year and decided to treat his new position as a mosaic for all the skills and experiences he'd acquired throughout his youth sports career. Basketball taught him footwork, while track gave him agility and explosion. His years at quarterback showed him how to survey the whole field, and he'd accrued enough time at safety to learn how to diagnose an opposing offense. He would reinvent himself by piecing them together. He would adapt.
Four years later, Cox departed as one of the greatest players in program history, a two-time FCS All-American and three-time FCS national champion. He became a field-tilting force whom Entz, who also served as Cox's position coach in his first three seasons, credits for pushing opposing offenses to rejigger their schemes to minimize his impact. Nowhere was that more evident than in the passing game. "He could shut down half the field," Entz says, despite Cox's now weighing a sinewy 235 pounds. Were it not for a torn labrum suffered midway through the 2019 season, Entz believes Cox would have turned pro as a redshirt junior.
Instead, Cox transferred to LSU for his final collegiate season, betting that a year playing for the defending FBS national champions would validate him as an NFL prospect. He was right.
"It was huge because I think he only could have proved himself only so much at North Dakota State," says Chris Trapasso, who covers the NFL Draft for CBS Sports. "We would have never really been able to see how good Jabril Cox was in terms of the competition he was facing. Like, was he just dominating at North Dakota State because it was lesser competition? Or could he really stand up to those guys who are basically playing in the NFL farm system? So the fact that he went to LSU, brilliant decision."
Cox's draft stock surged, with many evaluators pegging him as a second- or third-round pick. But he says the greatest gain was psychological. For so long his talent had been an untested hypothesis — an idea he believed in without a platform to prove it. The three silicone wristbands adorning his right arm tell the story of a man biding his time to show the world what he is capable of. Humble over hype. Underdog mentality. One more rep.
But how could he know for certain without proving himself against the very best? So when he blanketed Texas A&M tight end Jalen Wydermyer, a projected first-round pick in the 2022 NFL Draft, and when he racked up eight tackles (two for a loss) and recovered a fumble against Missouri, the performances amounted to far more than tape fodder for NFL executives. "It just gave me confidence to know that anywhere I go, I'll compete, and I'll do good," he says.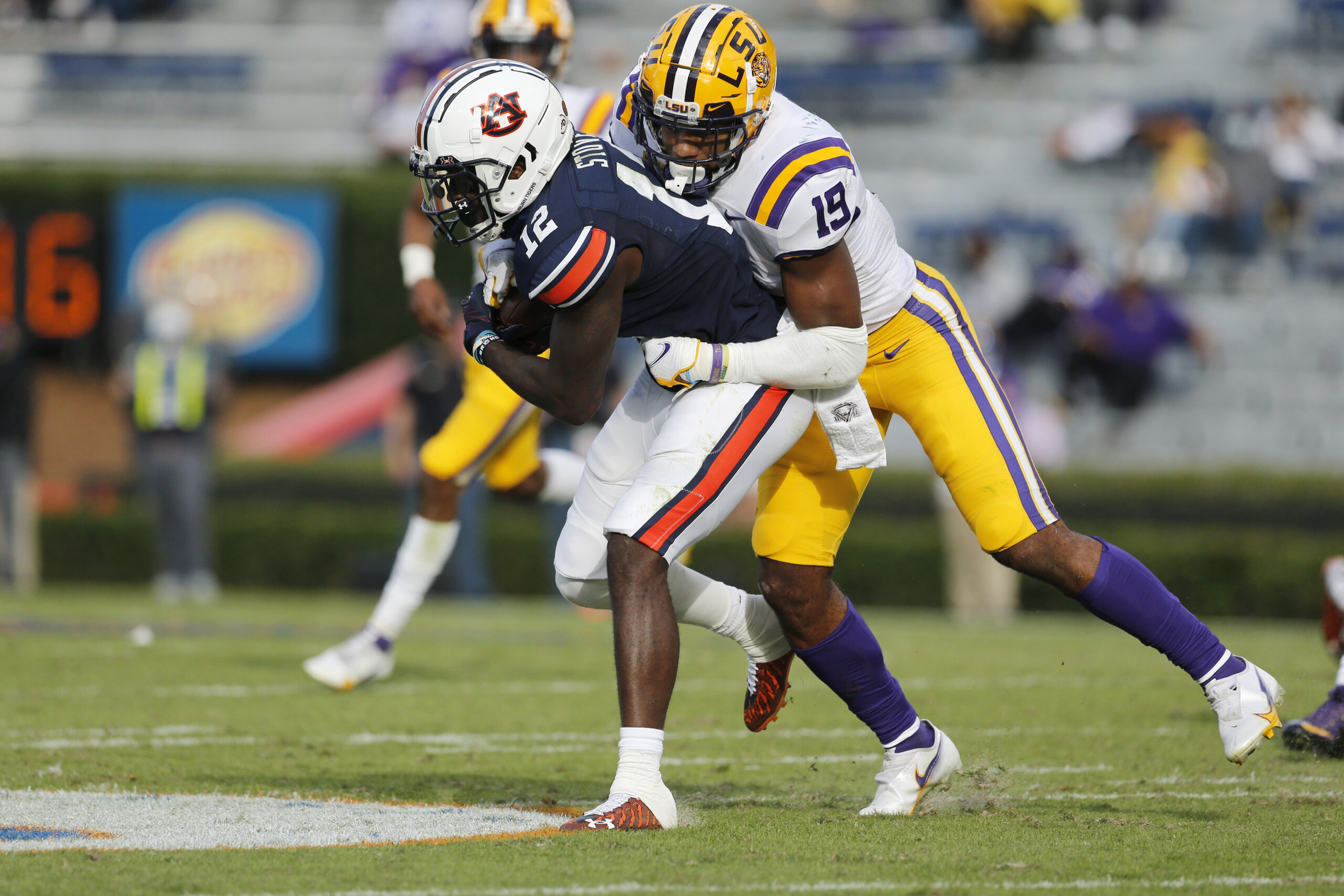 Throughout the pre-draft process, he had an inkling that place would be Dallas. His conversations with the front office were different from those he'd had elsewhere, and he took note of how senior defensive assistant George Edwards called to check in each week. Ahead of draft night, Cox and each member of his family took out a slip of paper and wrote which franchise they believed would select him. He put down the Cowboys. "They just gave off great vibes," he says.
Then Dallas drafted Micah Parsons, a fellow linebacker, with the 12th overall pick. The Cowboys' depth chart was already crowded at the position, from stalwarts Leighton Vander Esch and Jaylon Smith to free-agent addition Keanu Neal. Cox, like many others, presumed Dallas would move on to other priorities.
The Cowboys' decision to tab him with the 10th pick of the fourth round, however, amounted to far more than capitalizing on a good prospect slipping down the board. Parsons, though versatile and hyper-athletic, embodies many of the position's old tenets. He is a disruptor, not a reactor, which informs Dallas' decision to let him put his hand down at defensive end and go after the quarterback full bore. And, as Trapasso says, "If you're going to pick an in-the-box, outside, pass-rushing linebacker, you still need that coverage guy." No one in the draft pool was better suited to play Parsons' foil than Cox.
"To have two linebackers in the same draft class that complement each other so well; that can be your two linebackers," Trapasso says. "You could have Micah Parsons as that blitzing type who's just physically imposing and get sideline to sideline in a hurry, and then [Jabril Cox], just strictly your coverage specialist."
That pairing could be thrust together as soon as next season; Vander Esch and Neal are impending free agents, while Smith is already off the roster after being released earlier this month. But Cox knows he needs to prove himself as a dependable hand to have any chance at a promotion. "Everybody here's good, so I've got to stand out in some other way," he says. He took his first step toward doing so in Dallas' win over the Giants, cutting New York quarterback Daniel Jones for a touchdown-saving tackle on third-and-goal from the 1-yard line. He was fluid and decisive, the sort of play that validated why so many evaluators are bullish on his future. And on a defense in which other rookies such as Parsons, Osa Odighizuwa, and Chauncey Golston are making an impact, it also whetted the appetite for what he could do with more opportunities.
But Cox is content to play the long game once more, working every available angle to get himself into the team's plans. Special teams is an obvious one—"It's just like a one on one," he says with a grin—but his experience in Fargo taught him that success often comes down to minutiae, like the steps in his footwork or what he jots down in the notebook he carries to every meeting. "I know being in the league, you want to focus on other things, but a little inch this way or that way—it's a whole lot of minor details," he says.
Along the way, he'll continue to acquaint himself with Dallas. He just leased an apartment in Frisco but hasn't been in town long enough to locate any favorite spots, although he and Parsons did venture out to the American Airlines Center to watch Luka Doncic in the playoffs. Still, he has a good feeling about where he has landed, and not just because the drive back to Kansas City takes less than seven hours.
"It's upcoming, growing, and I think it's a place where I can raise a family," he says. "Even if you trade teams or whatever, this is just a place you can always come back to and I probably will."
The uncertainty about the color of his uniform is understandable coming from someone growing accustomed to relocation. But there's a good chance he'll have the star on his helmet for a while—that his and the Cowboys' futures will intertwine, that Cox will cement himself as a fixture at the highest level of football the way he always imagined he could. It will take some adjustment after five years on the move. But he'll get used to it.
Get the ItList Newsletter
Be the first to know about Dallas' best events, contests, giveaways, and happenings each month.