The Cowboys and Patriots played an absolutely wild game Sunday afternoon. It was another Dak Prescott day on offense, as the team let him throw the ball more than 50 times for the second game this season and the first since Week 1. And it worked well, netting him 445 passing yards and three touchdowns, including the game-winner in overtime.
Despite that impressive performance, another Cowboy has a rightful claim to be the Dallas' MVP of Week 6. It's a defensive player, and it's (somewhat surprisingly at this point) not Trevon Diggs. It's edge rusher Randy Gregory.
Gregory was in the backfield all day and came away with a couple of sacks and several more pressures to show for it. But there's another number that didn't show up in the stat sheet that tells just how much of an impact his big plays made on the game: 7.5.
That's the number of expected points gained by the Cowboys on Gregory's two sacks. That means that only looking at those two plays, he effectively had the same game impact as when the team scored a touchdown.
I know, depicting sacks in terms of points may seem weird at first, but let me explain.
One of the more common metrics in football statistics these days is something called Expected Points Added, or EPA for short. The goal of EPA is to dig deeper into an individual play beyond the usual "yards gained." After all, earning 5 yards on 1st-and-10 sure looks a lot better to the naked eye than those same 5 yards on 3rd-and-10. EPA models account for that.
Based on historical NFL data, we can define the likelihood of scoring a touchdown, field goal, or turnover on any given play given things like field position, down, distance, time remaining, and score differential. Those likelihoods can then be turned into point values — i.e., a play that has a 50 percent chance of scoring a touchdown would have an expected points value of half a touchdown.
The most popular public EPA model comes from The Athletic's Ben Baldwin, and that's the model I've used here. What we can do now is view each play by the Dallas defense in terms of its impact on the game, with a metric that accounts for contextual variables we don't normally get to include in the stat sheet. Here are the top-10 plays by EPA for the Dallas defense in Week 6.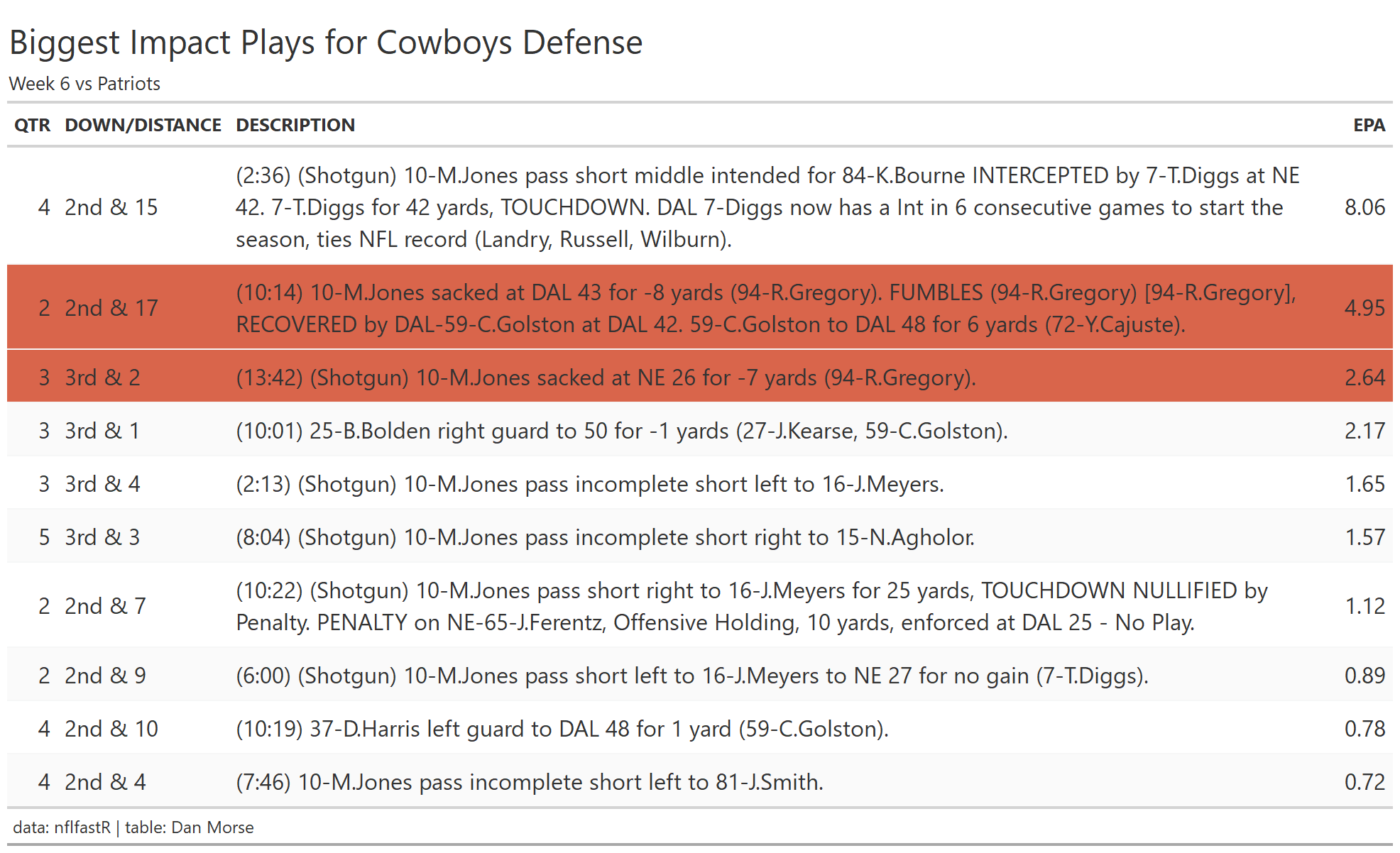 Gregory was responsible for two of the top three, with only the Trevon Diggs pick-six being more important to the outcome of the game.
This type of metric is great for adding context to player stats. A sack-fumble is always a phenomenal result, but a sack-fumble at midfield in a one-score game? You could very well be taking a field goal off the board for your opponent and putting your own team into field goal range almost immediately. And, wouldn't you know, Gregory's strip-sack was worth nearly five expected points, just about the same value as a pair of field goals.
Gregory's impact isn't just the product of being in the right place at the right time, either. He's consistently putting pressure on the opposing quarterback. He doesn't have a gaudy sack total like, say, Myles Garrett, but that's not entirely his fault. Sacks are hard to get, and they are controlled by the opposing quarterback a lot more than we may have thought in previous years. 
The real skill that translates from year to year is a player's ability to put pressure on the quarterback. Pressures aren't as high impact as sacks, but they do increase the odds of a batted or incomplete pass. Consistent pressure is both important and more predictive when it comes to evaluating pass rushers.
As for Gregory's pressure on the quarterback? Well, it's pretty darn good. According to the NFL's Next Gen Stats, his 16.3 percent pressure rate over the past two years is the fourth-highest mark in the entire NFL. Of course, he does have fewer snaps over that timeframe than some other top-end players, such as Aaron Donald, but the sample size is large enough that he appears to be every bit as good as his pre-draft scouting reports said he would be, when he was widely regarded as an early first-round talent before off-the-field concerns pushed him down to the second.
Using Gregory's pressure rate, as well as what we've learned about quarterbacks controlling quite a bit of their own sack rates, we can further analyze pass rushers through what's called expected sacks. Expected sacks (xSacks) simply takes the number of pressures generated by a defensive lineman and combines that with the opposing quarterbacks' ability to avoid getting sacked when pressured. Here's an example: going into today, Mac Jones was sacked about one in six times he felt pressure. Gregory pressured Jones six times on Sunday, so we'd expect him to turn one of those into a sack. 
After the Patriots game, Gregory is now up to 3.9 xSacks. He ranked 26th among qualified edge rushers in total xSacks heading into the week, albeit while playing fewer snaps than some of those other players. Looking at the number of snaps it takes to generate an expected sack, Gregory jumps up to 14th in the league. Pretty impressive in its own right, but it turns out that he could be even higher had he not faced some of the toughest quarterbacks to sack this season. Gregory's opponents include Tom Brady and Justin Herbert, both of whom are incredible under pressure. The opposing quarterback who takes the most sacks per pressure is Sam Darnold, who for his career takes a sack on about 17.5 percent of his pressures. Compare that to NFL sack leader Myles Garrett, who has gone up against three opposing quarterbacks with a pressured sack rate of over 20 percent.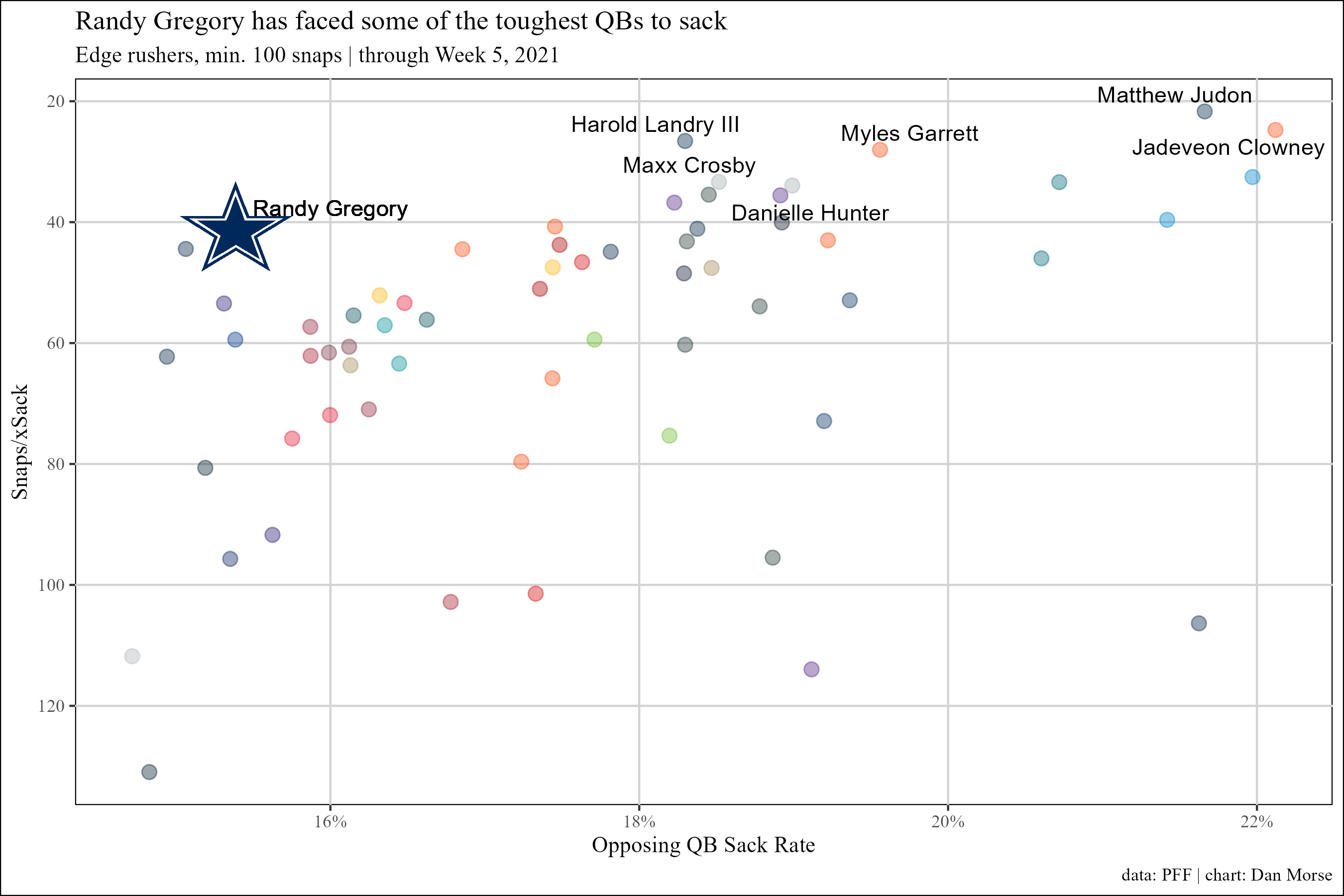 What does all this mean? Gregory has been getting pressure at a rate similar to the top-tier edge rushers in the NFL despite his sack total not matching them. The opposing quarterbacks he has faced have been, on aggregate, much tougher to sack than league average.
There's yet another pressure-based statistic that backs up Gregory's impressive season. ESPN debuted Pass Rush Win Rate (PRWR) in 2018 as a way to use tracking data to see how often a pass rusher beats his blocker within 2.5 seconds. Setting a time limit on the pass rush helps limit the impact of the opposing quarterback on our evaluation of the pass rusher. Gregory ranks a somewhat modest 32nd on the year in PRWR, but he graded out as an absolute monster on Sunday, beating his blocker within 2.5 seconds on 45.5 percent of his pass rushes, second-best in the NFL for the week. And on that strip-sack? He didn't just beat his blocker within 2.5 seconds; he actually took Mac Jones to the ground before that clock hit zero.
Randy Gregory sacked Mac Jones in just 2.45 seconds after the ball was snapped, the 5th-fastest sack this season and Gregory's fastest of his career.

Gregory has generated a 16.3% pressure rate since 2020, 4th-highest in NFL (min. 200 pass rushes).#DALvsNE | #DallasCowboys pic.twitter.com/IERJU6Ic6F

— Next Gen Stats (@NextGenStats) October 17, 2021
Gregory's sack total on the year won't make him look like a premier edge rusher. He has several more quarterbacks on the docket who don't go down easily. But Week 6 was an example of how dangerous he is. Do not sleep on him going forward. 
Get the ItList Newsletter
Be the first to know about Dallas' best events, contests, giveaways, and happenings each month.