The Dallas Cowboys treated the fans at Jerry World to a dominant performance on Monday Night Football. In doing so, they took sole possession of first place in the NFC East, a position that already feels unlikely to be surrendered this year.
Heading into the season, the consensus was that the Dallas offense would be great, while the defense would be a question whose answer would define this team's ceiling. Pairing even an average defense with this superb Cowboys offense would go a long way toward bringing a Lombardi back to Dallas.
Three games into the season, there's one number to know that's shining a very positive light on the 2021 Cowboys defense: 3.
That's the number of interceptions Trevon Diggs had all of his rookie year. It's also the number of interceptions he has just three games into this season.
.@TrevonDiggs is something special.

After his interception returned for a TD, he became the first #DallasCowboy with an interception in each of the first three games of a season since Everson Walls in 1985. #PHIvsDAL | #DallasCowboys pic.twitter.com/s0ilKkYsUJ

— Dallas Cowboys (@dallascowboys) September 28, 2021
Diggs produced his most explosive pick yet at the beginning of the second half against the Eagles, when he jumped a quick out route and ran 59 yards untouched for his first career touchdown. The play felt like a declaration, both for the game and for Diggs personally.
The game was very much undecided prior to that interception. The Cowboys had an opportunity to get the ball back at the end of the first half to try to extend their 13-point lead but instead elected to take their timeouts with them to the locker room. It was a questionable decision by Mike McCarthy; Philadelphia was set to receive the second-half kickoff and could have conceivably made it a close game again with a score. But once Diggs hit the end zone, he made it clear the Eagles would not be keeping pace with the Cowboys that evening.
But Diggs did more than decide Monday's contest less than a minute into the second half. He also declared himself as a top cornerback in the NFL. After three straight games with an interception—more than any defensive back in the division and tied for the overall league lead—it's tough to argue anything else.
Coincidentally, the Diggs interception came around the same time that his former coach at Alabama, Nick Saban, joined ESPN's Manning brother-led broadcast. Unsurprisingly, Saban had some high praise for the sophomore corner's ball skills.
Alabama coach Nick Saban after Trevon Diggs' interception: "We teach them all how to do that, but they all can't make that play. He's got great ball skills. He was a great receiver before he became a DB."

— Jon Machota (@jonmachota) September 28, 2021
While this is a crucial part of becoming an elite cornerback, Diggs' success is not solely a byproduct of these splash plays. Heading into this week, Diggs was allowing a 43.2 passer rating against and a 50 percent completion percentage when targeted, according to Pro Football Focus. That's the fifth-lowest passer rating allowed among corners with at least 50 snaps in coverage.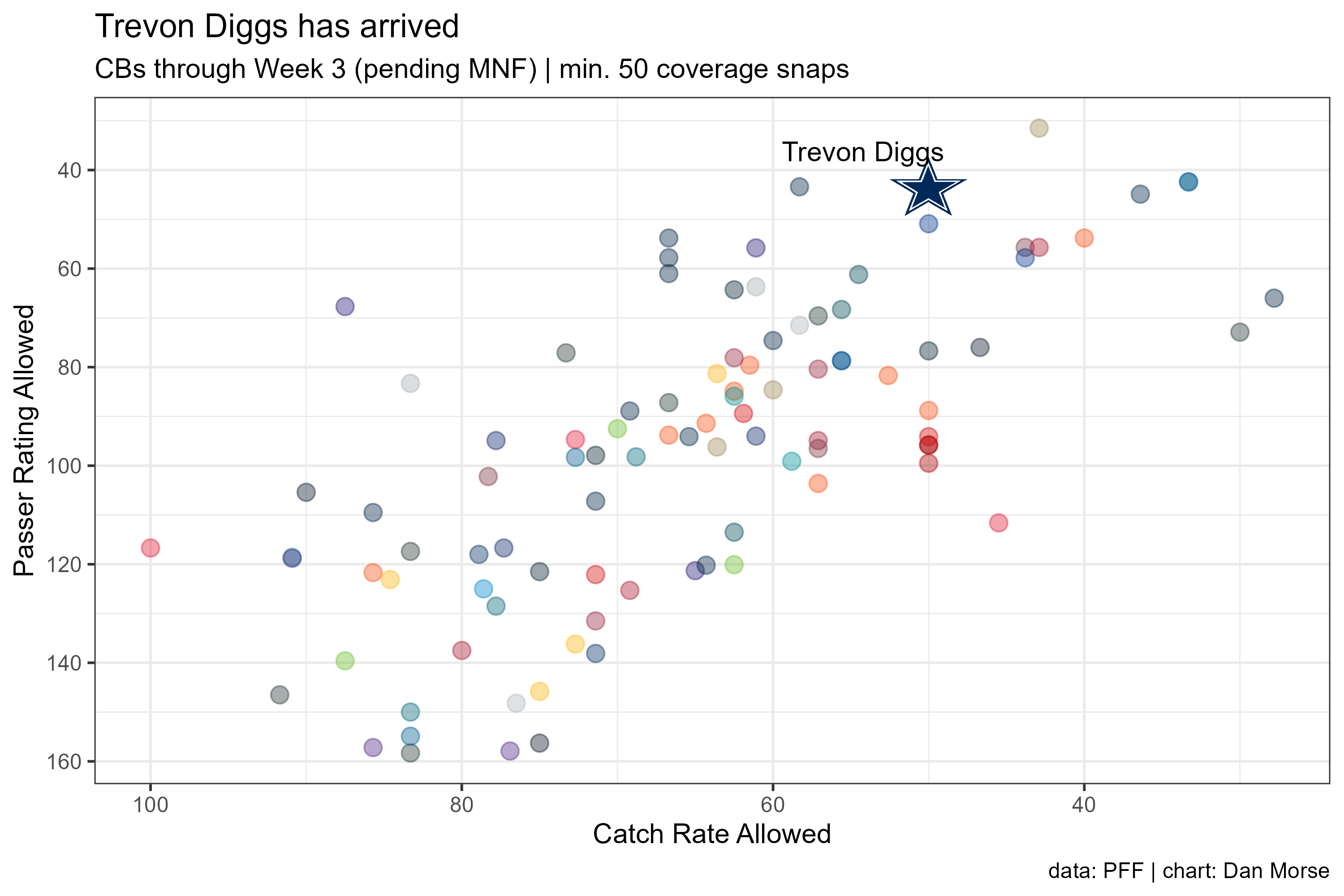 It has been a phenomenal start for the 24-year-old defender and a much needed one for this defense.
Because, in a lot of ways, the Cowboys' defense has not been particularly great so far this year. Through three weeks, they rank:
23rd in yards per pass

23rd in yards per carry

28th in yards per play

27th in first downs allowed
Despite all that, the team ranks 13th league-wide in points allowed—just above league average. The reason for that is they've suddenly got a nose for the football. No team in the NFL has forced more turnovers than the Dallas Cowboys. 
Generating turnovers is the quickest and most effective way to hide any other issues on defense. The first Eagles drive on Monday was a perfect example of this. On Philadelphia's first play from scrimmage, Dallas Goedert beat none other than Trevon Diggs for a big 38-yard gain. But just two plays later, we all completely forgot about it because Anthony Brown took the ball back with a pick at the goal line. Turnovers solve all problems*. 
(*Please ignore the two offensive Cowboys plays immediately following said interception.)
The question now will be whether they can sustain this turnover rate. Interceptions and fumble recoveries are generally pretty "noisy" stats—that is, getting a lot of them early in the year often doesn't imply that the team will get a lot of them later in the year. They'll get a bit of a test on Sunday when they face the Carolina Panthers and a reinvigorated Sam Darnold, who has tossed only one interception so far this year. After that, though, the defense gets Daniel Jones and his historically high fumble rate, followed by rookie Mac Jones, who is coming off of a three-pick day. 
In other words, there is a clear scenario for the Cowboys leading the NFL in turnovers when they reach their idle week in Week 7. 
Nevertheless, while turnovers are great, the team does have to learn to slow down opposing offenses when those aren't coming. Can this defense manage something like that? It's hard to say, but Diggs certainly seems capable. After that opening 38-yard pass to Goedert, he put the clamps down and completely neutralized his side of the field. On the five targets he saw the rest of the game, Diggs allowed two catches for a whopping 9 yards of total offense.
trevon diggs pic.twitter.com/kRYiUqCNDt

— Dan (@danmorse_) September 28, 2021
On Monday night, in front of a national audience, Diggs was the definition of a shutdown corner. And while it's highly unlikely to happen, don't let anyone stop you from shouting from the rooftops this one perfect Cowboys statistic: Diggs is currently on pace for an NFL-record 17 interceptions this season.
HURTS PICK-SIXED!

TREVON DIGGS HOUSE CALL 🔥

(via @NFL)pic.twitter.com/IBZst5W0OO

— SportsCenter (@SportsCenter) September 28, 2021
Trevon Diggs, NFL record-holder, sounds pretty spectacular. Trevon Diggs, the Cowboys' top defensive back, already is. 
Get the ItList Newsletter
Be the first to know about Dallas' best events, contests, giveaways, and happenings each month.