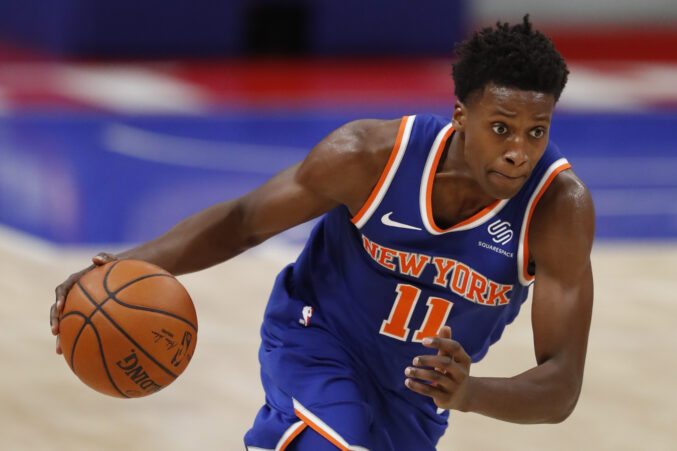 The Ballad of Frankie Smokes
Guess who's already in love?
How long did it take to talk myself into "Frank Ntilikina, Dallas Maverick"? I didn't make it to the end of Marc Stein's tweet saying it looked like the Mavs were the frontrunners to sign the French point guard. I didn't have to get onboard. I've been there for a while.
Which is strange because I definitely did not want the team to draft Ntilikina—pronounced "Nee-lee-kee-nuh" or, if you prefer, "Frankie Smokes"—in 2017. The only thing Mark Cuban loves drafting more than an international player is a project, and he was both. I was tired of that strategy and wasn't looking forward to acquiring a player whose "Must Work On" graphic, if I recall correctly, actually said "Learn to Play Point Guard." Thankfully the Knicks took him off the board one pick earlier, and the Mavs began their star-crossed, short-lived relationship with Dennis Smith Jr.
Once Luka Doncic came to town a year later, it was clear that he and DSJ couldn't co-exist in the same backcourt. A better fit would be someone who could handle the heavier load on defense, didn't need the ball much, could create for his teammates, and knock down the occasional jumper when he had it.
Someone like … Frankie Smokes.
OK, OK, I'm not that much in the tank for him. (Added quickly and in a voice so soft it sounds like cotton falling onto a cloud: yet.) But on his best days, yes, Frankie could be the ideal running mate for Luka.
Think about it: my guy is 6-foot-4 but with a 7-foot-1 wingspan, like a pterodactyl with a surprising middle name (Bryan). Playing him as the other guard would allow Luka to shift to a more advantageous defensive matchup and take some of the playmaking burden off his shoulders. He could be what they thought the Mavs were getting when they traded for Josh Richardson prior to last season.
"Could be," of course, is doing a bit of powerlifting here. For one thing, the Mavs, ever the international franchise, haven't had much success with French players:
Tariq Abdul-Wahad was allegedly on the floor for 18 games over two seasons, but I doubt you can find anyone other than Mark Followill who remembers a second of that.
Antoine Rigadeau was an embarrassing whiff, a player who clearly didn't belong in the NBA from his first minute on the court.
Roddy Beaubois is one of the biggest what-ifs in team history, an electrifying scorer cursed with one of Bill Walton's feet. His biggest contribution to the team turned out to be not playing during its 2011 championship run, allowing the squad to add DeShawn Stevenson's defense to the mix.
Ian Mahinmi hit one (1) crucial jumper in the 2011 Finals.
That's it.
And now we have Ntilikina. Coming to Dallas on a minimum deal, free from the pressure that comes from being a lottery pick, Frankie Smokes has an open look here. He hasn't proven over his four years in the league that he can knock those down with any regularity, but still.
He has nowhere to go but up, even if it's doubtful he will ever rise to the best-case scenarios that were bandied about in the 2017 draft. If anyone is still expecting a starting-level point guard, that's on you. If you are expecting a bit of shot creation and solid defense off the bench, that's more like it.
But since he hasn't played a minute yet, it's still OK to dream a little bit bigger than that, think about what he could be. He's still only 23 years old. The Mavs have done more with seemingly less, at least in terms of raw potential.
Look at Dorian Finney-Smith. When he first came to Dallas, in 2016, the best you could say about his offense, at his absolute peak, was that it didn't hurt the team. He shot under 30 percent from three for two seasons. In 2020-21: almost 40 percent on twice as many attempts as his rookie year.
Frankie Smokes is already more advanced than that. And if everyone is playing to his paper, the team could surround him, in just about any lineup he would be likely to appear in, with four other shooters. He doesn't need a lot of offense. Just some.
It's entirely possible that doesn't happen, and he is exactly who he has appeared to be during his brief career. If so, it didn't cost the Mavericks much to find out: one year at the minimum, plus a team option for a second.
But right now, the potential exists, and it's more exciting to fantasize about that than to applaud solid signings like Reggie Bullock and Sterling Brown, both of whom may well contribute more to the team this season. I'd rather dream about screaming, "FRANKIE SMOKES!" after he causes a deflection that leads to a fast break and a three by a rejuvenated Kristaps Porzingis trailing the play than rhapsodizing over, like, smart defensive rotations.
The season is still a month away. This is the time to fall in love.