Contenders, champions, and also-rans don't come from nothing. Training camp may not be as exciting as the season opener, but it's not the calm before the storm, either. Veterans meet new friends to build chemistry for an old war, and prospects battle to convince the team's decision-makers that better puck soldiers await. The Dallas Stars have a lot of moving parts, and arranging them the right way will be essential to their success, starting with this season's camp. 
Good news: they look strong on paper. But the same could have been said last season. Granted, there were good off-ice reasons to explain their failures, but there were good on-ice reasons for that, too. Nothing, for example, has changed about their inability to score goals. Even during their magical Stanley Cup run in 2020, Dallas backed into the playoffs struggling to score goals. They missed last season's playoffs because they struggled to score goals. If we want to get even nerdier about their offensive issues, consider that Dallas generated scoring chances from their forecheck and off the rush at a below-average rate (per Corey Sznajder's tracking data from last season), which might explain why they don't convert even when they're in position to. Being less likely to carry the puck in with possession means less opportunity to control play.
With so many interlocking pieces, I thought it best to start with a visual. I take stats seriously because I don't take my eyes seriously as a readily accessible Wikipedia of the mind. While I don't consider Wins Above Replacement (WAR) a strict reference point for specific strengths and weaknesses — even if it's something hockey GMs will ask you about at an interview — the numbers are useful as a way to visualize a group's broad influences, or lack thereof.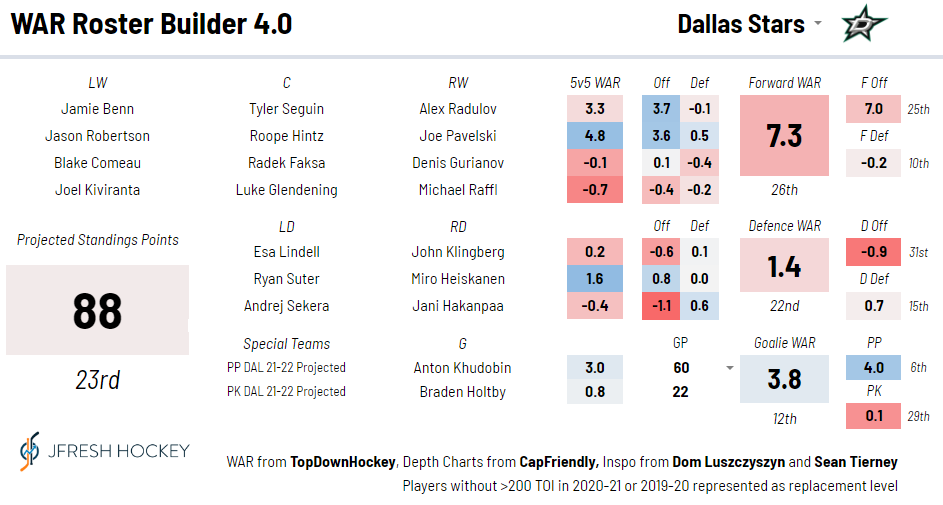 A lot of this should look fairly intuitive. Right now, the plan is to spread the forward depth, starting with Jamie Benn at center. In the waning months of last season, Benn found new life centering Jason Dickinson and Denis Gurianov. With Dickinson now in Vancouver, it's possible Rick Bowness decides to swap him out with Joel Kiviranta, or Radek Faksa. 
But would it be that crazy to reunite Benn with Tyler Seguin and Alex Radulov? Before the injuries, they were as dominant a line as there was in the NHL. If Bowness decides to do that, however, he runs into the problem of eliminating a player like Gurianov from the top six. Gurianov's struggles are well documented, but he has 32 goals in Dallas' last 119 games. That's third on the team behind only Joe Pavelski and Roope Hintz. Is it responsible asset management to have one of the team's most dangerous goal scorers in the bottom six? And, if so, what's the alternative? Reunite him with Hintz? It's not crazy. When Hintz and Gurianov were paired with Robertson (94 minutes total), they were expected to control 66 percent of the goal share on ice. For perspective, Toronto's lethal Zack Hyman-Austin Matthews-Mitch Marner line would rate lower, with only five other trios in the entire NHL rating better.   
If the top six is brimming with potential, the bottom six needs a life jacket. Moving Benn to center could fix that, but at what point does playing with lesser offensive talents dilute his game? Bowness is on record as saying Dallas "doesn't need" a checking line. That's good news since the vaunted FCC line struggled last season; yes, their possession game was solid, but they were almost twice as likely to be scored on than to score themselves per Natural Stat Trick. Just as Robertson's presence transformed the top six last season, someone like Riley Damiani or Riley Tufte might be able to transform the bottom six, especially if mixed with a veteran like Benn. Dallas' projected bottom six needs an infusion of more than just grit, but skill. Faksa, Blake Comeau, Michael Raffl, and Luke Glendening are each projected to have below-average shooting percentages given their ages and only average shot selection according to MoneyPuck's player cards. 
So why not one of the prospects? Damiani has looked excellent in the AHL, playing a confident, well-rounded game while providing the flexibility to play wing. After working with trainer Harvey Martin and skating coach PJ Atherton, the other Riley (Tufte) looked reborn at the Prospect Tournament, exuding similar confidence and well-roundedness. Another outside-the-box option: what would it be worth to Dallas to have Pavelski next to Faksa? It's natural to assume that Pavelski might perceive getting placed in the bottom six as a demotion. But he's a veteran who has played this sort of role before. In the 2010-2011 season, Pavelski shined in a checking line position for San Jose, scoring 66 points that year in a season when he spent a significant chunk of time with Torrey Mitchell and Kyle Wellwood. "Who?" Exactly. Kiviranta and Faksa look like Crosby and Malkin by comparison. Perhaps it's exactly what Faksa needs to get going again. And perhaps it's the only way to get Gurianov going again.    
Defensively, there's more than meets the eye. GM Jim Nill has offered no mandate that Ryan Suter has to play next to Miro Heiskanen. In fact, he's even suggested Suter next to John Klingberg. It's an interesting suggestion, especially in light of Jack Han's recent analysis—with a focus on Dallas' anemic forecheck and willingness to concede space and protect high-danger chances at the cost of spending more time in their own zone—indicating Klingberg's progressive decline to influence the game in all three zones has metastasized in subtle ways. Could a Suter-Klingberg pairing be the fix? Does that mean Heiskanen and Esa Lindell could be the future? And what about Thomas Harley? His performance at the Prospect Tournament was mixed, but his development path is encouraging. Harley's potential presence raises questions about what special teams could look like as well. Dallas doesn't need help on the power play. They've been a strong team on the man advantage for years. But on the penalty kill, they've struggled. If young players are able to crack the lineup, chances are it's because they have potential to carve out a role for themselves beyond even-strength play.      
Finally, it's hard to determine the goaltending endgame given the olive tree of scenarios Nill has planted in net. NHL.com reported that Ben Bishop would likely be healthy. Nill has said it's a possibility. If Bishop is healthy at any point before next year's playoffs, that would put Dallas $4 million over the cap and also functionally guarantee that Jake Oettinger gets sent down. Oettinger might be the best goalie Dallas has, but would he even have the opportunity to prove last season wasn't a fluke? Training camp could offer hope, but that's a small window of opportunity. If Bishop is healthy, Dallas is making the gamble that he can perform to the level he did during his prime, when he was one of the best netminders in the game. And what happens if Anton Khudobin and Braden Holtby are merely serviceable? Is a serviceable veteran better than a prospect who could prove to be a gamebreaker in management's eyes? If you're prone to stoner musings about possible universes, it's easy to see how Nill's moves have maybe complicated rather than clarified things.   
This is what makes training camp more than just fodder for premature clickbait about decisions that could enrich or fracture the depth chart. It really feels like a zero-sum game being played by management. Either a starting goaltender emerges victorious among an army of qualified netminders, or Dallas loses time trying to rotate too many potential starters before settling on one who may not even be the best option. Either Dallas' blueline pushes the team into a style that fits Heiskanen and Klingberg, or the system pushes Heiskanen and Klingberg into playing a style that fits Lindell and Suter. Either there's just the right mixture of skill and will across all four forward lines, or production is once again split between scorers in the top half and grinders in the bottom half.
Like I said, it's not a storm. But it's not the calm, either. 
Get the ItList Newsletter
Be the first to know about Dallas' best events, contests, giveaways, and happenings each month.